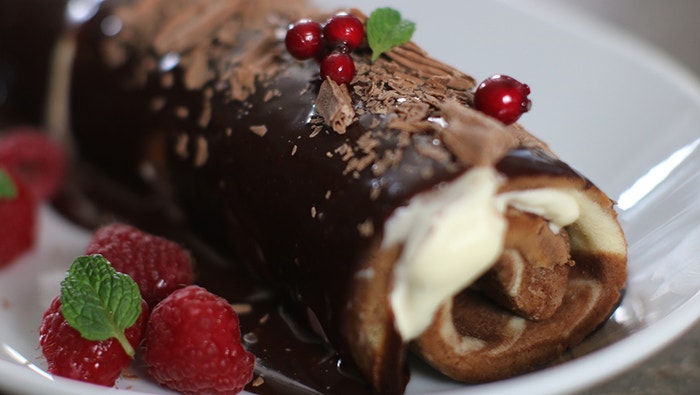 Steps
Preheat oven to 200C.
Grease a 25cm x 30cm swiss roll pan. Line base with baking paper, extending it 5cm over long sides of the pan.
Sift cocoa and half flour in a small bowl. Stir in grated dark chocolate. Sift remaining flour into another bowl. Stir in grated white chocolate.
Whisk eggs and sugar in heatproof bowl over a saucepan of simmering water until thick and creamy. Divide mixture between 2 flour mixtures. Stir to combine. Add a tbsp. of boiling water into each to soften if required.
Spoon alternate spoonfuls of mixture over base of prepared pan. Swirl with a knife to reate a marbled effect.
Cook in oven for about 15 minutes or until firm.
Place damp tea towel on bench. Top with baking paper. Immediately turn cake onto paper. Remove lining paper.
Using a serrated knife trim short edges of the cake. Roll cake firmly from short side with baking paper inside. Cover with damp tea towel and cool.
Meanwhile, to make filling, place white chocolate in a small bowl. Heat 125ml of cream in small saucepan until hot. Pour cream over the chocolate. Stir until smooth.
Beat remaining cream in small bowl with electric mixer until firm peaks form. Fold quarter of whipped cream into white chocolate mixture to loosen. Fold in remaining cream.
Once cooled, unroll sponge, spreading with cream mixture. Roll up again, using paper as a guide.
To prepare the garnish make a dark chocolate ganache by heating the thickened cream in a small saucepan until hot. Pour cream over dark chocolate chips, stir until smooth. Add extra virgin olive oil and stir to combine.
Drizzle the chocolate ganache over the top of the Yule log, letting it dribble down the sides of the cake. Refrigerate for 1 hour before serving.
To serve decorate with flaked chocolate and red berries.