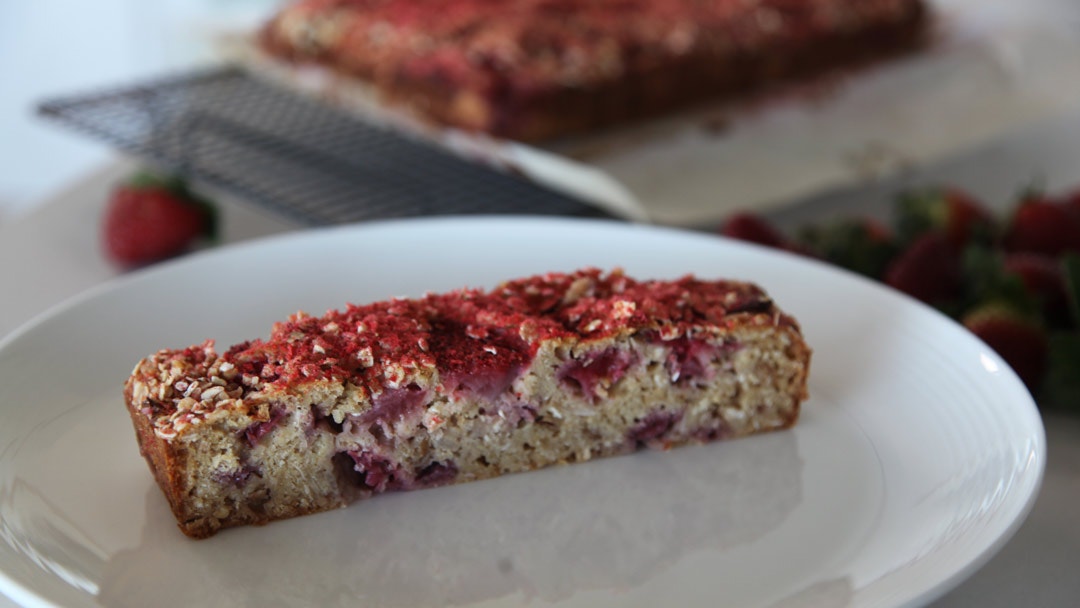 Steps
Preheat oven 180'C fan-forced.Line a 27cm x 17cm x 3.5cm slice or brownie pan with baking paper slightly overlapping the sides.
In a large bowl add flour, oats, quinoa, rice bubbles, puffed wheat, coconut flakes and cinnamon. Stir to combine.
In a microwave-safe bowl, add butter and honey, microwave in short bursts, until the butter has melted and is beginning to bubble, approx. 30 seconds in total. Remove and set aside.
In a small bowl add eggs and milk. Whisk to combine well.
Add all wet ingredients to dry ingredients and use a spatula to fold together until incorporated. Fold through strawberries, pour into slice pan and sprinkle extra oats over the top.
Bake for 20 –25 minutes or until cooked through and golden. Remove from oven and allow to cool in the tin for 10mins.
Using the edges of the baking paper, carefully transfer to a cooling rack and allow it to completely cool. Slice into bars. Store in an airtight container in the fridge.
Tip: Blitz freeze-dried strawberry pieces(Frisps, available at supermarkets)into dust and sprinkle over slice once cooled for that extra strawberry kick! -this can also be made as individual muffins.