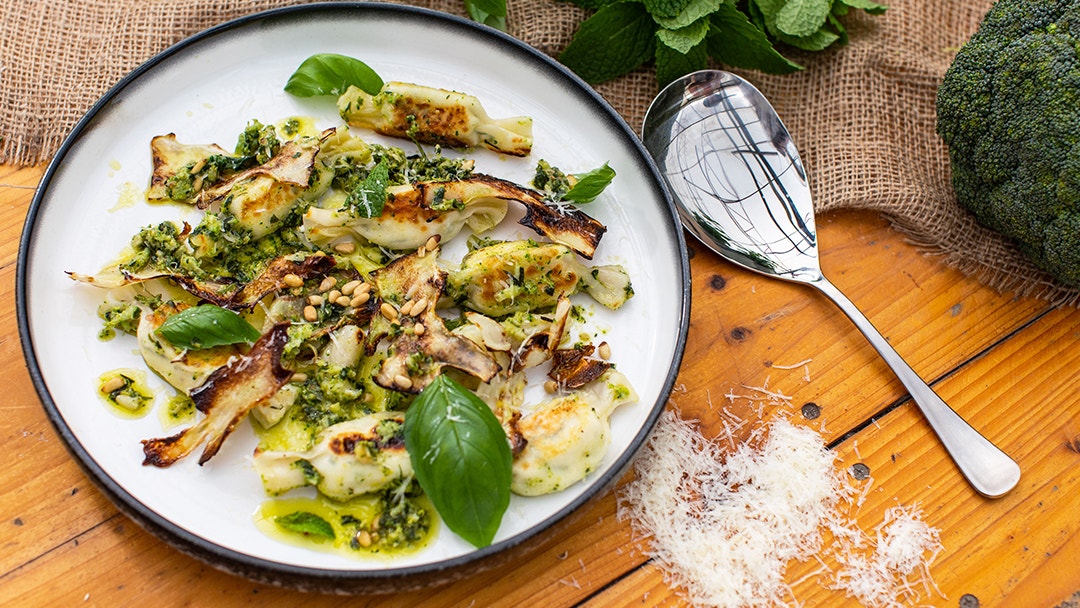 Ingredients
Broccoli Pesto (makes 2 cups)
Steps
To make filling, drain the fetta, reserving the oil. Place the fetta in a large bowl with remaining ingredients and stir until combined. Season with salt and pepper and mix well.
To make pesto, bring a stockpot of boiling salted water. Add broccoli and cook for 3 to 4 minutes, or until broccoli turns bright green and stem is just tender. Transfer broccoli into a large bowl of iced water to refresh, reserving the pot of boiling water.
Cut off the florets, reserving the stem. Place the florets in a food processor with basil, garlic, pine nuts, parmesan and reserved oil from the fetta. Process until combined, adding the extra virgin olive oil as motor is operating, until pesto is well combined. Season well with salt and pepper. Set aside while making caramelle.
Arrange wonton wrappers on a clean bench. Spoon filling (about 1 tablespoon) into the centre of each wrapper, then roll to enclose filling, pinching ends to create the caramelle shape.
Bring a large stockpot of salted water to the boil. Cook caramelle for 2 minutes, until wrappers are just tender. Drain, reserving about ½ cup of the cooking water.
Heat half the oil in a large frypan over medium-high heat. Cook the broccoli stems, turning occasionally, until golden brown. Remove.
Heat remaining oil in same pan. Add the caramelle in two batches, turning occasionally, for 3 to 4 minutes, or until golden brown. Return all caramelle to pan with broccoli stems, 1 cup of the pesto and reserved cooking water. Remove from heat and toss to coat.
Divide among serving plates. Scatter with extra grated parmesan. Garnish with extra basil and mint.