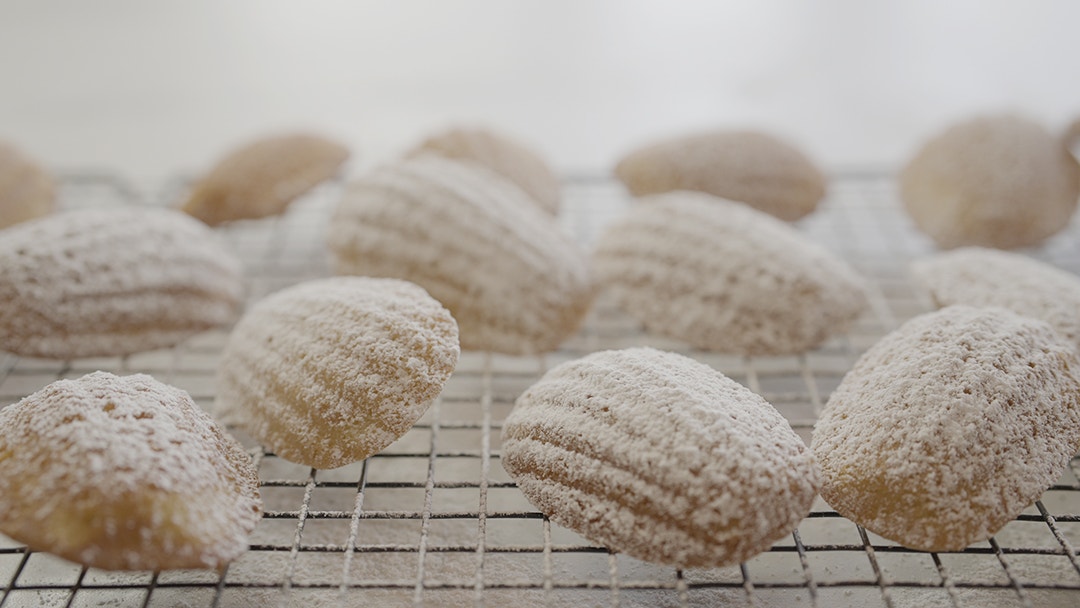 Ingredients
French Vanilla Madeleines
Steps
Beat eggs and sugars in a large bowl of an electric mixer for about 7 to 8 minutes, or until thick and creamy (Mixture should be tripled in volume). Beat in vanilla.
Sift the flour and baking powder, twice onto a sheet of baking paper, then again over egg mixture. Add a pinch of salt and fold until just combined.
Pour warm butter into a separate bowl and add about 1 cup of the egg mixture. Stir to combine, then add to the remaining egg mixture and gently fold until just combined. Cover surface with plastic wrap. Refrigerate for at least 3 hours, or overnight if time permits.
Preheat the oven to 180C (fan-forced). Brush two x 12-hole madeleine pans generously with melted butter.
Transfer chilled mixture to a disposable piping bag. Pipe (or spoon) among pan holes, filling about three-quarters of the way.
Bake for 10 minutes, or until the edges golden brown and sponge bounces back when lightly touched. Remove pans from oven, then invert and tap the pans to release madeleines.
Dust with icing sugar mixture to serve.
TIP: Ensure the butter is still warm when combining it with the batter to prevent it from solidifying and causing streaks. Try adding a teaspoon of finely grated lemon or orange zest to the batter for a citrus twist.