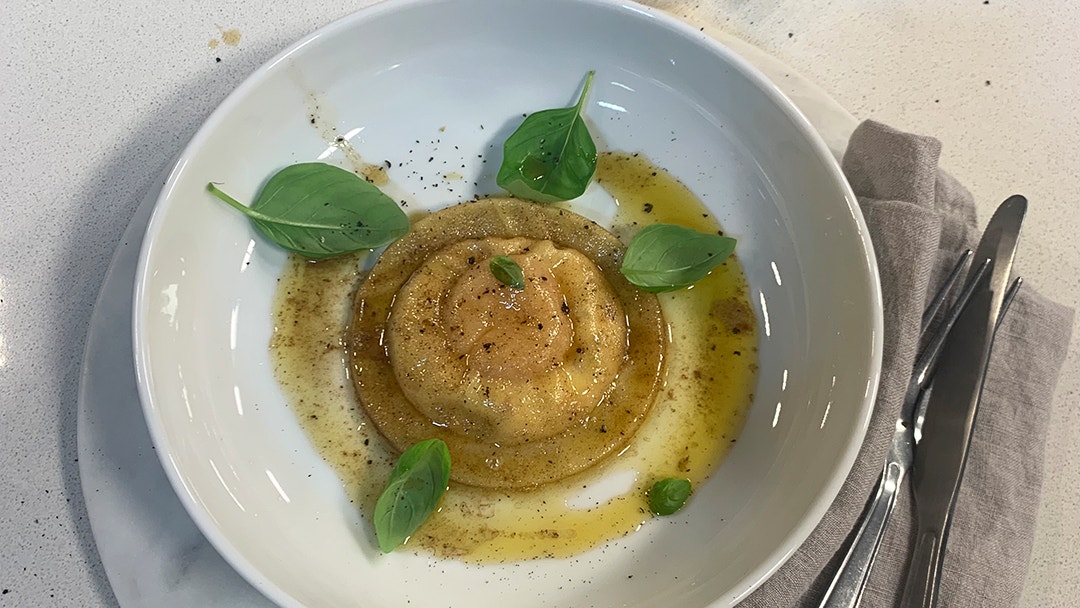 Steps
For the dough, place all the ingredients in the bowl of a stand mixer fitted with the dough hook attachment. Knead until a smooth dough forms. Wrap in plastic wrap and then chill in the fridge for 1 hour.
For the filling, combine onion and vinegar and set aside for 5 minutes. Combine the feta and lemon rind in a bowl, adding enough milk until mixture is smooth. Season with salt and pepper. Add the onion and mix well. Transfer to a piping bag and refrigerate until ready to use.
Using a pasta machine, roll out half of the dough, using semolina as needed, into a thin sheet. Repeat with the other half of dough. Lay 1 sheet of dough on a work surface, lightly dusted with semolina.
Pipe circles of filling, leaving an indent in the centre. Nestle an egg yolk in each indent in the filling. Using a small bowl of water and a pastry brush, brush a little water on the dough around each circle of filling. Place another sheet of dough over the top. Using your fingers, press the dough to seal the filling and egg yolk inside. Once the 6 pockets of filling are sealed, use a round cutter to cut out each ravioli. Place on a tray dusted with semolina.
For the sauce, melt the butter in a frypan until it just starts to turn brown. Add the juice of the lemon, then remove from the heat and season with salt and pepper.
Bring a large stockpot of salted water to a boil over high heat. Drop the ravioli in and cook until the pasta is tender but the yolks are still runny. Remove with a slotted spoon into the pan with the butter. To serve, divide between plates. Garnish with basil leaves and season with freshly cracked black pepper.
Notes
Learn how to make a beautiful egg yolk and feta ravioli from the best in the business, Miguel Maestre