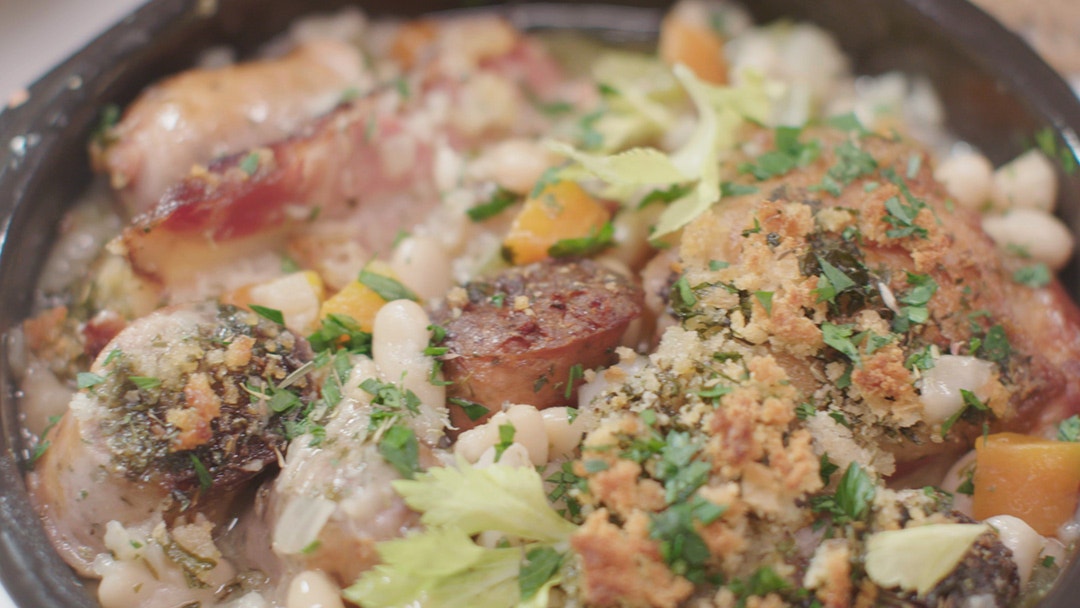 Steps
Sauté the chicken. Preheat the oven to 180C fan-forced. In a large 28cm heavy wide-based pan or Dutch oven, melt the duck fat over medium heat. Place the chicken thighs skin down over base of the pan. Allow to cook for 8 minutes to render the fat or until golden. Turn the chicken thighs over and cook for 3 minutes. Remove from pan to a plate; set aside.
Sauté the sausages. Add the sausages to the same pan (be careful of hot fat splattering!) and cook, turning for 3-4 mins or until golden. Transfer to plate with chicken.
Sauté the bacon. Add the bacon slices to the pan. Sauté for 2-3 mins or until golden but mot crisp. Transfer to plate with chicken.
Reserve 2 tablespoons of the pan fat (leave it in the pan) and discard the remaining fat.
Sauté the vegetables. Add the onions to the pan and sauté over medium heat scraping all the browned bits from the base and sides of the pan. Sauté until the onions begin to soften slightly.
Add the carrots, celery, parsley, herbes de Provence, beans and chicken stock; stir to combine.
Return meat to pan. Cut the sausages into thirds. Add the sausages, bacon and chicken to the pot, poking into sauce so they are almost covered.
In a small bowl combine the bread crumbs and minced garlic. Sprinkle it evenly over the top.
Bake. Bake, uncovered, for 1 hour and 15 minutes, occasionally folding some of the bread crumbs through the sauce which will help thicken it until golden.
Serve it up. Divide the cassoulet among plates and scatter with extra chopped parsley.