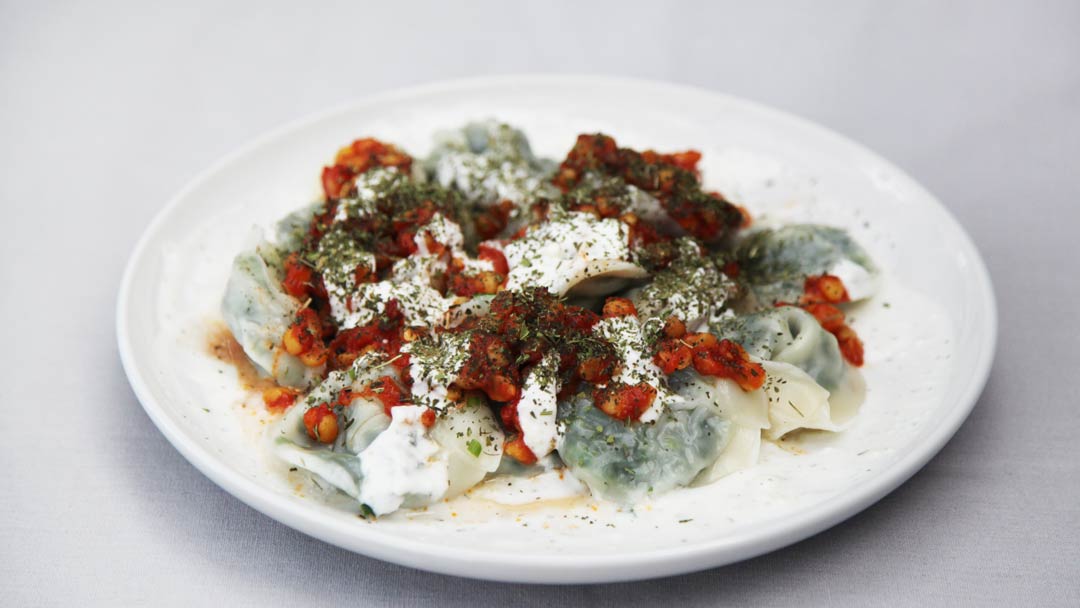 Steps
For the lentil sauce; place lentils in a saucepan of boiling water, cook for 10 – 15 mins or until ¾ cooked. Drain, rinse and set aside.
For the dumplings; Add water to a large saucepan and bring to boil.
In a large mixing bowl, add finely chopped garlic chives and salt, mix together gently pressing the chives to soften, add olive oil, green chilli, and chilli flakes. Combine well.
Place a tablespoon of mixture to centre of dumpling wrapper, lightly brush water around the edges of wrapper and fold in half ensuring it is sealed. Place on a lined and lightly floured tray and cover with a cloth. Repeat with remaining mixture.
For the lentil sauce; preheat wok or large frypan over medium heat, add olive oil, garlic, chilli, pepper and salt, cook for 1 minute. Add tomatoes, stirring until reduced, approx. 5 minutes. Add drained lentils and stir, simmer for a further 5 minutes.
For the dumplings; carefully place dumplings into boiling water, don't overcrowd the pot, allow to cook for approx. 3-5 minutes. Remove with a strainer, drain excess water and set aside.
For the yoghurt dressing; place yoghurt, dried mint, garlic and pinch of salt in a small bowl and mix well.
To serve; spread ¾ of the yoghurt dressing evenly on serving platter, place dumplings on top, pour lentil sauce over dumplings and drizzle remaining yoghurt dressing. Top with dried mint and chilli flakes (optional) and serve.