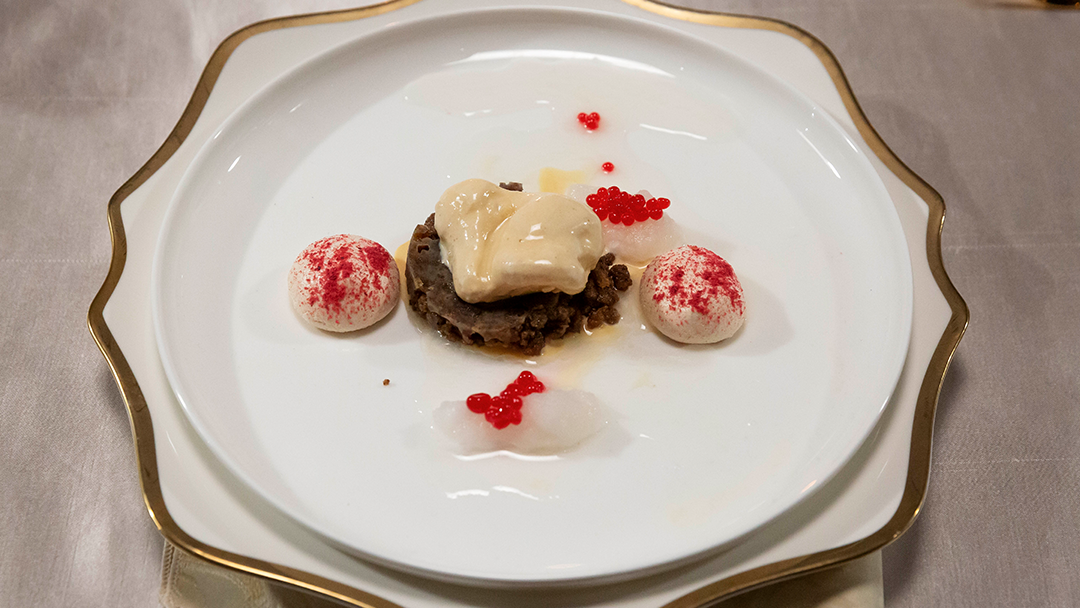 Ingredients
Meringue with Davidson Plum
Steps
Preheat two ovens to 120°C fan-forced and 180°C fan-forced. Line 3 flat oven trays with baking paper. Prechill ice cream machine.
For the Lemongrass Granita, combine all ingredients in a medium saucepan and stir over low heat to dissolve sugar. Pass mixture through a fine sieve into a deep tray, discarding solids. Freeze until solid.

Use a fork to scratch the surface and create fine crystals. Freeze until ready to serve.

For the Coconut Ice Cream, combine cream, milk, coconut and vanilla in a medium saucepan and bring to a simmer.
Meanwhile, combine yolks, sugar and salt in a medium bowl and whisk together. Whilst whisking, gradually add hot cream mixture into the eggs. Transfer anglaise back into saucepan and stir over medium heat until mixture coats the back of a spoon.

Pass anglaise through a

fine sieve into a deep tray

, discarding coconut

and freeze until

cold.

Transfer anglaise to an ice cream machine and churn until thick.

Freeze until r

eady to serve

.

For the

Meringue with Davidson Plum

,

combine egg whites and salt

in the bowl of a stand mixer

and whip

with the whisk attachment

to soft peaks. Whilst whisking, gradually add sugar and continue whisking until sugar dissolves.

Add vanilla and c

ontinue to whisk on high for 3 minutes. Transfer meringue to a piping bag with a

1

cm round nozzle

.

Pipe

meringue onto lined trays and bake at

120°C for 35-45 minutes

or until dry. Turn oven off and leave meringues in the oven to cool completely. Sprinkle with davidson plum powder and set aside.

For the

Brown Bread Crumb

,

place

the

bread

in a food processor and pulse

to a chunky

crumb

consistency, approximately 1cm in size

.

In a

medium

saucepan

over high heat, melt

the butter

and

continue to cook until it starts to brown. Remove

saucepan

from

the

heat

. Add

bread, sugar,

salt and

cinnamon

and stir to coat bread

.

Spread

bread evenly across lined tray and

bake

at 180°

C

for

10

minutes

,

stirring

a few times during

cooking.

Place a sheet of

6cm

wide, 2.5cm deep disc

silicon

moulds on a tray. Divide crumb between 6 silicon moulds and press firmly. Chill until set

then unmould.

For the

Davidson Plum Pearls

, fill a

small bowl

with vegetable oil and freeze until cold.

Use a small knife to pierce the surface of each davidson plum

multiple times

.

In a small saucepan, combine

d

avidson plums,

water and

sugar

and b

ring to

the

boil

, squashing plums to

infuse

syrup

.

Pass

syrup

through a fine sieve, reserving ¼ cup of syrup

and

discarding plums

and remaining syrup

.

Combine reserved syrup and

agar agar

in a small

bowl

and

sti

r

to dissolve.

Remove oil from the freezer. Use a pipette to drop small pearls of mixture into the oil. Set aside for 2 minutes before passing pearls through a fine sieve and gently rinsing under cool water. Set aside.
To serve

,

place Brown Bread Crumb in the centre of serving plate. Top with a generous scoop of Coconut Ice Cream. Serve Lemongrass Granita, Meringue with

Davidson Plum and Davidson Plum Pearls beside.