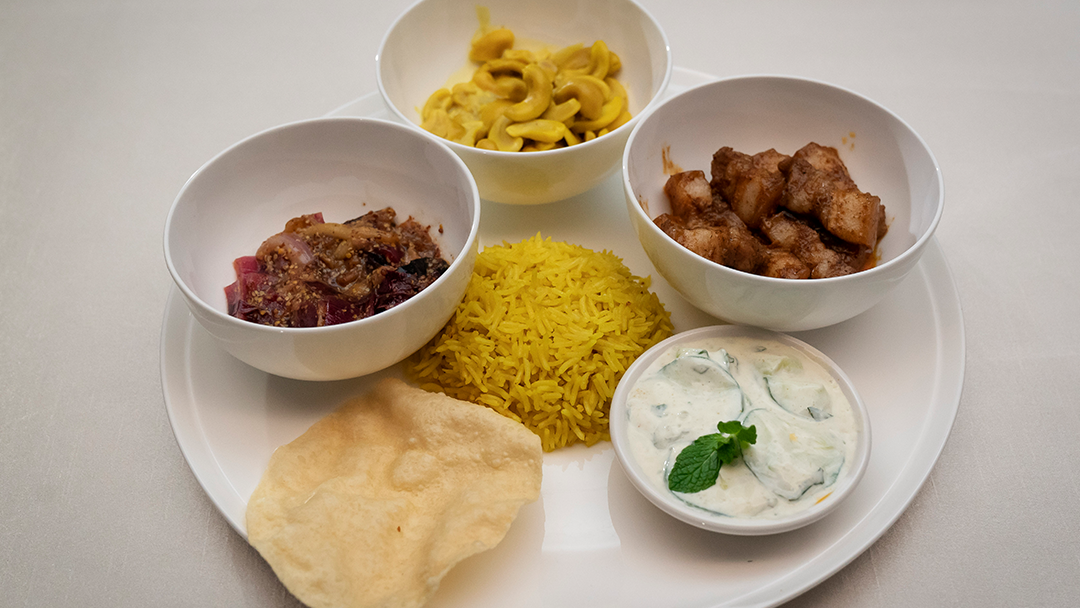 Ingredients
Curry Powder (for the Pork Curry)
Steps
For the Yellow Rice, combine rice, ghee, turmeric, curry leaves, pandan and lemongrass in the bowl of a rice cooker and mix well to coat rice.
Add coconut milk, stock and water and cook in rice cooker until fluffy. Remove curry leaves and pandan and use a fork to gently fluff the grains.
For the Cashew Curry, soak cashews in a bowl of boiling water for 10 minutes or until tender. Drain cashews, discarding water.
Combine cashews, onion, water, chillies, garlic, spices, curry leaves and pandan in a large saucepan over medium heat and cook for 15 minutes. Add a little extra water as needed to keep cashews from catching and burning.
Add coconut milk and simmer until the sauce thickens. Season with lemon and salt and keep warm until ready to serve.
For the Curry Powder, combine spices and coconut in a small frying pan over medium heat and toast until coconut is golden. Set aside to cool. Transfer all to a spice grinder and process to a fine powder.

For the Pork Curry, heat the oil in a large deep frying pan over medium heat. Add onion, garlic, ginger, curry leaves, pandan, lemongrass and cinnamon and cook until onions are transparent.
A

dd fenugreek seeds, chill

i

powder

,

1/3 cup

C

urry

P

owder

,

water and

vi

n

egar

and cook for 1 minute, mixing

to make

a thick

paste

.

A

dd the pork and salt and mix well to coat the

pork

. Cover pan with a lid and cook for

20-

25

minutes

,

stirring

occasionally.

Add coconut milk and simmer, uncovered for a further 10 minutes. Add tamarind paste and sugar and stir well.
For Eggplant Moju, heat oil to 180°C in a deep fryer. Sprinkle turmeric over eggplant wedges. Deep fry eggplant until golden brown. Transfer eggplant to a paper towel lined tray and set aside.
In a medium frying pan, combine vinegar, mustard seeds, garlic, ginger, sugar and salt and bring to the boil. Reduce to medium heat, add onion and cook for 2 minutes or until softened. Add eggplant and toss through. Set aside.
For the Raita, use a mandolin to thinly slice cucumber into rounds.
In a medium bowl, combine youghurt, garlic, lemon juice, mint, cumin and salt and mix. Add cucumber and toss through.
To serve,

place

Yellow Rice, Cashew Curry

, Pork Curry, Eggplant Moju and Raita in separate

serving bowl

s

and place on a platter

alongside pappadums.