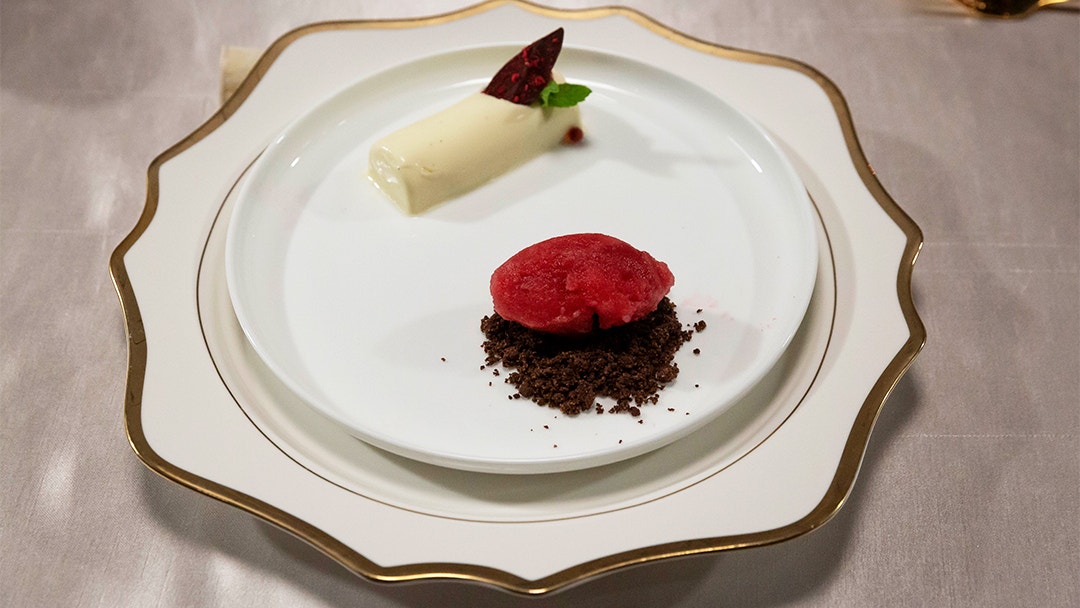 Ingredients
Pomegranate and Raspberry Sorbet
Steps
For the Vanilla Bean Panna Cotta, place a sheet of 8cm x 3cm silicon log moulds on a tray and chill until required.
Combine cream, milk, sugar, vanilla pod and seeds and vanilla extract in a medium saucepan over medium heat and bring to a simmer.
Place water in a small saucepan, sprinkle Jel-it-in over surface and mix to dissolve. Bring to a simmer over medium heat.
Add Jel-it-in mixture to cream mixture and whisk. Pass mixture through a fine sieve into a bowl. Place bowl over a larger bowl of iced water to cool. Pour into chilled moulds and chill for 30-40 minutes or until set.
For the Chocolate Soil, preheat oven to 180°C fan forced. Line an oven tray with baking paper.
Combine all ingredients in a food processor and pulse to a fine crumb consistency. Scatter crumb over lined tray, use fingertips to squeeze crumb into chunky crumbs. Bake for 16-18 minutes. Set aside to cool.
For the Pomegranate and Raspberry Sorbet, pre-chill ice cream machine.
Combine raspberries and ½ cup water in a small food processor and process to a puree. Pass puree through a fine sieve into a small bowl, discarding solids.
In a small saucepan, combine sugar, ¾ cup water and glucose over medium heat for 5 minutes.
In a medium bowl, combine sugar syrup, raspberry puree, pomegranate juice and lemon juice. Transfer to an ice cream machine and churn until thick. Freeze until ready to serve.
For the Pomegranate Pearls, place oil in a jug and freeze until cold.
In a small saucepan, combine pomegranate juice and agar agar in a saucepan and bring to the boil. Remove saucepan from the heat.
Remove grapeseed oil from the freezer. Use a pipette to drop small pearls of mixture into the oil. Set aside for 1 minute before passing pearls through a fine sieve and gently washing with luke warm water. Set aside.
For the Chocolate Shards, place raspberries in a small food processor and pulse to a coarse powder.
Spread chocolate over a sheet of baking paper and scatter crushed raspberries over. Freeze until set then break into pieces.
To Serve, unmould Vanilla Bean Panna Cotta on serving plate. Spoon a small amount of Chocolate Soil beside panna cotta and top with a quenelle of Pomegranate and Raspberry Sorbet. Garnish with Chocolate Shards, Pomegranate Pearls and micro mint.