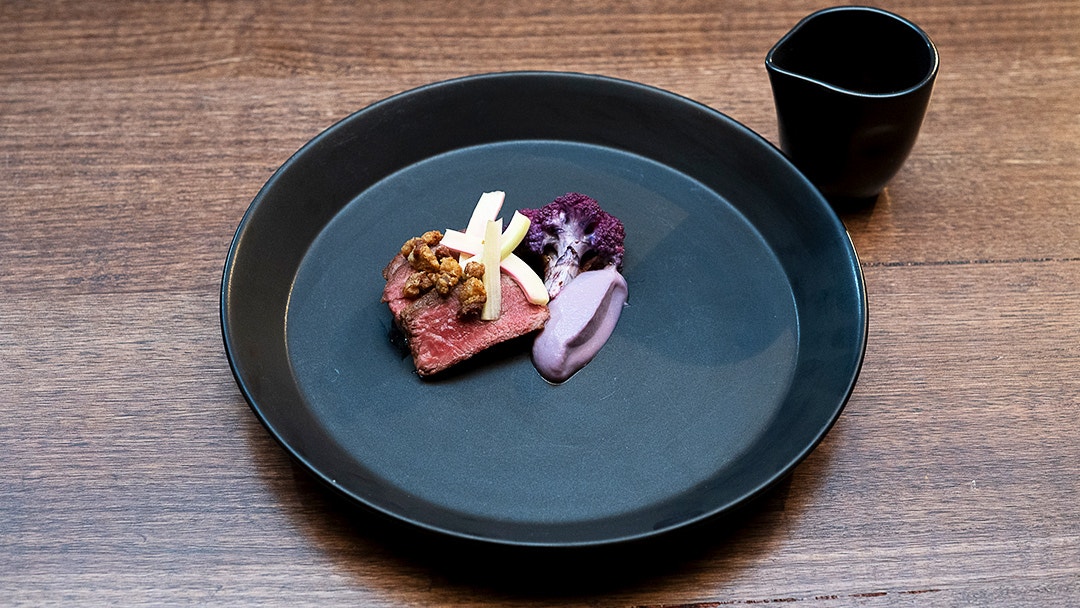 Ingredients
Cauliflower Leaf Stem Pickle
Steps
Preheat oven to 180°C fan-forced.
Prepare the lamb: remove the fat from the lamb loin chops and finely dice. Remove the lamb loins from the bones and trim of any sinew. Set loins aside at room temperature. Chop the bones with a cleaver and set aside for the sauce.
For the Cauliflower Leaf Stem Pickle, julienne the stem of the cauliflower leaves and place into a bowl. Heat remaining ingredients in a saucepan until salt and sugar have dissolved. Pour over cauliflower and place in the fridge. Drain well to serve.
For the Lamb Fat Crumb, place the diced lamb fat into a cold pan over low heat and allow fat to render. Cook until you have golden brown crispy pieces of fat. Remove with a spoon, drain on paper towel and season with salt. Reserve rendered fat in pan for later use.
For the Roast Cauliflower, make a blackberry gastric: place blackberries, vinegar, sugar and 2 tablespoons water into a saucepan. Simmer for 20 minutes to a syrupy consistency. Strain through a fine mesh sieve and set aside.
Cut cauliflower florets in half. Return frypan of rendered lamb fat to a medium high heat. Place cauliflower into pan, cut side down and cook until caramelised. Remove from the pan and place on a baking tray. Generously baste the tops of the cauliflower florets with blackberry gastric. Cook in the oven until tender, about 8-10 minutes. Remove from the oven and set aside, covered loosely with foil. Reserve remaining lamb fat and blackberry gastric.
For the Cauliflower Puree, finely dice cauliflower and place into a saucepan with milk and bay leaves. Bring to a simmer and cook until tender, about 15-20 minutes. Strain, reserving the milk, and discard bay leaves. Add rendered lamb fat, blackberry gastric and enough reserved milk to achieve a smooth puree. Pass through a fine sieve and season with salt, cover and set aside.
For the Lamb and Verjus Sauce, place a stainless steel pan over medium high heat. Add oil, lamb bones and onion and cook until well caramelised. Add pepper and deglaze with verjus.
Once simmering, add water, reduce heat and simmer for 15-20 minutes until reduced but 2/3's. Strain through a fine sieve into a clean saucepan. Continue to simmer to a syrupy consistency then remove from the heat. Add the butter, one piece at a time and whisk until emulsified. Season with salt to taste. Cover and set aside.
For the Pan Roasted Lamb, place a stainless steel pan on medium high heat. Season the lamb and place into the pan with the butter. Cook for 1 minute on each side, constantly basting in butter until lamb reaches an internal temperature of 48°C. Remove from the pan and set aside to rest.
To assemble, slice each portion of lamb loin into three even slices and arrange on plates. Add some roasted cauliflower and cauliflower puree. Arrange 4 -5 pieces of the pickled stem over the lamb along the with lamb fat crumb. Spoon sauce onto the plates and serve.