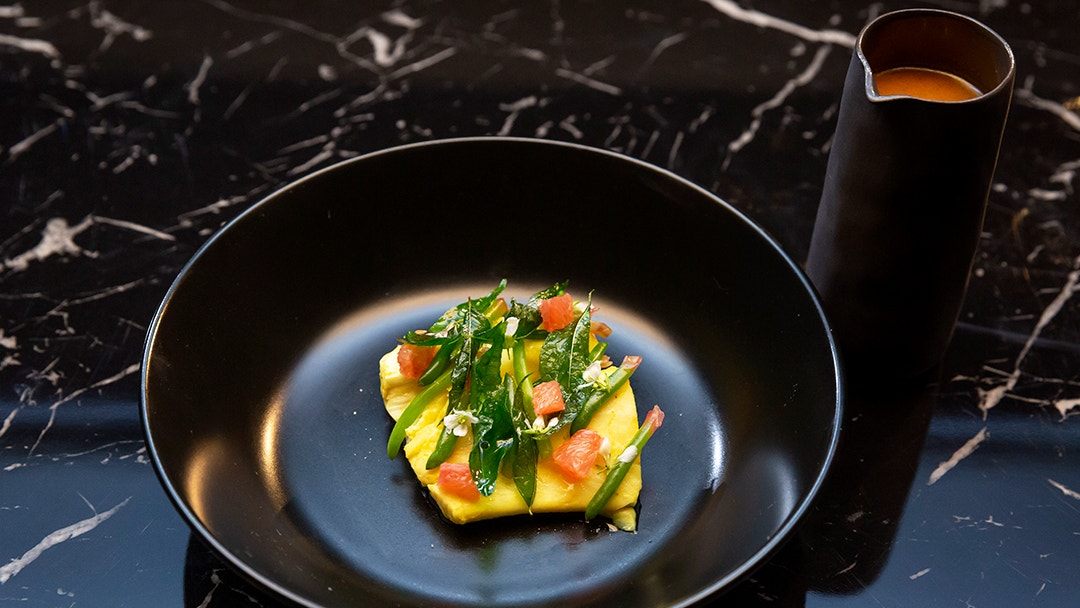 Steps
Remove fillets from snapper, remove bones and trim into 4 evenly sized portions and set aside in the fridge. Reserve trimmings. Chop the frame into small pieces.
For the Fish Stock, cut onion in half and place cut side down into a pan. Cook over medium heat until blackened, about 5-6 minutes. Place into a pressure cooker along with snapper head, wings and chopped frame and trimmings. Add water and lemon myrtle leaf and cook under high pressure for 15 minutes. Strain through a lined, fine sieve and set aside.
For the Curry Broth, heat oil in saucepan over medium heat. Add onion and sauté until soft, about 5 minutes. Add garlic, ginger, and chilli cook for 1 minute.
Meanwhile, toast coriander, cumin and fennel seeds in a dry frying pan until very fragrant. Roughly grind using a mortar and pestle then add to the curry base along with turmeric. Cook for 1 minute then add grapefruit juice and bring to a simmer.
Add the Fish Stock and bring to simmer. Add native herbs and salt and steep for 30 seconds, or to longer, to taste. Add the coconut cream and adjust with more grapefruit juice and salt to taste. Strain through a fine sieve into a clean wide saucepan.
Bring a small saucepan of water to the boil. Heat oil in a medium saucepan to 180C.
To prepare the garnishes, separate the stems of the karkalla and blanch in the boiling water for 10 seconds. Remove from the water and place onto paper towel.
Remove curry leaves from the stalk and fry until bubbling stops and leaves are crisp. Remove from the oil and drain on paper towel. Segment and slice the grapefruit into small cubes.
For the Poached Fillets, return the broth to a simmer and add the fish. Poach until just cooked through, about 5-6 minutes. Carefully transfer the fish to serving bowls.
To serve, arrange with garnishes decoratively all over the fish portions. Pour hot broth into the bowls until the fish is half submerged and serve immediately.