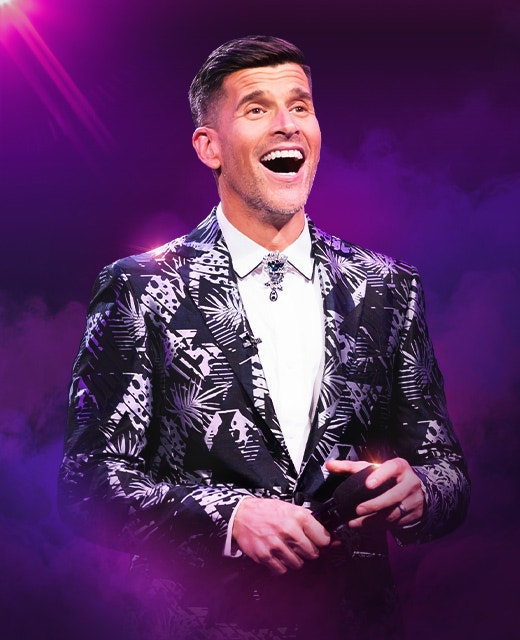 Osher Günsberg
When you have a show that's packed with celebrities, live singing and full-body disguises that are just a little bit bonkers, you need an experienced music man to steer the ship.
Enter, Osher Günsberg, one of Australia's trusted TV hosts and passionate music expert.
In recent years, Osher is best known for his work as the nation's most famous matchmaker in his role as host of The Bachelor Australia and The Bachelorette Australia and the romantic franchise's tropical spinoff, Bachelor In Paradise.
But from 1999 - 2009, Osher was at the forefront of Australia's popular music industry, working as a music VJ on Foxtel's Channel V, hosting national hit radio program Take 40 Australia and helping to create music superstars as co-host on Network 10's Australian Idol.
Outside of television, Osher has also been a pretty big deal on radio. Starting on the airwaves in 1994 at Brisbane's B105 on the overnight shift, he rapidly moved to a national audience with Take 40 Australia and The Hot Hits Live from LA. From 2016 to 2017 Osher was part of Hit105's Stav, Abby & Matt with Osher breakfast show and Osher's Love Line nationally on the HIT Network.
An early adopter of independent digital broadcasting, The Osher Günsberg Podcast is in its fourth year with over one million downloads, and is a weekly conversation with someone who has figured out how to manage life's challenges to forge a career where they do what they love to do.
Osher recently released his memoir, Back, After the Break, where he openly revealed for the first time a powerful, dark, funny and heart wrenching story about life, love and living with mental illness.
On his new hosting role, Osher said: "I'm so excited to be a part of a big, loud entertainment show for Network 10. The Masked Singer Australia is such an out-there show, such a wild format, and I can't wait for people to see it.
"While lately, I've been whispering very seriously about roses, this is a very different side of what I do, and I'm thrilled that we're doing it."