Premiering on Thursday, June 15 at 8.30 pm on National Indigenous Television (NITV) and Network 10, The First Inventors follows First Nations investigators as they discover how this ancient knowledge could be applied to modern challenges we face in Australia today.
The series is hosted by Logie Award-winning actor and proud Tiwi Islander man Rob Collins who admitted that growing up he was never really exposed to conversations about Indigenous invention.
"Those two words were never paired in the same sentence," Rob told 10 Play. "The stuff that was pitched in the original iteration of this show kind of blew my mind. Everything from astronomy to fire management, it was just the depth of information there that I hadn't even gleaned the surface of.
"The show was ambitious in that it wanted to shine a light on that and, the good thing about it was that I was learning as well," he continued. "The experience the audience is going to be having mirrors my experience in making the show."
It was also appealing for Rob to correct this long-held idea that Indigenous people were living here for tens of thousands of years, "And they were just here".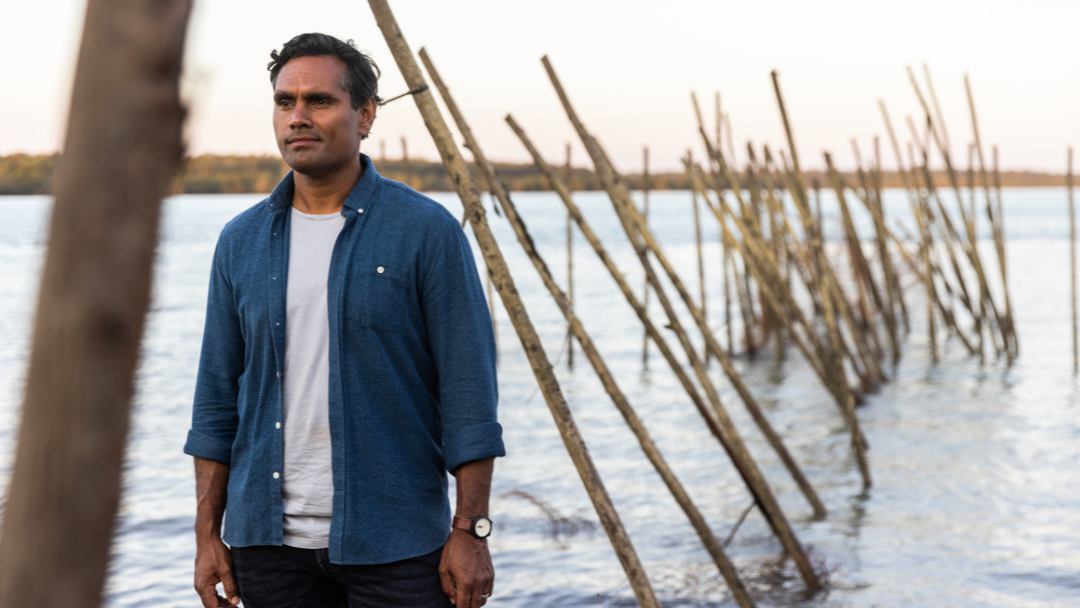 "But when you think about it, and what the show does so well, they not only survived here but our ancestors thrived here," Rob said. "It's an incredibly harsh environment, as we know, and just to stop and think about how a community endured for thousands upon thousands of years must have taken some sort of skill and ingenuity.
"That's not something that we talk about often in this country, I'm glad The First Inventors highlights that, I'm very proud of that fact."
With just four episodes, Rob said director Larissa Behrendt and the production team had a difficult task ahead of them in what topics they could cover. "If I had my way, we'd be doing two, three, four series of the stuff," he added.
"They did have to be sparing in what they wanted to focus on because it was a nationwide scope for the show."
While his voice narrates the series and ties everything together, Rob's hands-on investigation centred around the Northern Territory. "I was able to visit the Mimal Rangers down in the Katherin region and, of course, my favourite part is taking the show over to my neck of the woods, the Tiwi Islands."
With other First Nations investigators across the country, Rob said there's still so much more to discuss. "There's just so much more ground to cover... lots of Mob that we didn't even speak to for this that we could feature in further series."
While appearing on screen is nothing new for the Logie winner, Rob said filming The First Inventors was a very personal journey, learning as he went along.
"[It was a] completely different kettle of fish from scripted drama, my main bread and butter, and the main departure from that is not having to hide behind a character -- in a sense having me on display, and my family as well," he said.
"I'm really proud that they're in it, and they're all really chuffed and excited to see themselves on the big screen."
During his time with the Mimal Rangers, Rob was able to see a completely different side to fire management. "I was coming in completely as a layperson... fire equals destruction, it doesn't equal regeneration. To see it play out in the lands that the Mimal manage so well was completely mind-blowing to me."
The Mimal Rangers manage over 600,000 hectares of Arnhem Land country, using traditional fire management to protect native flora and fauna, as well as reducing greenhouse gas emissions.
Witnessing traditional knowledge be applied to sustain people today in a way that not only looks after the environment but also the people living on the land was a thread Rob witnessed throughout The First Inventors topics covered.
"All this knowledge and invention that has been there for thousands of years, it's really exciting to see the ways that modern science is pairing with this traditional knowledge to find solutions to modern problems.
"My wish would be, through a series like this, more attention is brought to that and more funding and support can be given to areas so that we can discover new ways to manage our world sustainably into the future," he said.
"Knowledge is the bedrock of cultures around Australia and not only do non-Indigenous people have a lot to learn but the new generation of kids growing up in their communities... that knowledge exchanged from generation to generation is what it's all about," Rob said.
"Not only can we find solutions for Australia as a whole but we're strengthening and keeping that culture alive... I hope Mob and communities can see how valuable their culture is.
"Indigenous culture is Australian culture," he continued. "Yes, it's special and inherent to a particular group of people and it's their way of life, but I hope every person that watches this, Indigenous and non-Indigenous, has a sense of ownership over this amazing group of people with this really great body of knowledge.
"I hope it leaves people feeling hopeful for the future and that Indigenous voices when it comes to land management and sustainable practices should really be listened to going forward."
The First Inventors premieres on NITV and Network 10 on Thursday 15 June at 8.30pm, and continues weekly. For an accompanying teacher resource guide, please click here.