After chatting to the couple, the AWL staff realised that they had two perfect pups in mind for Rodney and Craig: Zoe and Buster. The only problem was that Zoe and Buster were a bonded pair.
After some initial convincing, it didn't take long after meeting Zoe and Buster for Rodney and Craig to realise that their family was about to double.
"I don't know how we lived without them for so long," Craig told 10 play, "Having them home with us for work every day makes work so much more bearable as it makes you take breaks to play with them or take them for walks which, given my health conditions I have suffered, is great for me.
"I have a full clean bill of health which was received recently, and I think Buster and Zoe have had a lot to do with that by getting me out and about and up and about with them."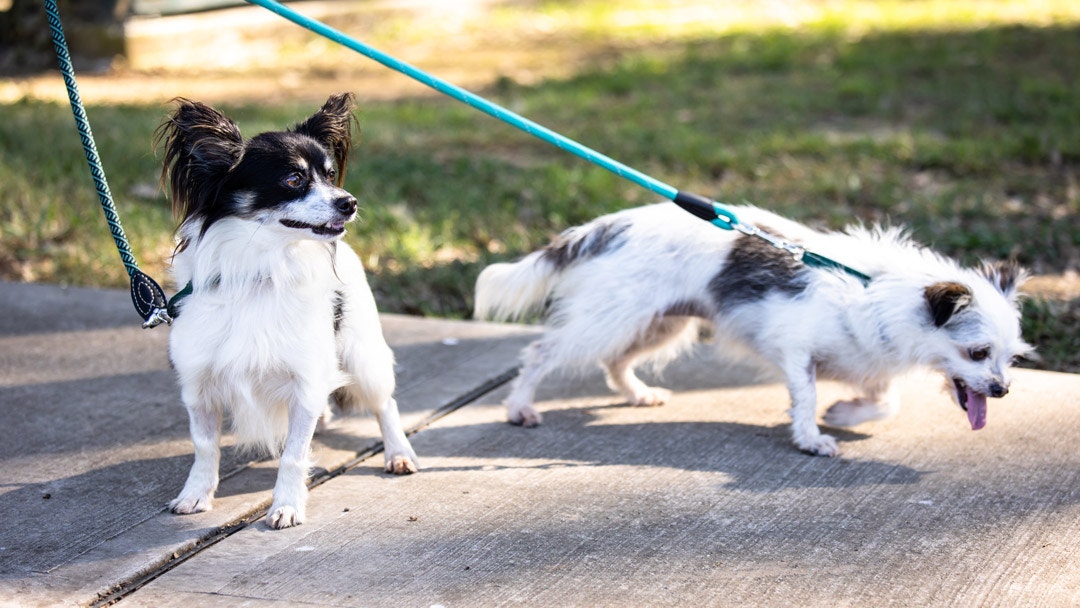 Though Rodney and Craig weren't expecting to bring home two dogs, Zoe and Buster quickly won them over with their quirky personalities. But it did, obviously, take them a little while to all settle in to their new home.
"Understandably, coming into a new and strange environment made them both a bit nervous. When they arrived home, they came into the house and got straight into exploring their new digs," Craig said.
"I don't think they (and us) slept for the first 24hrs because they were making themselves familiar with their surroundings, however after 24hrs they were settled in and very comfortable ad they have never looked back."
Describing them both "like a married couple", Craig said Zoe and Buster love sharing a bed together but "if one moves and disturbs the other then the other growls as if to say stop it - and to be fair, it's mostly Buster growling at Zoe if she disturbs his sleep."
"They are both so loveable and playful," he continued. "They will always come and greet you first thing of a morning as soon as they hear that you are awake and when they hear our cars arrive you can hear them barking with excitement that we are home.
"I recently spent three months in Perth for work and every morning and throughout the day Zoe and Buster would apparently come into my home office looking for me, or even just sit in there waiting for me. They are such sweet-natured dogs."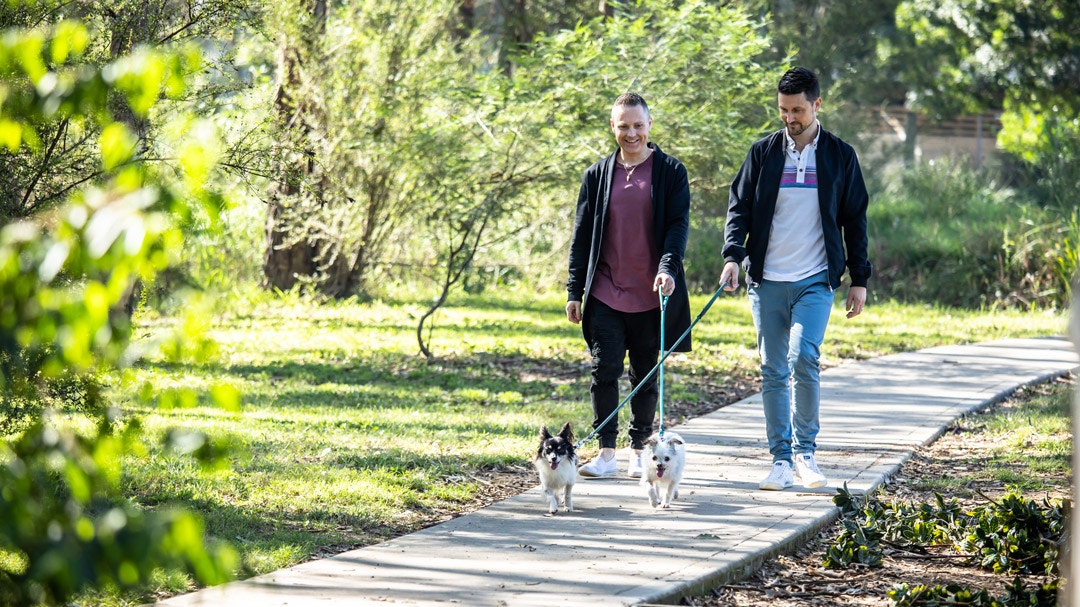 When their episode of The Dog House finally aired, Craig admitted that it was a strange experience — after Zoe and Buster had changed so much in that short time, to see them as they were when they first met was a little strange, but also rewarding to see how far they had come in such a short amount of time.
As for their experiences through the AWL, Craig said he and Rodney recommend anyone seeking a pet check AWL out. "I wish we could adopt all the animals," he added.
"The guys at AWL have been so supportive since we adopted Buster and Zoe and have always been there to help with any questions we have had since filming finished," he said adding, "They are the real-life superheroes!"
See Rodney, Craig, Zoe and Buster's story, along with many other stories of families finding their perfect pooch with full episodes of The Dog House Australia streaming on 10 Play.