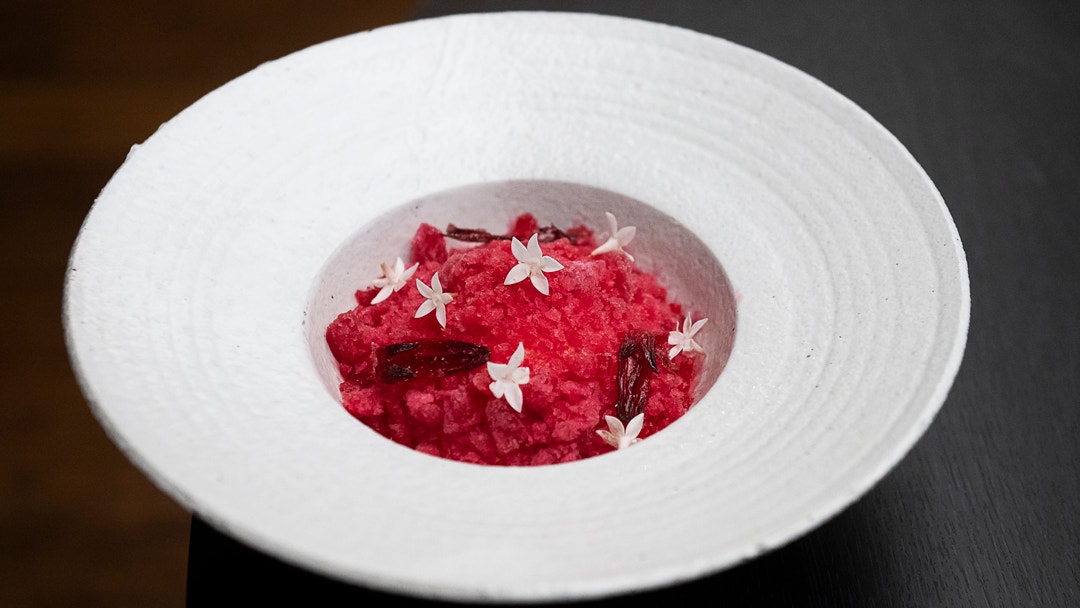 Ingredients
Black raspberry Gastrique
Black raspberry compressed apple
Steps
Preheat oven to 170°C fan forced.
Preheat the oven to 180°C fan forced.
For the black raspberry sorbet, place the raspberry puree in the microwave until melted.
Weigh the castor sugar, dextrose, glucose powder, sorbet stabiliser and inulin together.
Place the water in a large saucepan and bring up to 60°C, then gradually add the dry ingredients, whisking after each addition to ensure there are no lumps in the mixture.
Once the mixture is completely combined bring it up to 80°C degrees.
Remove from the heat and whisk in the raspberry puree.
Finish by adding the black raspberry liquor.
Place in the ice-cream machine and churn until set, then place in the mould domes.
For the candied rosella flowers, Toss the rosella in the sugar and leave in the oven at 80°C until the sugar is crystallised. It will take around 1.5 hours.
In a mixer with a paddle attachment, cream the butter and icing sugar until light and fluffy on a medium speed.
Lower the speed, then add in the egg yolks. Slowly incorporate flour and corn starch.
Using the bench scraper, remove the dough onto a silpat or baking paper. Gently incorporate the diced chilli by hand.
Roll the sable to about .3-.5 cm thickness and leave in the freezer to rest for 10 mins.
Put the sable into the oven for 10 minutes. Remove from the oven and cut to the size required and then return to the oven for another 10 mins or until golden brown.
Cool completely before using.
For the Black Raspberry Gastrique weigh all the ingredients into a pot and put on low and heat until thick and syrupy.
For the Rosella Granita, brew the rosella in water. Simmer for about 20 mins and taste to make sure the rosella flavour is potent.
For the Cream Cheese Espuma, bloom the gelatine in cold water. Scape the vanilla bean into cream (A) with cream cheese, caster sugar and sea salt to 50 degrees, making sure the mixture is smooth. Add in the gelatine.
Finish with cold cream.
Pour into a siphon gun and charge with 1 cream charger.
For the Black Raspberry Compressed Apple, peel the apple and slice into 3mm slices. Add the liqueur and place in a vacuum machine and compress.
To assemble, place a piece of sable on the bottom of the plate.
Add a slice of compressed apple a dome of berry liquor sorbet.
Drizzle berry liquor gastrique onto the sorbet.
Pipe on the cream cheese espuma and fish with granita to cover the cream cheese espuma.
Finish with a few petals of candies rosella and white flower petals.