If you're prone to road rage then this is undoubtedly not the car for you.
In what is believed to be a world-first; Russian mechanic, Vahan Mikaelyan, has turned his Lada car into a flame-thrower.
Based on extensive research on YouTube; Russia does have a problem with people committing insurance fraud by jumping in front of (very) slow, if at all, moving cars but surely this is not the solution.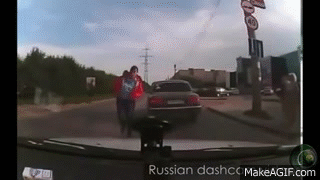 Mikaelyan has nicknamed his invention the 'Dragon' and you can see why in a video uploaded to Reddit.
In the video, two of the car's four headlamps have been removed, and in their place are the flamethrower's nozzles. When activated, the system fires two 30-foot-long streams of fire. As someone who finds car horns somewhat aggressive, this is not the driver I'd want to have a run-in with.
I can see a couple of practical uses for this car. First would be the ease of lighting a bonfire at the campground; much quicker than pushing the cigarette lighter into servo receipt paper. The second being that no one would dare park in front of you at the drive-in theatre.
The footage does not show the car driving so it's unknown if the engine has been removed to make space for the flame thrower mechanism. If I was in Russia I think I'd play it safe and make sure I didn't accidentally break check a Lada anyway.
Main Image: Reddit