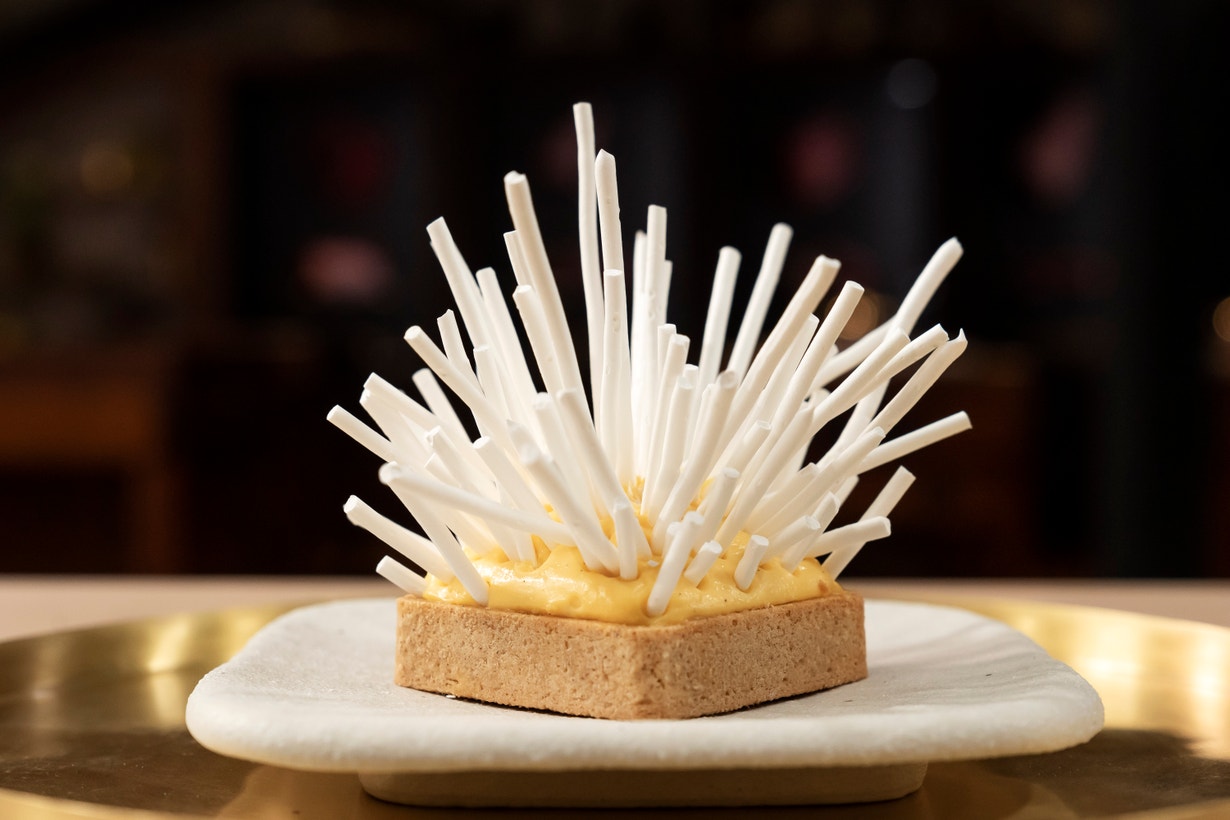 Steps
For the Lemon Cake: Preheat oven to 200°C
Melt butter in a small saucepan and set aside to cool.
In a stand mixer fitted with whisk attachment, whisk sugar and eggs together until pale and slightly thickened.
Whilst whisking, drizzle in cream, and olive oil slowly.
Finely grate the zest from lemons. Add zest and juice to bowl and mix until combined.
Remove bowl from stand mixer. Sieve flour, baking powder and cinnamon over mixture, add melted butter and fold through with a spatula until combined.
Place square 33 x 33 cm silicon mould on a large flat baking tray. Spread mixture evenly into mould and bake in 200°C oven for 7 – 8 mins. It should spring back to the touch.
Remove from oven and set aside on bench to cool.
For the Pastry Shell: In the bowl of a stand mixer fitted with the scraper attachment, beat butter and brown sugar on medium speed to a thick, smooth paste, ensuring no lumps of butter remain. Scrape mixture from sides of bowl.
Add egg and beat to combine. Add sifted flour, cinnamon, gingerbread spice, salt and baking powder on a low speed to bring dough together.
Remove dough from mixer and using your hands, combine into a ball. Divide dough into 4 pieces. Flatten into 1cm thick squares, wrap separately in plastic wrap and place in refrigerator for 15 minutes to rest.
For the Swiss Meringue Sticks: Preheat oven to 100°C
Place eggs whites, sugar, and cream of tartar in a large stainless-steel mixing bowl and place over simmering saucepan. Whisk by hand until mixture is aerated and reaches 60°C.
Transfer egg mixture to a stand mixer fitted with whisk attachment and mix on high speed, to form medium-firm peaks.
Transfer to piping bag fitted with 4mm tip.
On 3 lined, rectangle baking trays. Pipe individual lines along the longest length of the tray ensuring they are close, but not touching. Approximately 10 - 15 lines per tray.
Bake in a 100°C oven for 40 minutes. Remove from oven and set aside to cool. Once cool, place in an airtight container ready for service.
Pastry Shell continued: Remove dough portions from refrigerator.
Sprinkle a small amount of flour on the bench and roll the dough approximately 2mm thick. Repeat with remaining dough to complete 2 tart tins.
Using an 8cm x 8cm square perforated tart tins as a template, place onto the centre of rolled dough, using the widest edge of the tin as a guide, cut a 2cm square border of dough. Make 4 cuts diagonally from the corner of the tin to the corner of the dough.
Place the tart tins onto a silicone lined tray. Ensuring the widest edge of tin is facing up, carefully place dough into tart tins, gently push into the corners creating neat square edges. Trim excess dough with a knife and return to refrigerator to rest further.
For the Lemon Cream: In a small saucepan add cream, lemon zest, scraped vanilla seeds and salt and bring to the boil. Remove from heat and set aside.
In a medium bowl combine egg yolks, sugar and cornstarch, whisk to combine.
Strain hot cream over egg mixture and whisk to combine. Return to saucepan and place over medium heat. Add lemon juice and whisk vigorously until the mixture begins to boil. Reduce heat and continue whisking for a minute until it becomes a thick paste.
Remove from heat, place a drum sieve over a bowl and use a pastry scraper to push mixture through.
Whilst still warm use a stick blender to add cubes of cold butter, one piece at a time, ensuring each cube of butter is incorporated before adding the next.
Transfer to piping bag with 12mm round tip. Place in fridge to cool and set.
Pastry Shell, continued: Preheat oven 170°C
Remove pastry shells from fridge and place baking weights onto dough. Blind bake for 9 minutes in a 170°C oven
Carefully remove baking weights. Return pastry shells to oven and bake for a further 8-10 mins or until golden brown. Set aside on bench to cool.
For the Chocolate Crunch Layer: Place the gold chocolate and oil in a plastic bowl, melt in the microwave for two 30 second bursts. Stir until totally melted and combined.
Add crushed rice bubbles to the chocolate along with the cinnamon and salt. Stir to combine.
For the Caramel: Place sugar in a medium saucepan over a low heat, gently swirl the pan to keep caramel from sticking and burning. Remove from heat when caramel is a rich golden colour.
In a separate small saucepan, add cream, glucose, salt and vanilla seeds. Bring to the boil, remove from heat and set aside to infuse.
When the sugar is golden in colour remove from heat. Carefully and gradually add warm cream mixture to caramel and return to the stove, continually whisking until it comes up to the boil. Remove from heat.
Whisk cubes of cold butter one piece at a time ensuring each piece is incorporated before adding the next piece. Cool to 80°C
Place gold chocolate in a glass bowl. Once caramel is 80°C pour caramel over gold chocolate. Whisk to combine.
Spread into a 34cm x 20cm baking tray until cool to the touch, place in refrigerator for 3 - 5 mins if needed.
To assemble tart: Remove pastry from tart tins and gently Microplane the edges and sides of the tart so that they are smooth and neat.
Spoon approximately 1 tablespoon of the crunch mixture over the base of each tart case. Use a small offset palette knife to spread evenly to corners. Set aside in refrigerator for 5 mins to set.
Spoon a thin layer, approximately half a tablespoon, of Caramel into tart covering the Chocolate Crunch layer. Use a palette knife to spread evenly to corners.
Pipe a thin layer of Lemon Cream over the Caramel, approximately ½ tablespoon.
Cut Lemon Cake with 60mm square metal cutter. Place over Lemon Cream layer.
Working from the outside in, pipe Lemon Cream to cover the cake, piping extra Lemon Cream in the centre creating a rounded dome shape, approximately 1cm high in the centre. Smooth into a dome with palette knife.
Place tart on serving plate.
Break meringue sticks randomly. Starting from the centre and working towards the outside of the tart, push meringue sticks into dome as close together as possible, ensuring there are different lengths at different angles.