Back
Lamb Mughlai Curry with Saffron Rice and Raita and Indian Chicken Kebab with Coriander and Mint Chutney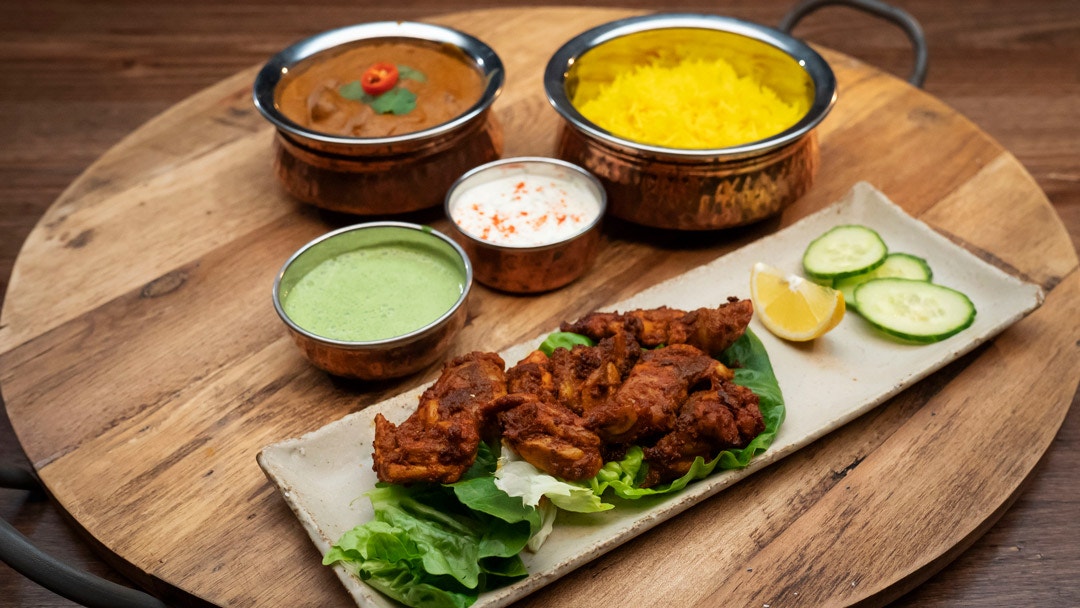 Ingredients
Coriander and Mint Chutney
Steps
Preheat oven to 230°C fan-forced.
For the Spice Mix, toast the spices in a small frying pan over medium heat for 2-3 minutes. Transfer spices to a spice grinder and process to a fine powder. Transfer to a small bowl and set aside.
For the Lamb Mughlai Curry, combine lamb, 1½ tbsp Spice Mix, spices, 1 tbsp minced ginger, 1 tbsp minced garlic, sour cream, yoghurt, salt and oil in the bowl of a pressure cooker and mix well. Cook on high pressure for 15 minutes or until lamb is tender.
Meanwhile, heat ghee in a large frying pan over high heat. Add onion and cook for 8 minutes or until softened. Add remaining ginger and garlic and cook for 2 minutes.
In another large frying pan, combine cashews, desiccated coconut and 1 tbsp Spice Mix over medium heat, tossing in pan until toasted. Combine onion mixture and cashew mixture in a blender. With motor running, gradually add water and process to a smooth paste.
Release the pressure from pressure cooker. Transfer lamb to a large frying pan over medium heat. Add cashew paste and stir for 5 minutes. Keep warm until ready to serve.
For the Indian Chicken Kebab, combine chicken, 1 tbsp Spice Mix, ginger, garlic, salt, spices, sour cream, thickened cream and oil in a medium bowl, mix well and set aside to marinate for 10 minutes.
Place a small metal bowl in the centre of a large ovenproof frying pan. Place chicken into the pan, around the bowl. Place 4 charcoal pieces over a flame for 10 minutes or until hot. Transfer charcoal to the bowl, spoon ghee on top, immediately cover with lid and plastic wrap so that no smoke escapes. Set aside for 10-15 minutes.
Remove the lid and discard the bowl of coal. Place the pan in 230°C oven for 15 minutes. Turn the oven onto grill setting, turn the chicken over and cook for 5 minutes or until slightly charred. Keep warm until ready to serve.
For the Saffron Rice, combine all ingredients in a rice cooker and cook until fluffy. Keep warm until ready to serve.
For the Coriander and Mint Chutney, combine herbs, garlic, chillies, oil and water in a small food processor and process to a smooth paste. Transfer to a small bowl, add yoghurt, season with salt and mix. Chill until ready to serve.
For the Cucumber Raita, squeeze the water out of grated cucumber. Combine cucumber and yoghurt in a small bowl, season with salt and mix.
To serve, transfer Saffron Rice, Cucumber Raita and Coriander and Mint Chutney to separate serving dishes. Sprinkle chilli powder over Raita.
Place Lamb Mughlai Curry in a serving bowl and garnish with capsicum and coriander. Place Indian Chicken Kebab on a serving plate with lettuce and cucumber.
Place all serving dishes and lemon wedges on a large platter.