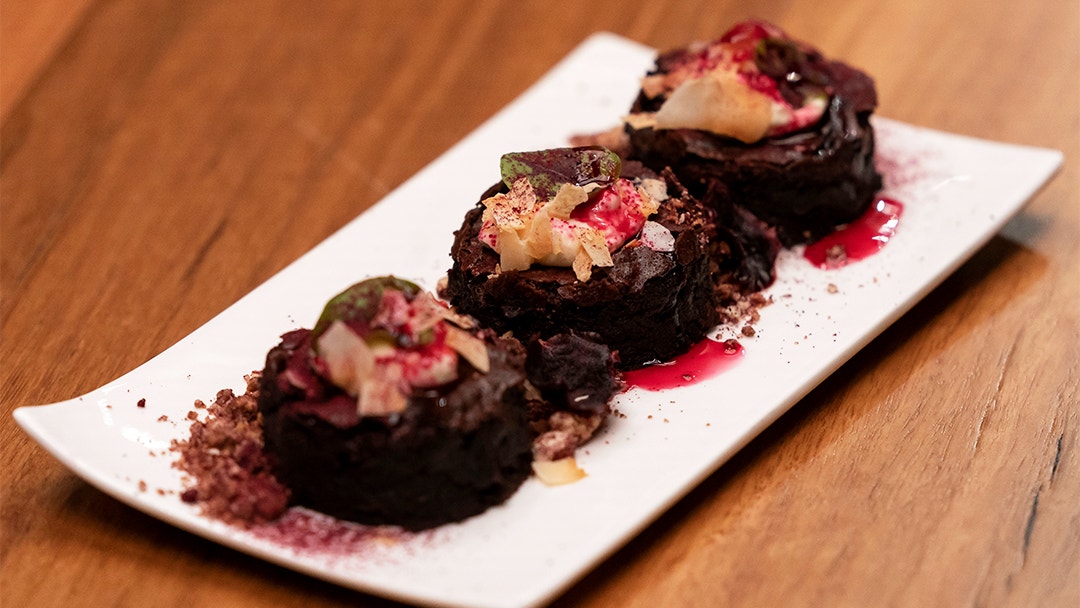 Ingredients
Beetroot and Chocolate Brownie
White Chocolate Beetroot Rocks
Steps
Preheat oven to 180°C fan-forced.
For the Beetroot and Chocolate Brownie, grease and line a 20cm x 20cm square cake pan with baking paper.
Combine chocolate, butter and coffee in a large saucepan over low heat to melt. Remove saucepan from the heat.
Add beetroot and sugar and stir through. Gradually add the eggs, stirring well after each addition. Add cocoa, flour and salt and fold through.
Transfer batter into lined tin and bake for 30 minutes or until just cooked. Set aside to cool then use a 5.5cm round cutter to cut at least 12 rounds.
For the Candied Beetroot, combine water and sugar in a small saucepan and bring to the boil. Add beetroot, reduce to medium heat and simmer for 15 minutes or until reduced to a thick syrup. Remove beetroot from the syrup and set aside. Add extra 2 tablespoons water to the syrup and stir through. Set Candied Beetroot and syrup aside.
For the White Chocolate Beetroot Rocks, combine chocolate and 50g icing sugar mixture in a small saucepan over high heat and stir continuously until chocolate melts and mixture starts to come together. Remove saucepan from the heat.
Add remaining 70g icing sugar mixture and beetroot powder and stir until mixture clumps into large 'rocks'. Transfer to a silpat mat, sprinkle extra beetroot powder over and toss through. Once cool, break larger pieces into small 'rocks'.
For the French Whipped Cream, combine cream cheese and sugar in the bowl of a stand mixer and whisk with whisk attachment until sugar dissolves, scraping sides as needed. Add cream and vanilla extract and whisk to soft peaks. Chill until ready to serve.
For the Toasted Coconut, spread coconut over an oven tray and bake for 5 minutes or until toasted. Set aside to cool.
To serve, give the cream a quick whip to bring back to soft peaks if needed. Place three Beetroot and Chocolate Brownie rounds on each serving plate. Top each with French Whipped Cream, Toasted Coconut and micro sorrel leaves. Serve Candied Beetroot and White Chocolate Beetroot Rocks beside. Dust with beetroot powder and drizzle reserved beetroot syrup over.