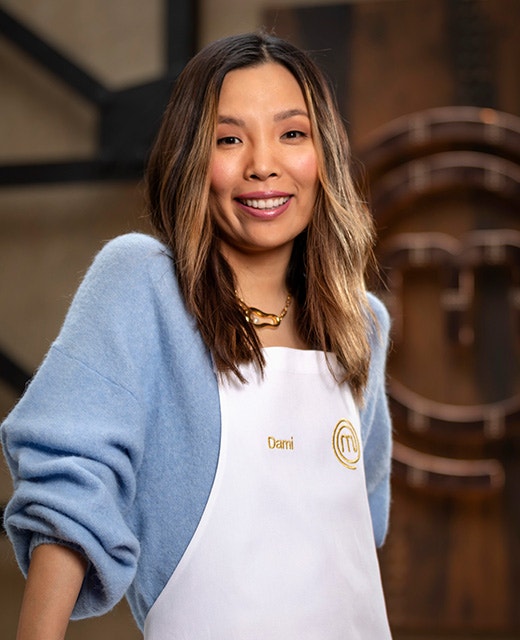 Dami Im
Singer
Acclaimed entertainer Dami Im is no stranger to pressure. Her performance on the world stage during the 2016 Eurovision Song Contest was seen by 204 million viewers worldwide. Dami has long proven she has the composure to peak at the right time, and it's a trait she will need as she enters the MasterChef kitchen for a competition with a whole new flavour.
Beginning her musical journey as a virtuoso pianist, Dami is renowned for her emotive and powerful vocals after capturing our hearts as the winner of The X Factor Australia in 2013.
Since then, Dami has released a string of hit albums and singles including 'Alive', 'Super Love' and 'Gladiator', and in 2021 released her meaningful new single, 'Lonely Cactus'. In 2016, she became "Eurovision royalty" when she earned the highest score ever achieved by an Australian entry with her global smash hit 'Sound of Silence', finishing second in the competition. The song was a subsequent number one global hit, charting in 38 countries.
In 2019, Dami was awarded the Australian Women in Music Humanitarian Award winner for her ongoing work to alleviate childhood poverty in underdeveloped countries, and she is a proud ambassador for Compassion Australia.
2021 has seen Dami's first ever solo tour Piano, Songs & Stories provide a unique insight into her experience as she brings new life to her chart-topping hits and fan favourites. With stripped back arrangements and soaring vocals, Dami's honest and candid storytelling has shown fans another side of herself.
Yet another string to Dami's bow will be seen as she throws her hat into the Celebrity MasterChef Australia ring. As an avid foodie, Dami says she loves cooking at home to relax and unwind.
With strong food memories from her childhood spent both in Korea and Australia, Dami is heavily inspired by her mother's talent in the kitchen and hopes to showcase some of the Korean culture and cuisine close to her heart.
As with her music, authenticity will play a key role in Dami presenting the judges with impressive food. Her quirky, bubbly personality will see her have fun in the kitchen no matter what, but with her eyes firmly on the prize.