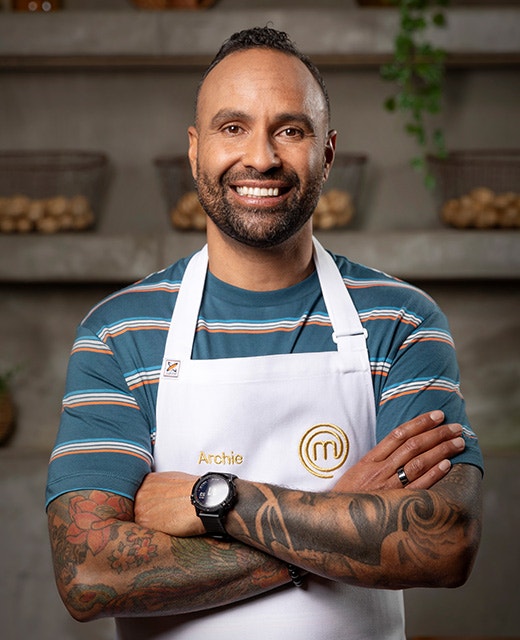 Archie Thompson
Football Legend
Australian football royalty Archie Thompson is jumping off the field and into the frying pan as he fights his way to glory in the famed MasterChef kitchen.
The former Socceroo spent the majority of his career with Melbourne Victory Football Club, winning three championships and two prestigious Victory Medals, the highest honour awarded by the club.
Appearing for Australia more than 50 times and scoring 28 goals, Archie played a pivotal role in the 2005 qualification games against Uruguay, which saw Australia break a 35-year drought. He was in the squad for the 2006 FIFA World Cup, the 2001 and 2005 FIFA Confederations Cups, the 2007 AFC Asian Cup, the 2008 Summer Olympics and the successful 2004 OFC Nations Cup.
Archie's 13-goal haul against American Samoa in 2001 remains an incredible world record.
One of six kids from a close-knit family, Archie admits the family dinner table was filled with simple and classic meals, and he has a keen eye for meat and working with pastry. A fan of the traditional surf and turf, Archie hopes to bring his love of seafood into the kitchen to impress the judges, and will stop at nothing to stand on the podium at the Grand Finale.
Since retiring, Archie has done lots of coaching at junior level and believes in giving young children a professional and fun learning environment. He's also a passionate ambassador for Polished Man, an organisation raising awareness to end violence against children.