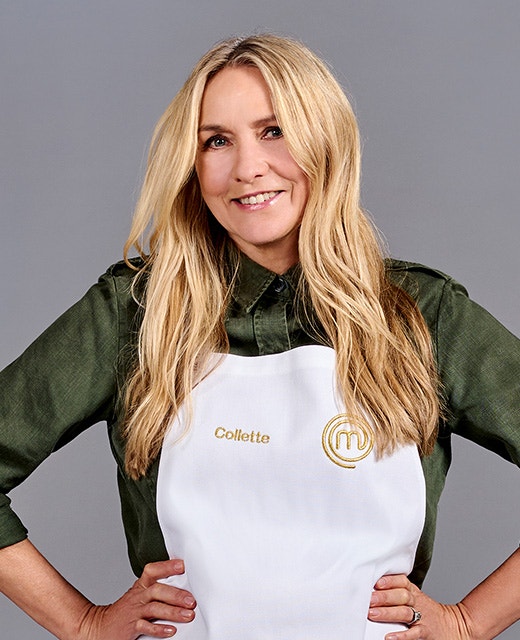 Collette Dinnigan
Fashion designer
Collette Dinnigan AO, is one of Australia's most successful, respected and celebrated fashion and interior designers. With a penchant for creating excellence and attention to detail her stock in trade, switching chiffon for chiffonnades should come easily to Collette. Her steely determination and drive to achieve makes her one to watch in the Celebrity MasterChef Australia kitchen.
As the first Australian fashion designer to mount a full-scale ready-to-wear collection in Paris, Collette has shown during the prestigious Paris Fashion Week an impressive 33 times. Her iconic work has been worn by fashion icons worldwide including Princess Mary of Denmark, the Duchess of Cambridge, Nicole Kidman, Naomi Watts, Angelina Jolie, Kylie Minogue, Julia Roberts, P!nk, Diana Ross, Cameron Diaz, Sandra Bullock and Beyoncé.
One of Australia's most lauded fashion designers, Collette has received the Australian Designer of the Year Award, the Leading Women Entrepreneurs of the World Award and was twice named as one of Australia's 50 Most Beautiful Exports. In 2017, she was awarded the Order of Australia for her services to fashion and has featured on a postage stamp.
Over the years, Collette has collaborated successfully with the likes of Marks & Spencer and Target to present more affordable ranges for lovers of fashion everywhere, including a children's range for Aldi, inspired by her own two children.
Over the past decade, Collette has curated interior spaces both for herself and clients, and currently presents a number of short stay properties in Australia and Italy, along with unforgettable experiences. She will soon add to this with her own ceramics line, handmade in Italy.
During Celebrity MasterChef Australia, Collette will bring her passion for cooking and entertaining to the plate, taking inspiration from a life-long love of food and from memories of time spent in South Africa, New Zealand, her beloved Italy and beyond.
Showing love and generosity for family and friends through food comes naturally for Collette, and she relishes the chance to showcase her talent and creativity in yet another discipline, as she prepares for the battle to begin in the MasterChef kitchen.