Fans of the world of NCIS will have a brand-new adventure to sink their teeth into when NCIS: Sydney launches on Friday, November 10 on Paramount+ Australia.
We sat down with five of the stars of the show ahead of its premiere to get all the gossip on what to expect from the first-ever international version of the series, joining the extended NCIS family alongside other spin-offs like NCIS: Los Angeles, NCIS: New Orleans, and NCIS: Hawai'i.
The series stars Olivia Swann (DC's Legends of Tomorrow, The River Wild) as Michelle Mackey, Todd Lasance (Home and Away, The Secrets She Keeps) as Jim "JD" Dempsey, Sean Sagar (The Covenant, Fate: The Winx Saga) as DeShawn Jackson, Tuuli Narkle (Bad Behaviour, All My Friends Are Racist) as Constable Evie Cooper, and Mavournee Hazel (Neighbours, Shantaram) as Bluebird "Blue" Gleeson.
NCIS Special Agent-in-Charge Mackey heads Down Under with her team to work alongside her AFP counterpart, Sergeant Jim "JD" Dempsey and his team, in a multi-national task force to keep naval crimes in check. The two teams will have to overcome culture clashes and power struggles in a joint investigation that is more than it first appears on the surface.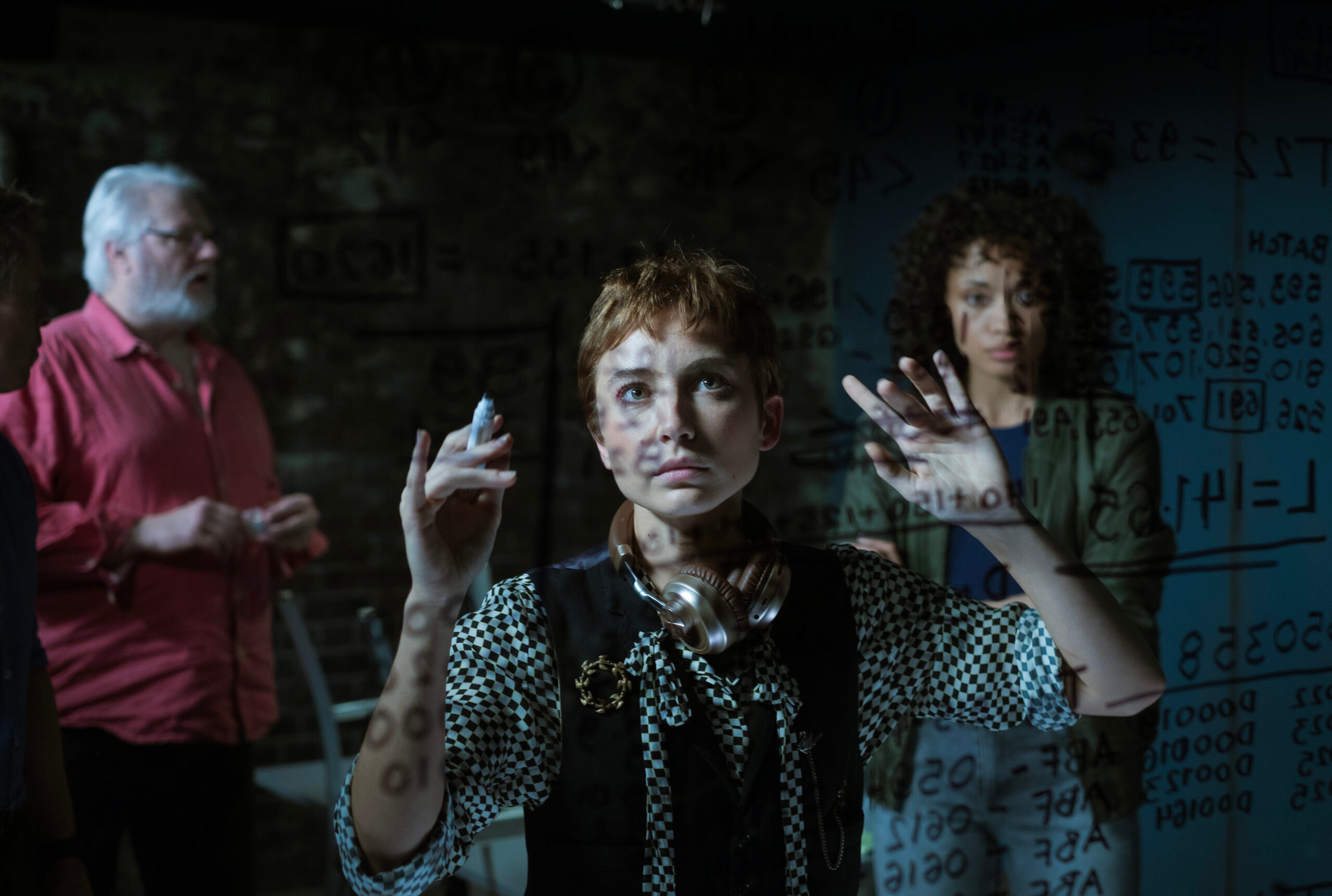 10 Play: How does it feel to officially be part of the NCIS family?
Olivia: I mean, it's a dream come true, an honour, a pleasure. All of those things. I was just saying to Todd, only now is it kind of dawning on I think maybe all of us, the absolute scope and grandeur of this franchise and actually being a little part of it is kind of incredible and I've not noticed that until now.
Todd: I keep saying it's the dream, it is literally the dream role - particularly for an Australian to be shooting a US series of this scale in Australia, that's our dream. I love all that sort of police/military world, that's always been something I've personally been interested in and grew up reading books about with my brother, but getting to play such a dynamic character too… honestly, I'm a very happy man.
Sean: It's been all smiles from all of us, I feel like it's been an amazing four months and to now see it come to life was a real moment for all of us. We all watched the trailer together and just seeing everyone's reaction - showed how big and how much this means to us and also to be in this beautiful universe that we've now been introduced to. It's incredible.
Tuuli: And it's so quick! We just finished and it's like there's not even a moment to breathe and it's just here, and it's so exciting. It's wonderful to see the culmination of the work you've been doing. You see how much the crew and the cast are doing at all times, and then to see it come to fruition in such an incredible, exciting trailer is just like whoa, okay, it's happening!
Mavournee: It's such an iconic family, the NCIS families in LA, New Orleans, Hawai'i – to be part of that legacy is phenomenal.
But also, the character Blue, I'm just so honoured to play. From the first audition I feel like I've been waiting for this role my entire life and every role that I've played has led me here. There are so many similarities between myself and the character. To lean into that, to be celebrated and rewarded for it is really rewarding.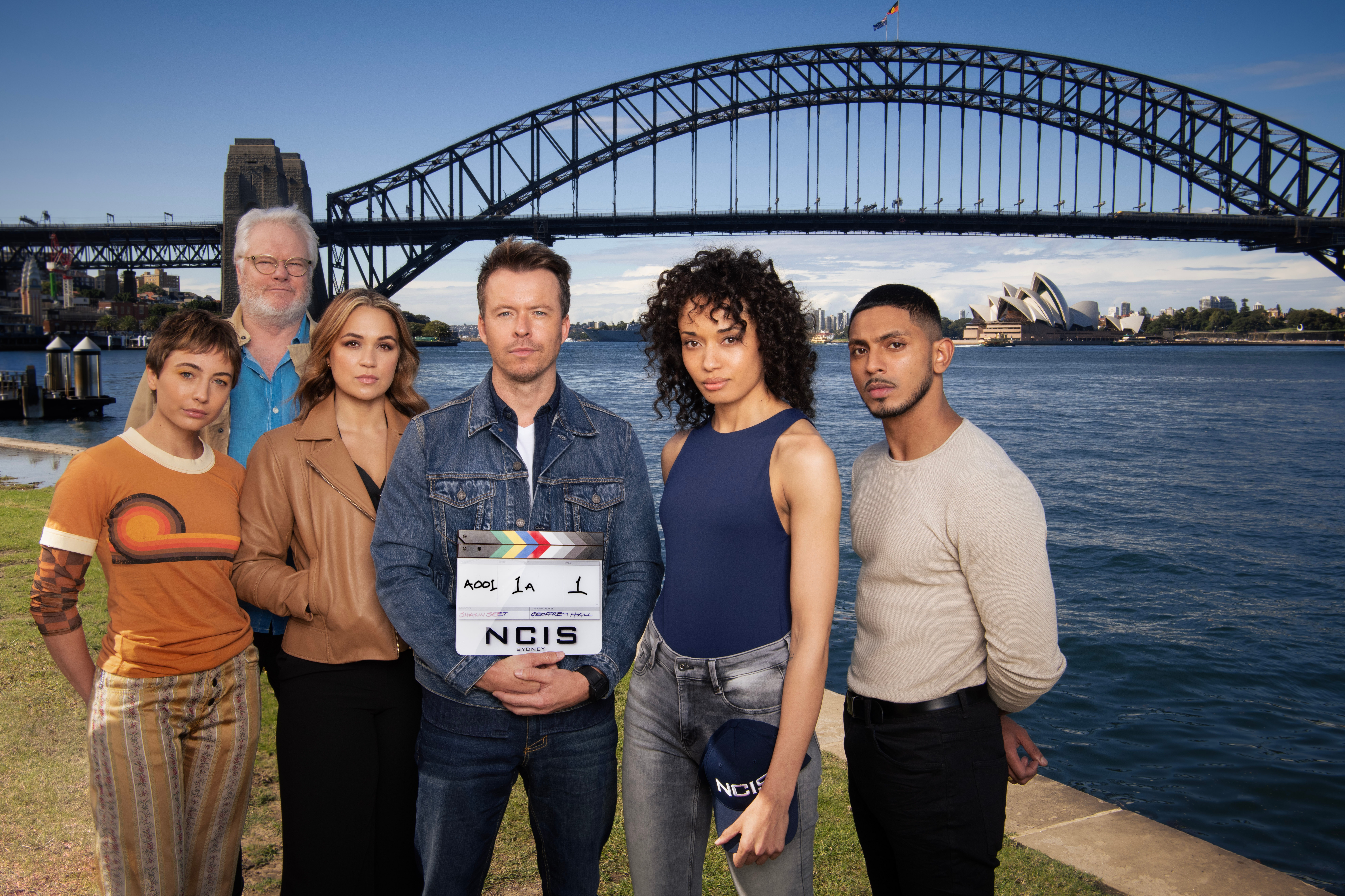 10 Play: What can you tell us about your characters?
Olivia: I mean, with Mackey, she's a maverick. She's an absolute powerhouse, she comes in - it's her way or the highway and boom, first episode, that's exactly what happens. It's this butting of heads, it's a clashing of these two big dogs, these two bosses that want to run everything their own way which is such a wonderful dynamic to play.
Todd: Instead of the 'team unity' all the time, it's great there's that friction. Culturally we butt heads, and then they bring in the Americanisms like coffee, the wrong side of the road, our policies, my jurisdiction of being in Australia, it's my turf, but it's your role, yeah but it's my squad… they keep that banter and that friction and tension throughout the series.
Olivia: What I think is so wonderful about these two characters is they're very true to their beliefs and how they operate so there are elements of like - no matter how much respect they develop for one another, I'm still going to hold you accountable for what you're doing if it's something I don't agree with, and it's always really fun to play that because it keeps these new little levels of conflict coming in. These wonderful moments you don't see coming.
Todd: But then there's synergy there where we're working cases, particularly the high stakes stuff, where it's fluid like water.
Mavournee: [Blue] is fiercely intelligent to the point where I feel almost intimidated by her intelligence. I've learned so much about chemistry, science, and hacking. She's such an incredible female role model as well. To follow in the suit of Abby [played by Pauley Perrette], who was such a cultural reset, we hadn't seen women like that on screen before and she became a fan favourite for that reason. She had brains but she also was this incredibly quirky, original female character.
Sean: Deshawn Anthony Jackson, when I first read the script, has been probably the first character that I've resonated the most with from his backstory to how he is as a person to how he goes about dealing with situations… how he handles everything, how empathetic, caring, loving and enthusiastic he is, this approach to life which is so special. As soon as I read it I went this is it, this is me. I could be this forever!
Tuuli: That was really beautiful [laughing].
Sean: He means a lot to me! He's close to my heart.
Tuuli: I think I would describe Evie as… she's got that classic dry, sarcastic Australian sense of humour. Everything is just a bit of a piss-take and she definitely uses that to her advantage on DeShawn a lot of the time, they have a very, very fun relationship. She's an AFP officer, she started her law enforcement journey in undercover drug investigations and then moved into the NCIS world with JD. She comes from the western suburbs, big family, she's down to Earth, salt-of-the-Earth kind of woman.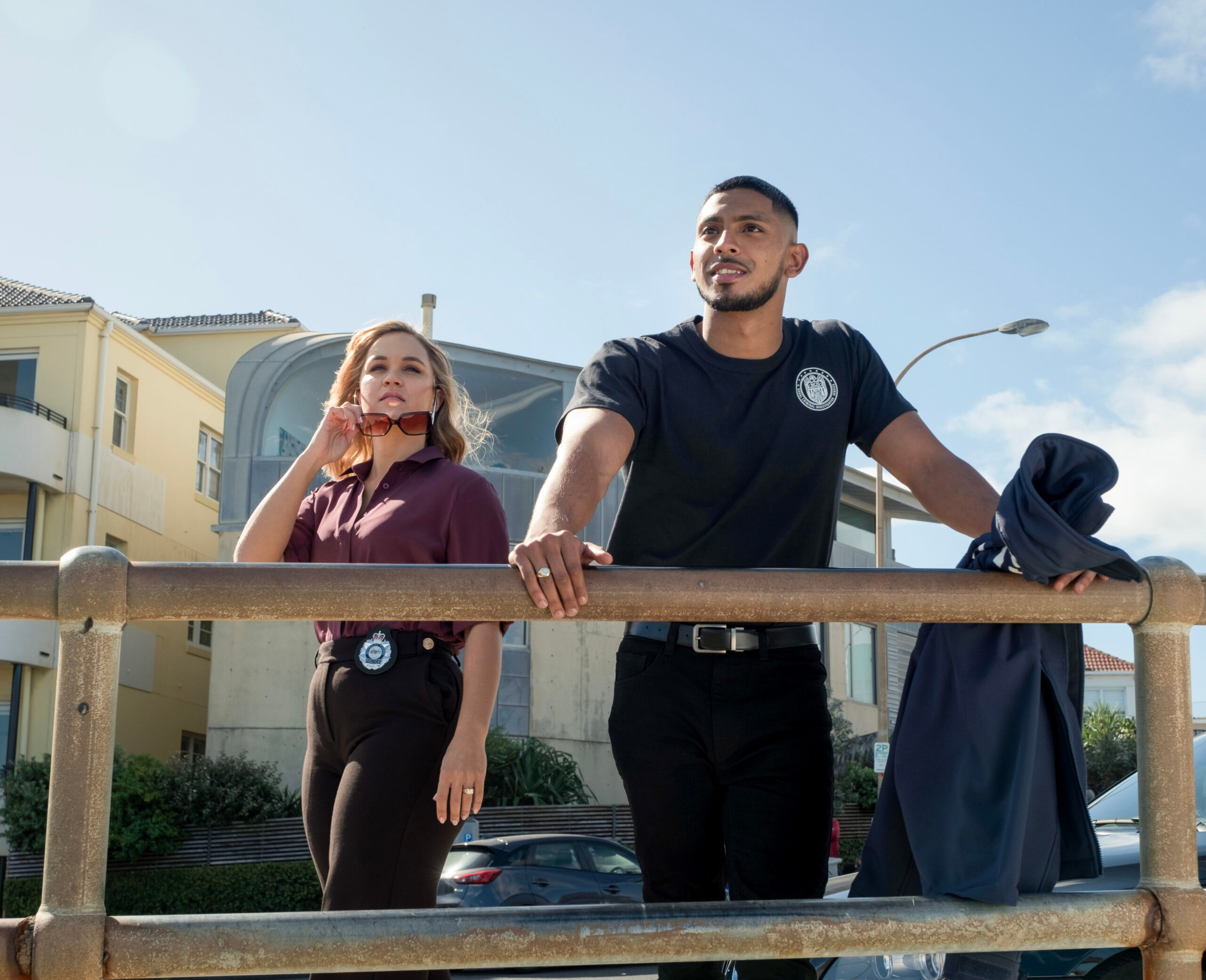 10 Play: Did you get the opportunity to speak to and learn from those in the AFP, NCIS, and Military?
Olivia: We did, yes! I mean, within the first day of shooting we were surrounded by about 100-something actual Navy personnel who were used in this wonderful, massive scene and we all thought they were extras.
Todd: We asked them, how long have you been in the industry for? She was like, 'Nah I'm in the Navy!'
Olivia: I was like, oh costume did a really good job. There's an actual NCIS Sydney branch that exists, it's real and we had a couple of agents come to set and talk to us about their experiences and we were lucky enough to go onto some of the navy bases and into the actual big navy ships, tour some of these incredible vessels so you can see the world where Mackey would have lived on, months at a time, and having that experience really helps build the nuances of the character.
Tuuli: They just appeared on set one day and it was this serendipitous moment of marrying our characters to people who actually live and work and dedicate their lives to this world. I think it was a lot of news to us that there actually is an NCIS base here in Australia, and they work out of Sydney! I think it was a big shock to all of us, but it was an incredible opportunity. We got to step on one of the US Navy ships, we had a couple of the Navy guys come to set and have a talk with us. All of that is invaluable as an actor because it just adds that layer of weight to the people living these lives, and the respect you have for the work that they do. I think we were really lucky to layer that onto our characters.
Todd: But also, we're on the decks of these battleships and aircraft carriers, we're in the seahawk helicopters, we're working with the pilots and navy crew, we have our NCIS agents on set with us. It's next level. Obviously, they're all US citizens so they brought their families out and they're NCIS Sydney – we've got their cards they handed to us, and we're like this is the real deal! They're on set all the time, they loved coming on and being with us. They were so warm and friendly and engaging and wanted to help us in any way, telling stories. And outside it, we had stunt training, weapons training, and martial arts training when it was required as well. We went all in on this.
Sean: They would tell us stories about certain situations they had, and then what we found by being so fascinated by that allowed us - when we got scripts through - to go oh my god, this is how they would handle this, this is how Deshawn or Evie would now handle this situation through the knowledge we were given. It was an absolute blessing to have them around and to have them give us the knowledge and power they have - and for us to just be free. It was incredible to have them.
Mavournee: I mean, I feel like I have learned more about chemistry in the past four months than I feel like I ever did in high school. I don't know if I'm going to be able to apply them in my everyday life [laughing], but hacking phones and - it's incredible what the AFP do and how they protect our borders and our people as well. That was a really humbling and sobering way to start the series and really brought a level of respect and authenticity to play Blue.
There have been a lot of times when preparing for scenes emotionally, it was hard to differentiate between myself and Blue because she is so grateful to be there and wants to be a part of this family so much and I feel entirely the same.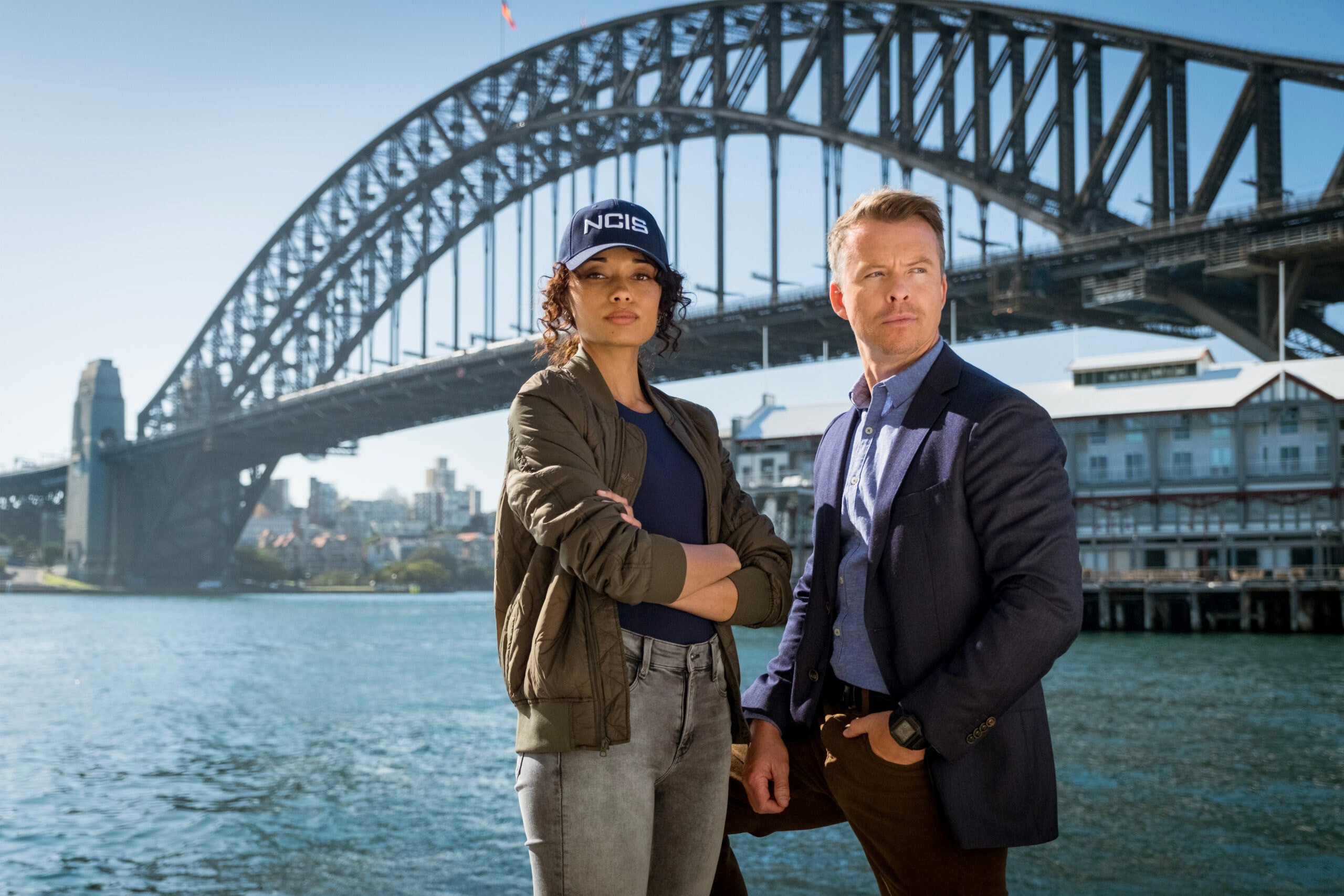 10 Play: What was it like getting to film around iconic Sydney locations?
Olivia: I mean, I keep saying I didn't really get much of a chance to explore Sydney outside of work because we were filming a lot, but because of the locations that we were filming on - we were in so many different places, that I can now leave Sydney being like I saw so much of it and it's beautiful!
Sean: It's a beautiful place, everything about it… It's powerful and even to the point when we were filming certain shots - people are going to think it was done in CGI, there's no CGI used in this whole series. Everything is caught on camera and how imposed it looks just shows how beautiful Sydney is.
Tuuli: I have to say it's absolutely hilarious because when you live and have grown up in Australia you take all of these beautiful landscapes for granted, it's just like oh yeah that's an everyday thing. Seeing Sydney through the eyes of Shaun and Liv is what the audience is going to get to see… I think every beach we went to Shaun was like, that's the best beach I've ever seen! Next one: oh THIS is the best one I've ever seen!
Todd: I've lived in Sydney before and I was blown away, so I think for an international audience… even Australians are going to be like, whoa, this is our backyard. This is spectacular.
10 Play: How do you think fans will respond to NCIS: Sydney?
Todd: We hope they love it! We're like the new kids in the class… You don't know, that's the honest answer.
Mavournee: From the first day that we all met, the chemistry was all there and I think what really brought us all together was just gratitude - for the role and to be part of this franchise and the weight of that was not lost… I think that chemistry really translates on screen and it's so important to have that amongst the cast as well. I love all of them and I hope for so many more seasons because I don't want these people to not be in my life anymore.
Olivia: I think the main thing is that we are just so excited and so proud of what we've done, and I think it fits so well into the franchise. Like we've said - come for the crime, say for the chemistry, stay for the characters. It is that, and I think it perfectly encapsulates what NCIS is about; a blended family, a coming together of individuals who are just so enigmatic and so unique. I think and hope people will love it as much as we do.
Sean: It's nerve-raking… I just hope we all get welcomed with open arms and we do the show the justice it deserves!
The eight-episode debut season of NCIS: Sydney will stream exclusively on Paramount+ Australia from Friday, 10 November, dropping new episodes weekly on a Friday