This international friendly will follow the Subway Socceroos' clash against world ranked #4 England at Wembley on Friday, 13 October.
The latest match between the trans-Tasman rivals follows the two-game Centenary celebration in 2022, marking 100 years since Australia's men's national football team – now known as the Socceroos – played their ever first 'A' international match, which was against New Zealand in Dunedin.
An additional piece of Australia and New Zealand's football history will be celebrated as the Subway Socceroos and All Whites come together in London, with the rediscovered New Zealand and Australia Soccer Ashes Trophy to be taken home by the winner.
Socceroos set to face England in London
The Soccer Ashes trophy – a unique artefact of both nation's shared sporting and military history – was crafted in 1923 and for 30 years served as the prize for international 'tests' between Australia and New Zealand.
The trophy is a powerful symbol of Australian and New Zealand men's national teams' early years, containing the ashes of cigars smoked by the team's first captains, Alex Gibb and George Campbell, housed in a safety razor case that was carried at Gallipoli.
Upon its rediscovery in April 2023, Football Australia and New Zealand Football discussed the possibility of reinstating the Soccer Ashes trophy as the fixture's perpetual prize, which had been the case until the mid-1950s.
Football Australia CEO, James Johnson said the revival of the Soccer Ashes trophy was important in acknowledging the camaraderie between Australia and New Zealand, while also speaking to both nation's friendly sporting rivalry.
"First and foremost, the Soccer Ashes trophy is a wonderful piece of sporting history and it's been a pleasure to learn of the many storylines attached to it, which ultimately brought it to being rediscovered earlier this year," Johnson said.
"The trophy illustrates Australia and New Zealand's ongoing connection and celebrates our shared love of football, as well as the rich history of both nations. In many ways, the creation of this trophy set the foundations for how our organisations work together today.
"When discussing the significance of the trophy and the story behind it, returning it to its rightful place as the prize the Socceroos and All Whites play for was an easy decision.
"It will be a fantastic occasion and I look forward to the Soccer Ashes trophy being the centrepiece of future fixtures," Johnson explained.
Presently, the FIFA Men's International calendar does not support the staging of an annual match between both nations, however both Member Associations are proactively looking for opportunities to play fixtures.
"It is the intention of both parties for our men's and women's senior and youth national teams to play friendly internationals on a more regular basis, and we will continue to explore opportunities around respective FIFA international calendars and our own domestic match calendar," Johnson concluded.
Football New Zealand CEO, Andrew Pragnell said:
"We know how much football fans on both sides of the Tasman want to see this fixture, and with the rediscovery of Soccer Ashes trophy, this match has more relevance than ever.
"This is a truly historic trophy, and it will be brilliant to see it played for this year, and in future years, for the first time since the 1950s.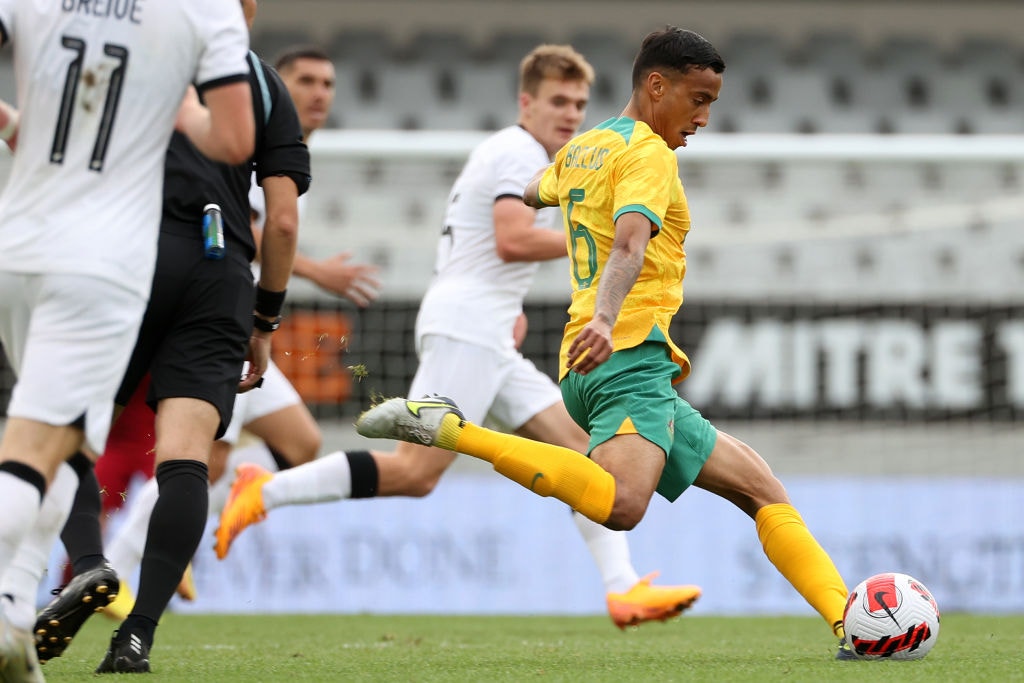 "This match, as well as last September's 100 year anniversary games, the A-League expansion in Aotearoa New Zealand, and of course the FIFA Women's World Cup, signifies the ongoing collaboration between New Zealand Football and Football Australia, which can only benefit the game as a whole in this part of the world.
"We have a significant leadership role to play in football development across the Asia Pacific region and we are stronger together through our continued partnership and alignment."
Subway Socceroos' Head Coach, Graham Arnold said coming up against the All Whites would be an important test for his side as they build towards FIFA World CupTM Qualifiers and next year's AFC Asian CupTM in Qatar.
"I think regardless of the sport, there's a rivalry between Australia and New Zealand that we thrive on, and to now have a symbol of the competitive nature we share is great for both countries," Arnold said.
"Reinstating the Soccer Ashes trophy is a fantastic addition to this fixture moving forward, allowing us to embrace the history of the Socceroos and celebrate some of the early pioneers of our national team.
"We have four games before our World Cup Qualifiers in November, with the Asian Cup to follow in January, this match forms an important part of our preparation and something the group are looking forward to," Arnold concluded.
The venue, kick-off time and ticketing details for the Subway Socceroos v New Zealand All Whites in London will be announced in due course.
Relive all the action from the Socceroos vs Argentina