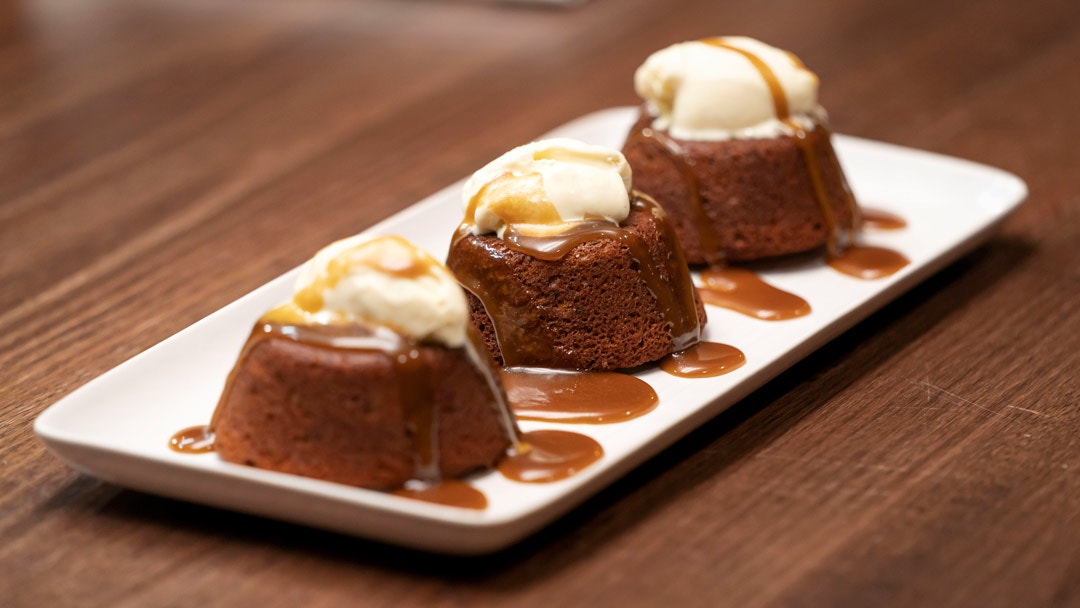 Steps
Prechill ice cream machine. Preheat oven to 180C. Grease 8 Texan muffin tin cavities and set aside.
For the Vanilla Ice Cream, combine cream, milk and vanilla in a saucepan and bring to just below simmering point. Remove from the heat.
Meanwhile, place egg yolks, sugar and salt into the bowl of an electric mixer and whisk until pale and creamy. While whisking, gradually add the hot cream mixture.
Return mixture to the saucepan and stir with a silicone spatula over low medium heat until mixture thickens and reaches 84C. Remove from the heat and pass through a fine sieve into a bowl. Place over a water bath to cool. Churn in the ice cream machine according to manufacturer's instructions. Place into the freezer until required.
For the Date Puddings, place dates and bicarb soda into a bowl. Add boiling water, stir gently to combine then set aside to soften.
Place butter and sugar into the bowl of an electric mixer. Beat using the paddle attachment until pale and fluffy. Add the eggs one at a time, beating well after each addition.
Sift the flour and baking powder together then add to the bowl, mixing on low speed until just combined.
Use a stick blender to puree the dates and water. Add the pudding batter and mix on low speed until combined.
Spoon mixture into muffin tin. Bake until tops spring back lightly when touched on top and a skewer comes out clean when inserted, about 17-19 minutes. Place tray on a wire rack for 10 minutes then invert puddings onto wire rack.
For the Toffee Sauce, place all ingredients except bourbon into a saucepan. Stir until sugar dissolves then bring to the boil, stirring for 2-3 minutes until thickened. Remove from the heat and stir in bourbon.
To serve, place the puddings onto plates or a platter, flat side up. Pierce the puddings all over with a toothpick. Top with a scoop of ice cream and pour over hot toffee sauce. Serve immediately.