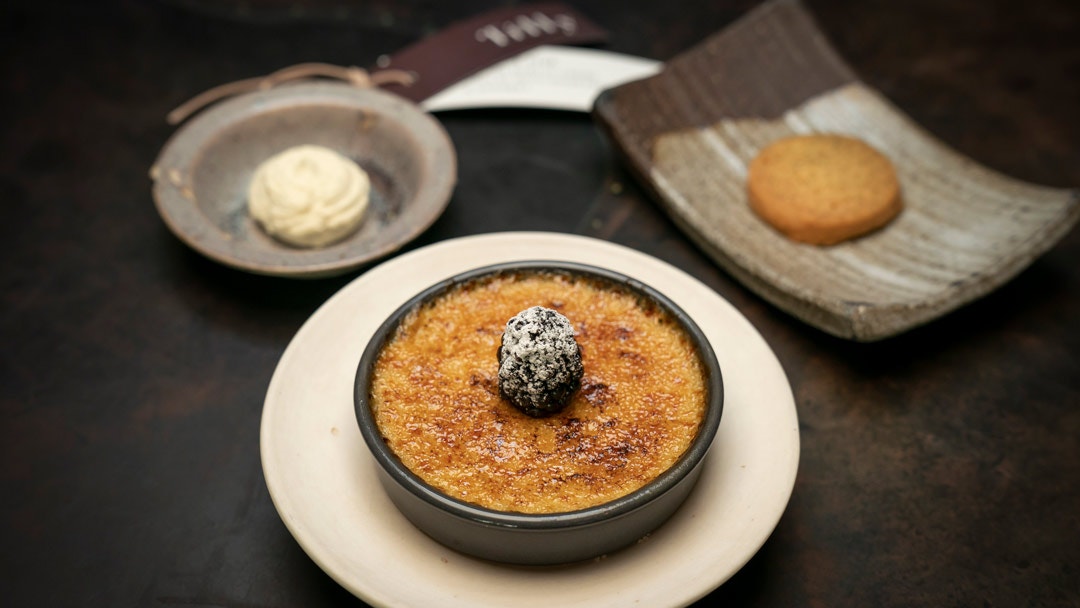 Steps
Preheat oven to 160C.
For the Crème Brulee, place cream, vanilla bean, vanilla seeds and lemon myrtle leaves in a saucepan over medium heat and bring to just below boiling point. Remove from heat and stir in a pinch of salt. Set aside to infuse for 10 minutes then pass through a fine sieve into a pouring jug.
Place egg yolks and sugar in a bowl and whisk until light and pale. While whisking, gradually add the hot cream mixture. Return to the pouring jug and remove any bubbles from the surface.
Line 2 large heavy based roasting dishes each with a tea towel. Place 12 11cm diameter x 3cm deep round ramekins onto the tea towels. Pour brulee mixture into ramekins.
Fill the baking dish with boiling water until it reaches half the depth of the ramekins.
Bake until just set and still slightly wobbly in the centre, about 30 minutes. Remove from the oven and transfer to the fridge to cool and set.
For the Shortbread, place the butter, sugar and vanilla into the bowl of a stand mixer. Beat together until pale and fluffy. Reduce heat to low and fold in the flour and salt. Turn out onto a floured work surface and bring together into a smooth dough. Press into a disc and wrap in cling film. Place into the freezer to chill for 15 minutes.
Unwrap dough and roll out with a floured rolling pin to a thickness of 7-8 mm. Place rounds onto a lined tray and dot with a fork. Sprinkle with lemon myrtle powder and bake until golden brown, about 18-20 minutes. Remove from the oven, cool slightly then transfer to a wire rack to cool completely.
For the Sherbet, combine ingredients in a food processor and pulse until evenly mixed. Transfer to an airtight container until ready to serve.
For the Lemon Myrtle Cream, place ingredients into the bowl of a stand mixer and whisk until stiff peaks form. Place into the fridge until ready to serve.
To serve, sprinkle each crème brulee with raw sugar and torch until melted and golden. Serve with a round of shortbread and lemon myrtle cream on the side. Roll the blackberries in sherbet and place one onto each crème brulee.