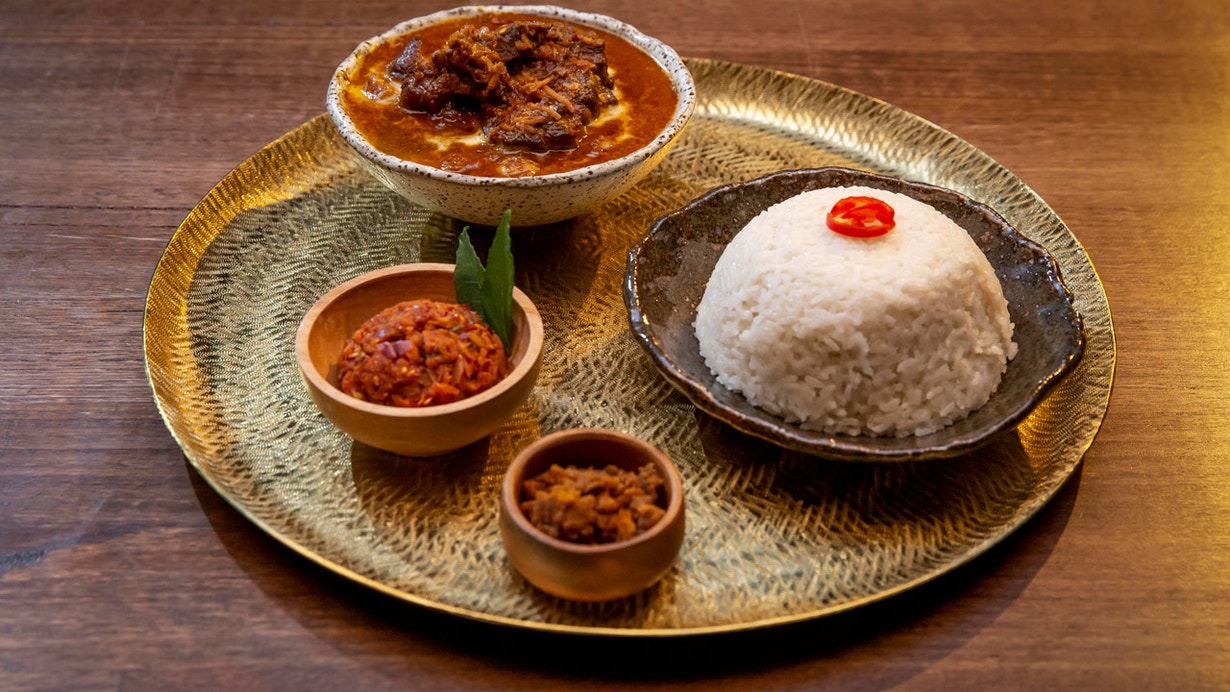 Steps
For the Beef Rendang, place chillies into a bowl and cover with boiling water. Set aside to soften.
Place coconut into a dry frypan and toast over low heat until golden. Remove from the pan and set aside.
Place the beef, sugar, tamarind puree and 1 teaspoons salt into a bowl, mix together and set aside.
Place the onions, jalapenos, dried chillies, ginger, 2 slices galangal, garlic and 2 heaped tablespoons toasted coconut into a food processor and blend to a smooth paste. Set aside.
Heat a pressure cooker on sauté setting. Add oil and when hot add the paste and cook, stirring until soft and golden, about 8-10 minutes, taking care to avoid burning the paste. Add palm sugar, soy sauce, lemongrass, lime leaves, remaining 1 slice galangal, turmeric, remaining 1 teaspoon salt and pepper and cook until fragrant. Add beef, toasted coconut and all but 1 tablespoon of remaining coconut cream and stir until beef is coated.
Cover pressure cooker with lid and cook under high pressure for 25 minutes or until beef is tender. Release pressure and keep warm.
For the Kiribath, place rice and water into a small saucepan and bring to the boil. Reduce heat to as low as possible, cover saucepan with a lid and simmer until rice is tender and water has evaporated, about 10 minutes. Combine coconut cream and salt then very gently stir through cooked rice over the heat for about 30 seconds. Spoon into a bowl then unmould onto a plate when ready to serve. Garnish with a slice of chilli.
For the Lunu Miris, using a mortar and pestle, grind ingredients (except lime juice) to a coarse paste. Stir in lime juice. Transfer to a small serving bowl and garnish with curry leaves.
To serve, spoon Beef Rendang into a serving bowl and drizzle with reserved tablespoon coconut cream. Serve with the bowls of Kiribath, Lunu Miris and some dark palm sugar on the side.