The 2022/23 season will live long in the memories of all Central Coast Mariners' supporters and players as they claimed the championship in style.
One man crucial to their incredible campaign was Vanuatu international Brian Kaltak who turned heads with his eye-catching performances in what was just his first full season as a professional footballer.
10 Play caught up with the Mariners' defender at the 2023/24 A-Leagues launch to discuss the new season as well as what it means to be a role model for Vanuatan and Pacific Islander kids.
What were some of the main factors that helped the team come together and achieve what they did last season?
All the young players really stepped up and we went on a run which gave us great momentum. We all stepped up and drove each other forward to get what we wanted which was success, which is what we were able to achieve in the end.
Have you set any goals for yourself for the season ahead?
I of course want to improve on last season and help the team win again. We want to go back-to-back this season.
What has it been like under Mark Jackson? Any differences to what it was like under Nick Montgomery?
Not too many differences to be honest. He's (Jackson) very similar to Monty, same vision with what he wants for players and the team.
He wants us to grow as Monty did, so it's been a very smooth transition.
You scored your first goal in the AFC Cup, how could you describe that feeling?
It was great, it was a relief to score my first goal for the club that gave me the opportunity to be in the A-League.
I will cherish that goal forever!
Watch: Brian Kaltak score his first Mariners' goal in the AFC Cup
You have become the face of football in Vanuatu. How important is it for you to be a role model for these kids?
The reason why I keep going and pushing myself is to motivate and inspire the young kids. Not just in Vanuatu but across the Pacific Islands. I'm. super proud of what I've achieved and I'm enjoying the moment.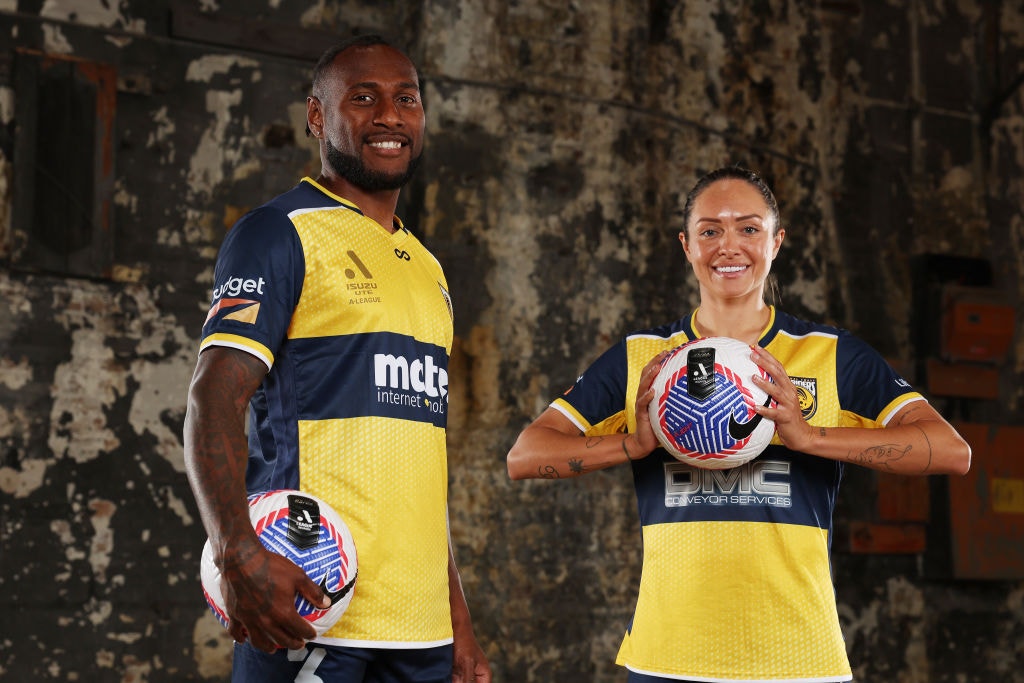 How do you think we can improve the accessibility to football for kids in Vanuatu and the Pacific Islands?
For me, I always talk about pathways. There needs to be pathways created that link Australian football clubs to these kids, that's the biggest thing we still lack. We need to make this happen.
This needs to happen not just in Vanuatu but across all the Pacific Islands. They have some in place for rugby but why not for football? If we could have this, it would be the one thing that all these kids would love.
Personally, I have had to climb through mountains to try and make it here (Australia), if we can use the rugby pathways as an example and implement what they did, that would be massive.
Finally, do you think the Mariners can go back-to-back?
Yes, for sure, I believe in us. I know that we're good and have what it takes. A lot of things have changed but that hasn't changed me from believing that we can do it again.
Watch Kaltak as his Mariners begin their Isuzu UTE A-League campaign away to Adelaide United on Friday, 20 October. Live and exclusive on Paramount+
You can also catch up with all the action from the Mariners' AFC Cup campaign on 10 Play. With full match replays and highlights available to stream now.
Find The Isuzu UTE A-League Fixtures here
Find out more about How to Watch the Isuzu UTE A-League Men's here
Check out the Alex Tobin Medal Hub
Watch the Isuzu UTE A-League Men live on 10 Play and Paramount+