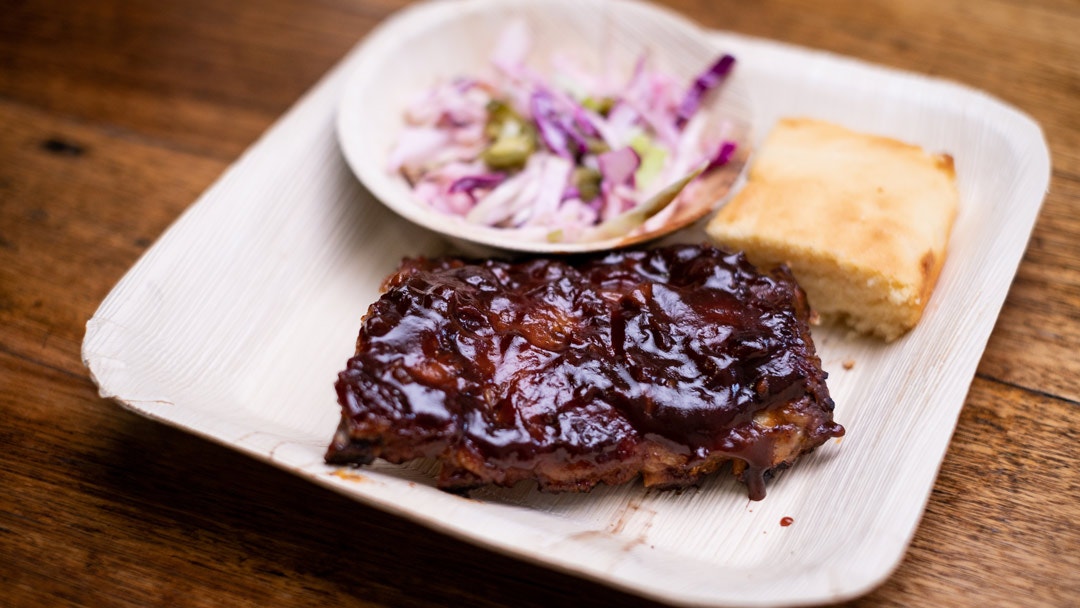 Steps
Preheat oven to 180C.
For the Ribs, place ribs onto a large tray. Combine spices and 2 teaspoons salt then rub all over the ribs. Set aside.
Chop the celery and carrot roughly and place into a pressure cooker along with remaining ingredients. Add the ribs and remaining ingredients. Seal and cook under high pressure for 20 minutes. Release steam. Remove lid briefly to release steam then cover and allow ribs to cool slightly in the cooking liquid until ready to glaze.
For the Cornbread, grease a 20cm square cake tin.
Melt butter in a large frypan then remove from the heat and allow to cool slightly. Place cornmeal, flour, sugar and salt into a mixing bowl. Beat the eggs into the butter. Combine the buttermilk and baking soda in a jug then whisk into the butter mixture. Add the combined liquid ingredients to the dry ingredients and mix until combined.
Pour into prepared tin and bake for 35-40 minutes until golden on top and a skewer inserted into the centre comes out clean. Remove from the oven and allow to cool slightly before cutting into squares to serve.
For the Whisky Glaze, heat oil in a frypan over low medium heat. Add onion and garlic and sauté until soft and slightly golden, about 5 minutes. Add whisky and simmer until reduced by half. Add remaining ingredients and bring to a boil. Reduce the heat to low then simmer until thickened.
To finish the ribs, remove the ribs from the pressure cooker and place onto a large tray. Brush generously with glaze and bake in the oven until caramelised, about 10-15 minutes. Remove from the oven and brush with more glaze.
For the Apple Slaw, combine ingredients in a large bowl and toss together until evenly mixed. Transfer to a serving bowl.
To serve, pile glazed ribs onto a serving platter and serve with the cornbread, slaw and remaining glaze on the side.