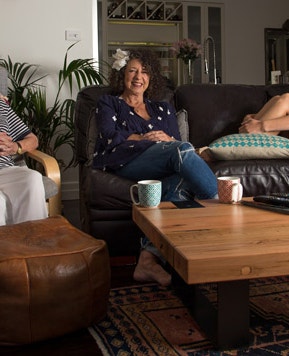 The Silbery Family
The three generations of women in the Silbery family bring a wealth of life experiences, personality and opinion every time they sit down to watch the telly together.
Great grandma Emily or "Emmie" models herself on Dame Judi Dench but is young at heart and likes to keep the other ladies of the house on their toes. Mum Kerry has a straight-talking no-nonsense attitude to life and is thriving as a middle-aged single. Daughter Isabelle is a stay-at-home mum who loves politics and current affairs but there's no denying that reality TV is her guilty pleasure.
These three women are close and relish each other's company, but it won't stop them from playfully pushing each other's buttons more often than not.