This time around, our loveable host Beau Ryan will be taking 11 teams of celebs and their loved ones on a race across the globe, battling not just for the glory of the win but also for $100,000 for their chosen charity.
Trading their lives of luxury and putting their relationships to the ultimate test, these 11 duos will face challenges, pit stops and detours like they've never experienced before, but who will come out on top?
From sporting legends to reality TV superstars, comedians and celebrity couples, here are the 11 teams taking on The Amazing Race Australia: Celebrity Edition.
Alli Simpson and mum Angie Simpson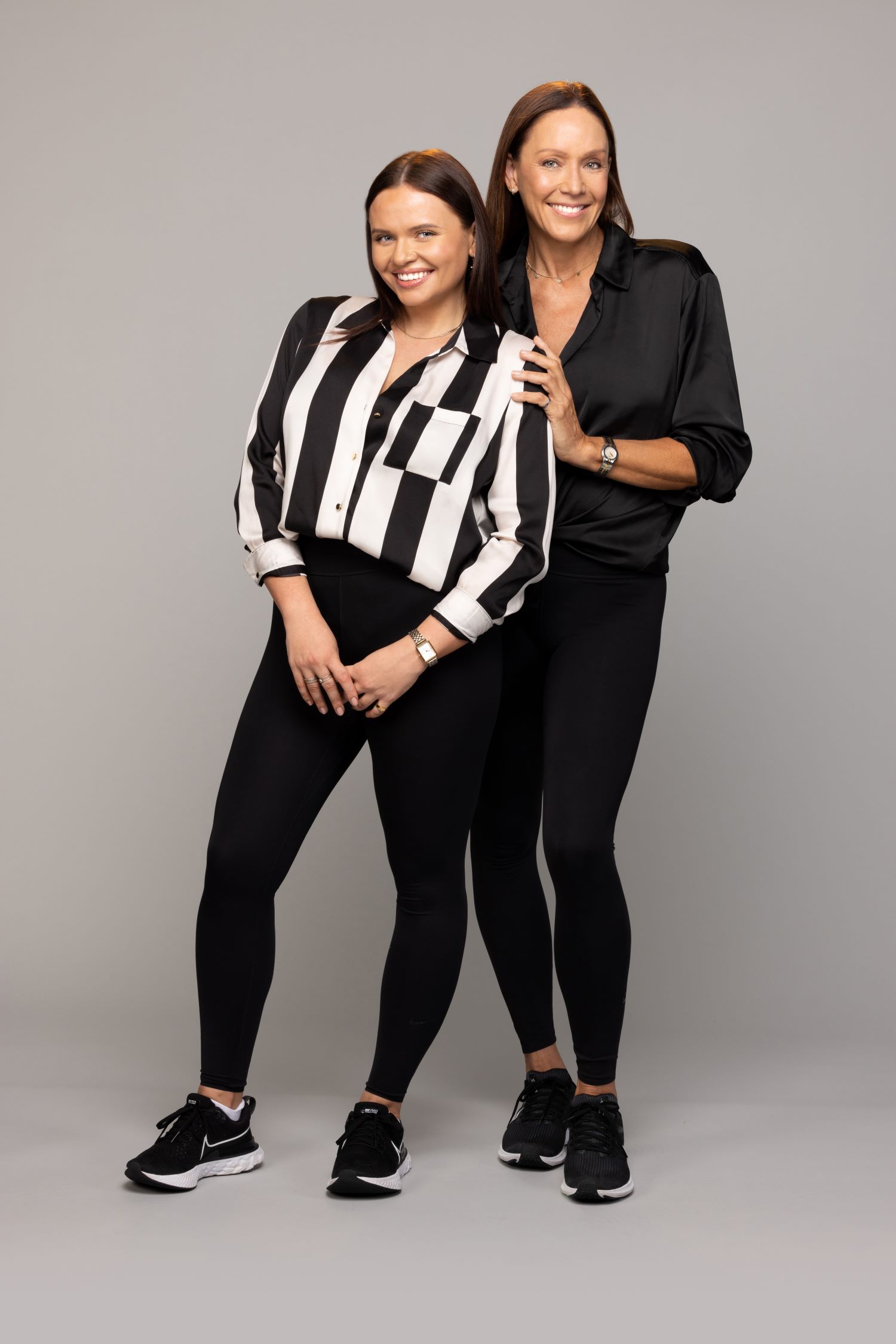 Aussie singer, actor, radio host, TV personality and author, Alli is tackling the race alongside her "momager" Angie. "At 52 years of age I feel like I haven't lived my life to the fullest yet," Angie added. "Doing something that pushes me outside my comfort zone and outside the box is only going to make me grow as a person -- and to do it with my daughter is next-level special."
The pair are competing on behalf of Dementia Australia. "My grandma, my dad's mum Chrissie, has gone down really fast with dementia in the last few years," Alli explained. "It's been really difficult for us to watch. We just want to do as much as we can to prevent other families [from] feeling the pain that we do."
Bec Judd and sister Kate Twigley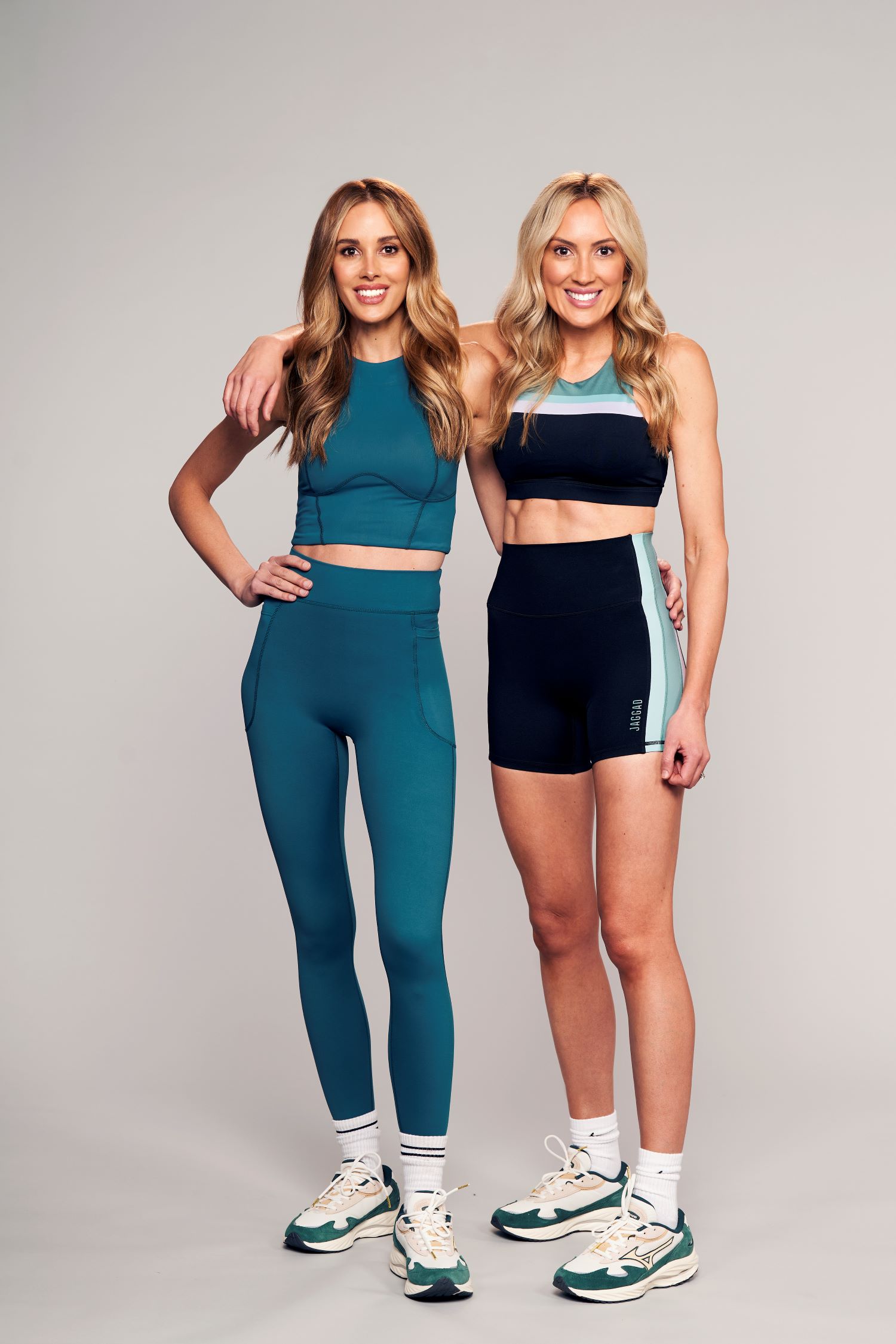 Fans of The Amazing Race since they were in high school, sisters Bec and Kate are ready to tackle whatever the race will throw at them. Describing themselves as "highly competitive mums with a few lols along the way", the duo said they like to think they'll give anything a go. Bec added that the pair are most looking forward to "The excitement of the challenge and doing it together as sisters".
Bec and Kate are competing on behalf of Impatient Advocacy - A Nicole Cooper Foundation. "We are racing in memory of our dear friend Nicole Cooper who lost her battle with bowel cancer in January this year," Kate explained.
"Nicole was a staunch advocate for cancer patients and her foundation continues her amazing work in ensuring others with cancer have better treatment, support, and options in their fight," Bec added.
Dane Simpson and dad Bow Simpson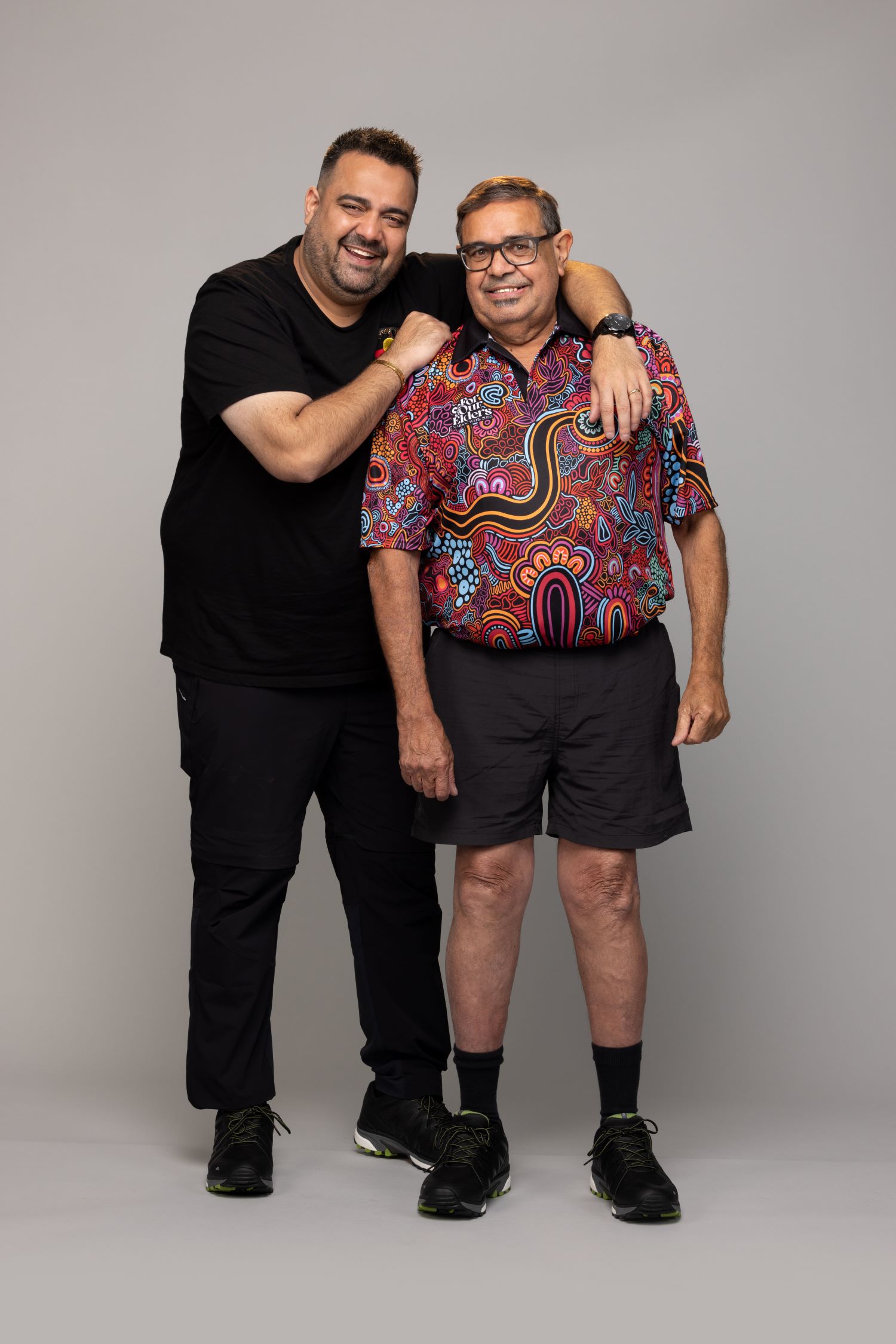 For comedian Dane, The Amazing Race gave him the perfect opportunity to "show off' his dad who features so often in his stand-up. "I think he's one of the silliest, funniest people... I wanted to just show people that he's real," Dane explained. "I think Australia is absolutely going to fall in love with him."
Bow simply added, "I didn't know I was going to do it, but I'm happy to do it."
The father-son duo are heading out on the race in the hopes of winning the $100,000 for the Dharriwaa Elders Group Incorporated, with Dane explaining that the money could supply people in Walgett with fresh drinking water, something they're both very passionate about.
"Dad spends a lot of time in Walgett, has a house there," Dane continued. "He lives there half the time, and he lives in Wagga Wagga. To think that people buy bottled water every week is just crazy. We think everyone in Australia should have access to clean water to drink. "
Darren McMullen and nephew Tristan Dougan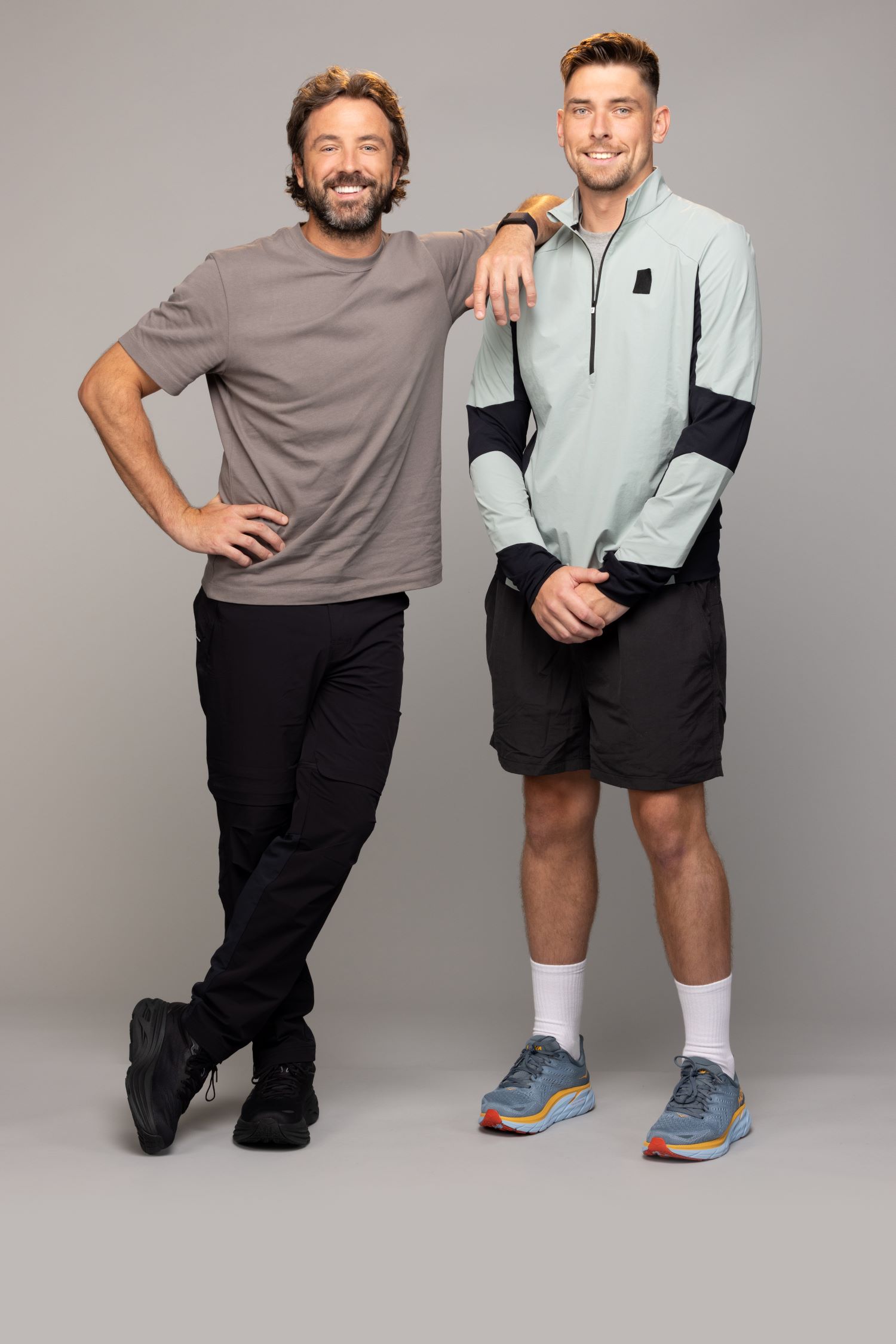 Actor and TV host Darren has a foolproof plan when it comes to his Amazing Race strategy. "I'm going to sit down and eat pasta and drink lots of red wine and tell [Tristan] what to do. If there's any kind of eating weird foods, he's going to be doing that. If there's anything that requires a lot of fitness and exertion, he's going to be doing that. I'll just be here for the brains."
Darren's nephew was quick to respond, "Interesting, because last night I was the brains..."
The pair are competing on behalf of Feel the Magic, an organisation that looks after children who have lost their parents. "Some of these kids, from what they've been through [to] where they're at now... they're an inspiration for all of us," Tristan said.
"One in 20 kids in Australia have lost a parent before the age of 18," Darren added. "This charity has their back, and they do great work. The more money we can raise for them the better, the more awareness we can bring to that charity is also fantastic."
Emma Watkins and sister Hayley Watkins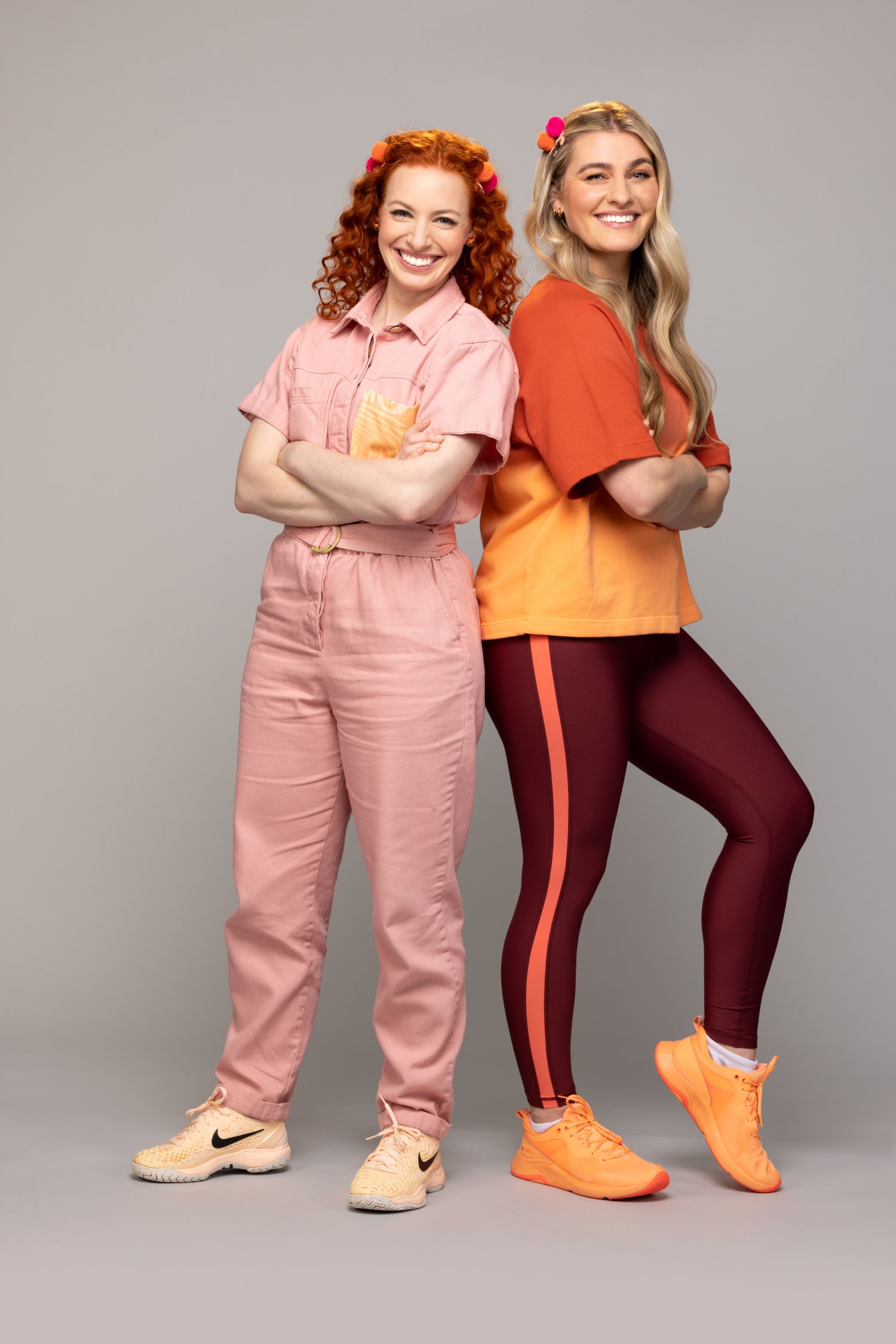 Children's entertainer, former Wiggle and Masked Singer Australia star Emma Watkins saw the opportunity to get to spend some long overdue time with her sister, Hayley. "This does feel like the first time we've been together since school camp, so we'll be bringing those vibes," Emma said.
"I'm definitely looking forward to meeting the people that we get to see and the different countries, as I haven't travelled much," Hayley said adding, "So for me, it's kind of exciting to go anywhere. And definitely exciting to spend the time with my sister and laughing and having fun."
"Our charity is the Leonie Jackson Memorial Fund," Emma explained, "which is a spinoff from Deaf Connect, and it really is about supporting and accessing information for deaf and hard-of-hearing children. It provides services and education systems for bilingual education."
George Mladenov and sister Pamela Mladenov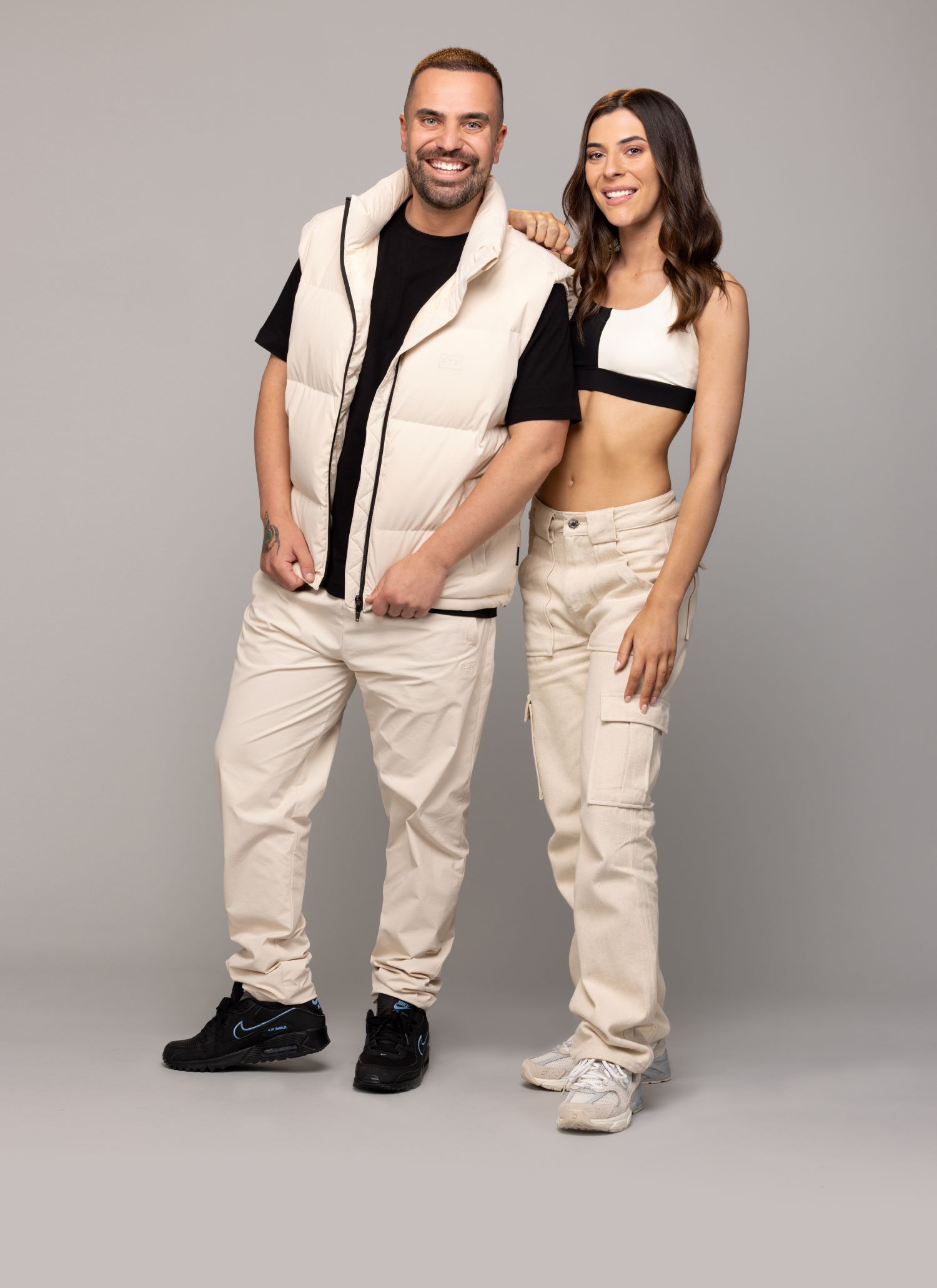 This year, George Mladenov became widely regarded as one of the best players -- not just in Australian Survivor, but the entire global franchise. After his incredible time on Heroes v Villains, he's now ready to tackle a whole new challenge alongside his sister.
"When I was a kid, I loved two shows – Survivor and The Amazing Race," he said, adding in true George fashion, "I've proven that I'm the best-ever Survivor player, and it's a second dream-come-true-opportunity for me to play The Amazing Race. And it's even better that I can bring my little sister Pam with me."
"People can expect George and I to have tantrums, drama, [and] meltdowns," Pam promised, "but what's going to bring us together is the fact that we're bonded by blood and this is something that we'll be able to share for a lifetime."
The pair are playing for the Bankstown Women's Health Centre, a "pillar of the local Bankstown community", George explained. "They help vulnerable women in the community with preventative work in domestic violence, they help build capacity in women from culturally and linguistically diverse backgrounds and, when times got tough during COVID, it was organisations like this that were the backbone of the community."
Grant Denyer and wife Chezzi Denyer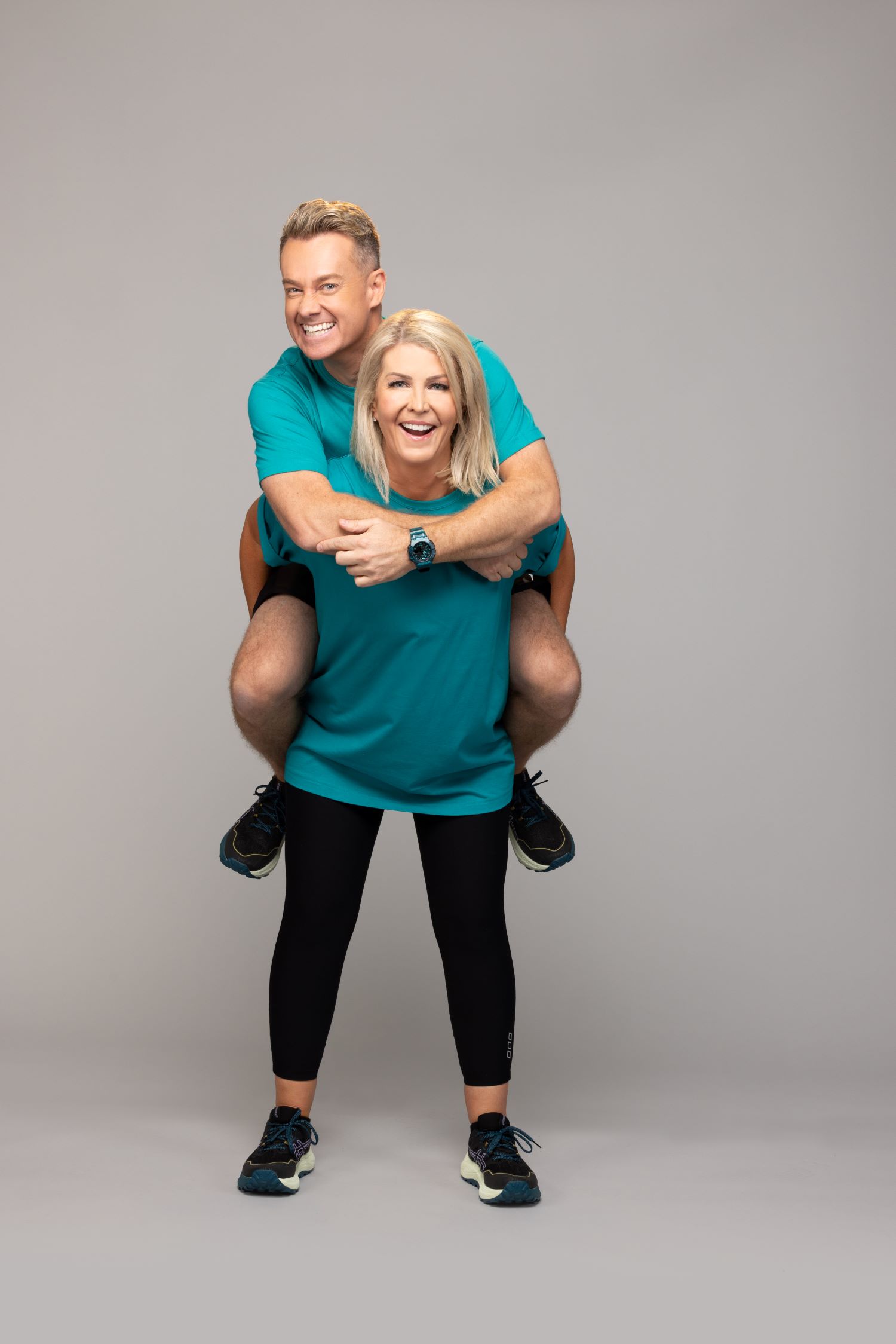 For celebrity spouses Grant and Chezzi Denyer, the challenges of The Amazing Race will be more like a sweet vacation. "We won't have the kids vomiting or pooing on us," Grant joked. "Anything is a holiday... even if you are in the hottest of hot or coldest of cold locations around the world being chased by a bear. When you are parents of three young children it sounds like a dream come true."
Jokes aside, Chezzi said that part of the experience she's most looking forward to is being completely out of her comfort zone, "So that when the girls watch TV they see their mum kick butt. Be brave -- that's what we want to teach them!"
The pair have chosen Lifeline Central West as their charity, "We worked with them a number of years ago when drought overtook our area," Chezzi said, adding, "We have recently had mice plagues on farms around where we live, we have had floods—there are a lot of villages and towns in our area that have been decimated and Lifeline have been out there on the ground helping out in lots of different ways."
"Mental health and rural suicide is a really significant issue, and those farmers need our help because they are the ones who put food on our table," Grant added. "We can't live without them. Lifeline Central West is one of the places families can go to if they are worried about a loved one and there are not enough of those services going around. "
Harry Jowsey and best mate Teddy Briggs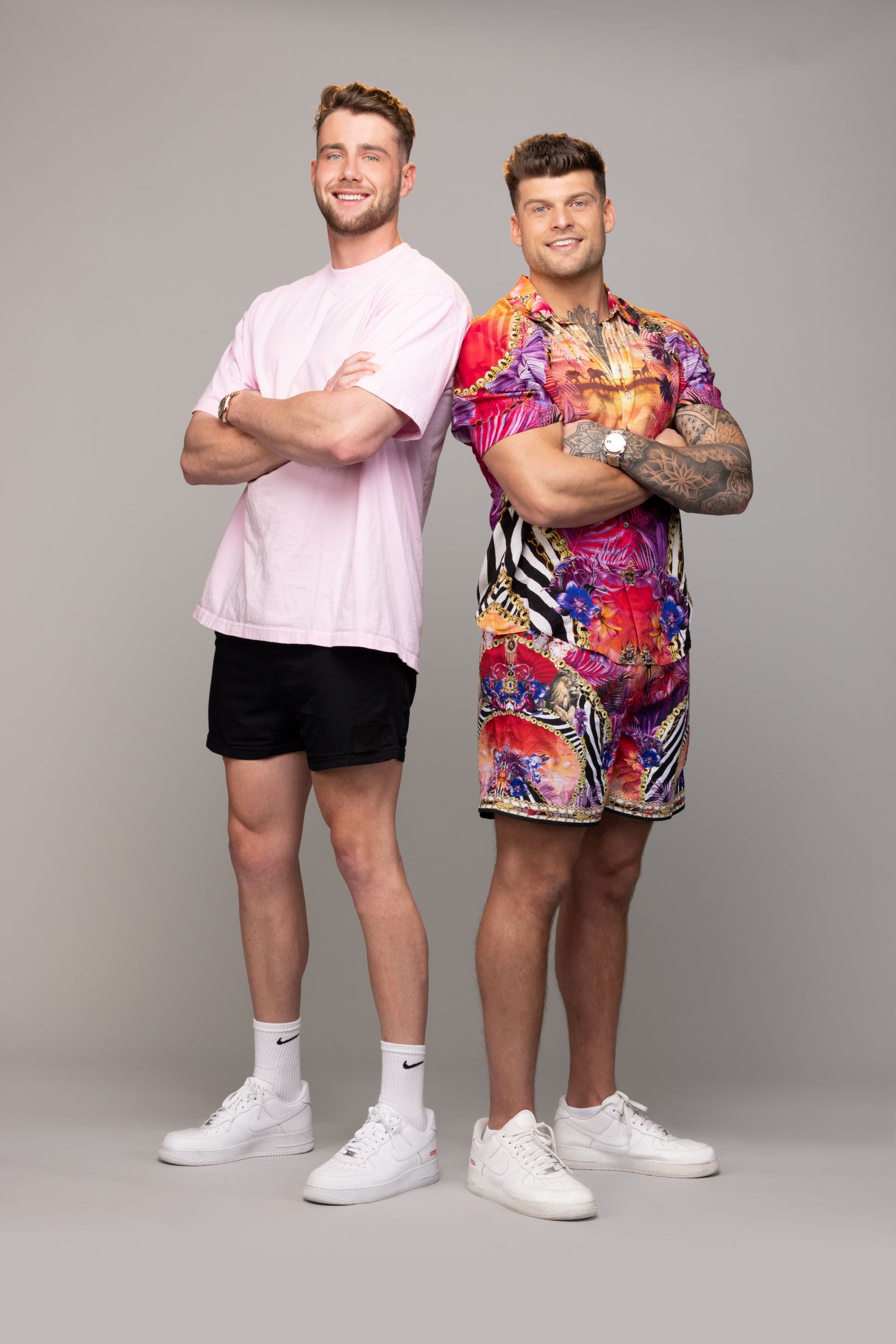 Reality TV stars Harry and Teddy have broken hearts across the globe, but now the best mates are ready to take on The Amazing Race. "I can't guarantee that we are going to be the best at this, but I can guarantee that it will be fun to watch," Teddy joked.
Harry said fans of the show should be ready to see "Two hopeless idiots that have no idea what they are doing but are here for a good time and to try and make you laugh."
And while the duo aren't necessarily the most confident when it comes to their abilities in the race, their hearts are in the right place as they compete on behalf of Beyond Blue. "It helps so many people and it stands for great things," Harry said.
"Mental health is like physical health," Teddy added, "sometimes you have to work at it and sometimes you need a personal trainer to get into good physical health. I think it's the same with mental health, people need charities like Beyond Blue now more than ever."
Ben Gillies and wife Jackie Gillies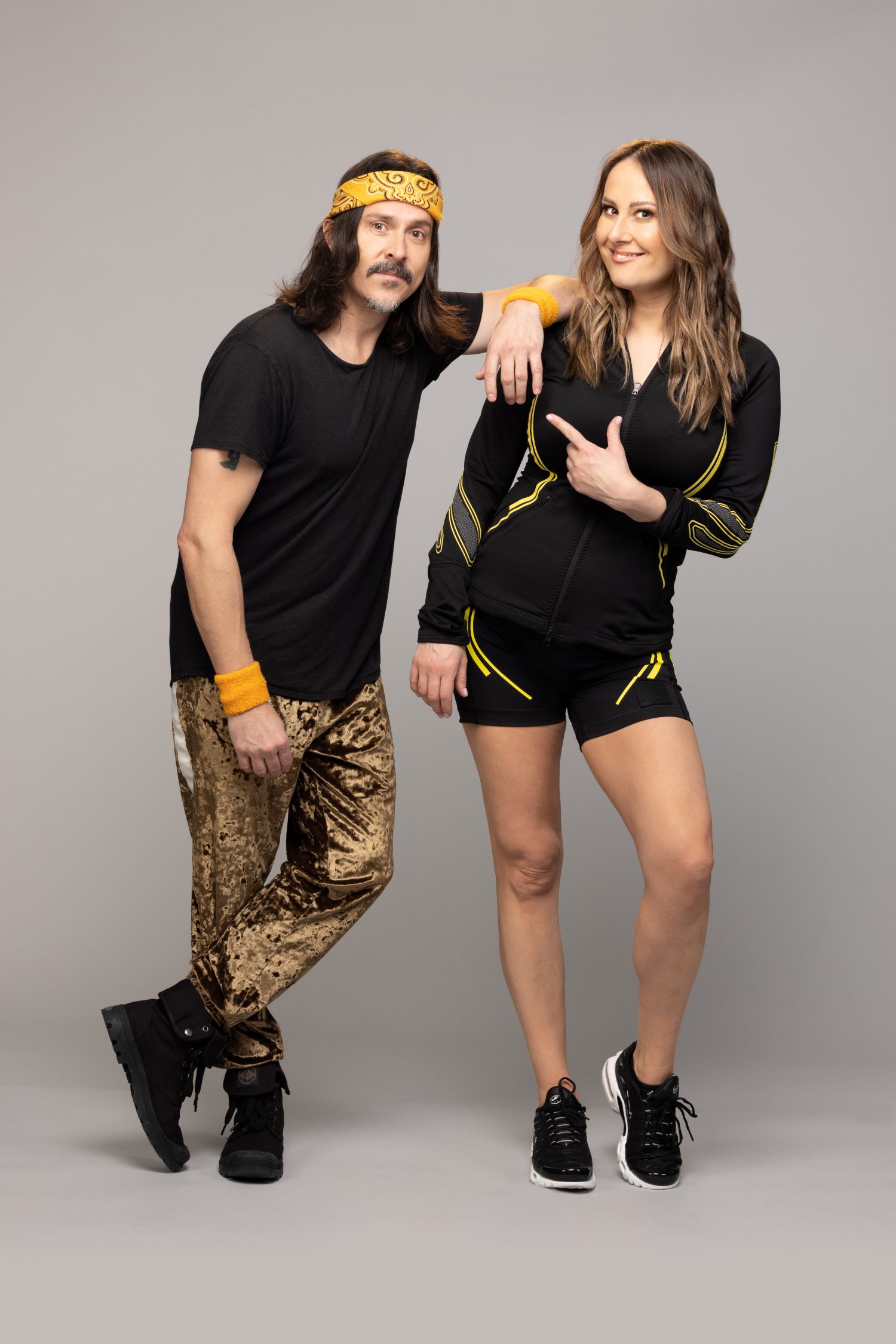 Former Silverchair drummer Ben and TV personality Jackie wanted to take on The Amazing Race Australia to experience the adventure and to allow themselves to be present alongside one another.
"I feel like the essence of the show is that it forces you to live in the moment and be present and it will unfold in front of you," Ben said. "You are completely out of control of your destiny. You just need to enjoy it, and I am looking forward to that."
While they admit they're both competitive, Jackie also said the duo are a "very fun, happy, out there, passionate couple" who want to experience something amazing. But they've also got their eyes on the prize.
The pair are competing on behalf of the Moira Kelly Creating Hope Foundation, an organisation that provides support for children and displaced women from overseas and in Australia who have not been able to receive help elsewhere.
"She is just an amazing person, and I can't wait to showcase what she does," Jackie said, adding, "She brings so much awareness and tries to bring medical attention to children that don't have the opportunity in third world countries. It's a charity close to our heart."
Jana Pittman and son Cornelis Rawlinson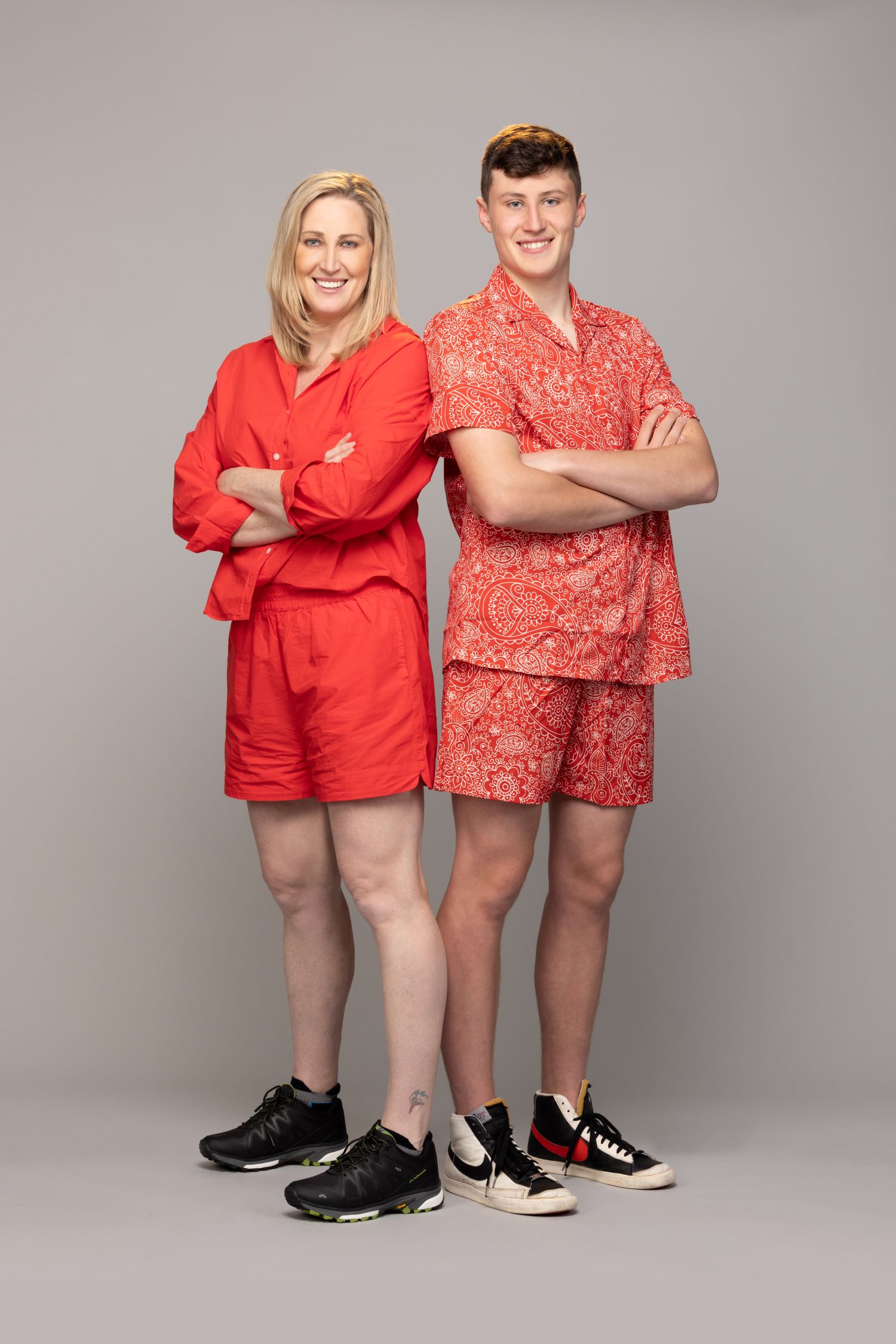 Australian Commonwealth Gold Medallist and former Olympic athlete Jana Pittman hopes that The Amazing Race Australia will allow her some quality time with her son, Cornelis. "I have six children and he's the eldest, so he's definitely not had a lot of mummy time over the last 15/16 years," she explained adding, "The show has an amazing reputation so I think very few people would say no... I was very, very honoured to be asked."
While Jana is looking forward to travelling to new places and experiencing new cultures, Cornelis had a much more simple answer to what he was excited about: "The food!"
The mum and son duo are competing on behalf of the Royal Hospital for Women, where Jana works. "It's the only women's hospital in NSW which dedicates medical treatment to women and newborn babies," she said. "Even though it's one of the most prestigious hospitals, it's greatly underfunded, and we really rely heavily on donations to upgrade and to ensure we're at the frontline of medical services."
Peter Rowsthorn and daughter Frankie Rowsthorn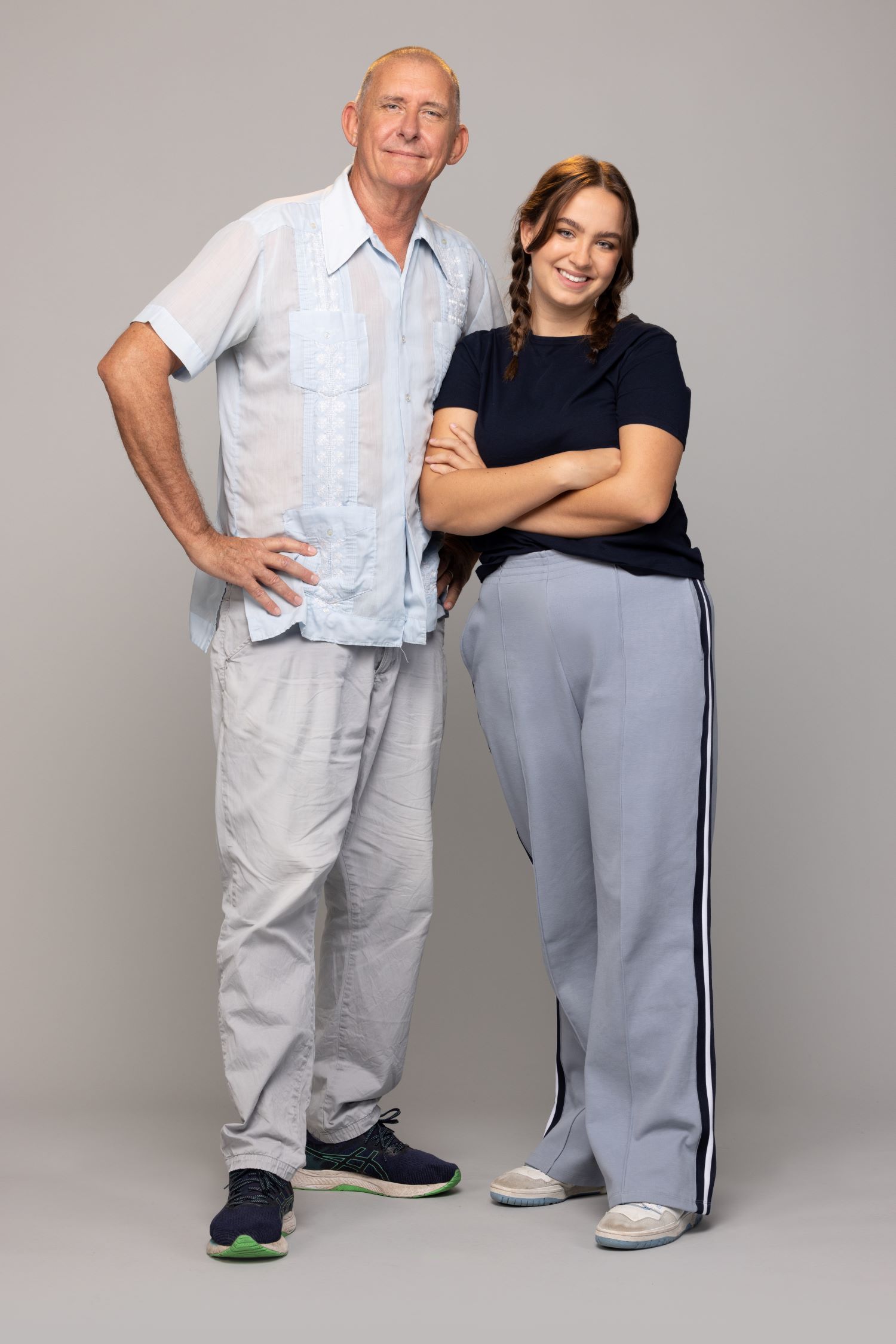 Comedy legend Peter Rowsthorn and comedian daughter Frankie know where their strengths lie when it comes to the competition -- "I think we might form some good alliances with our sense of humour," Frankie said, adding that she was "super excited to have this opportunity with dad, to go away with him... before he dies or something".
"I'm looking forward to the adventure and not knowing what we're going to do every day," Peter added, "It's incredible. I'm excited about the mystery."
While the duo will be all laughs on the road, they're competing on behalf of All Stars for Autism. "My grandson has autism, so we're doing it for him," Peter said.
"It's a beautiful organisation," Frankie added, "it gives people with autism the space to be themselves and feel supported."
These 11 teams are gearing up to set out on the greatest adventure, and we can't wait to see all the thrills, twists and turns they'll face along the way. Make sure to stay tuned for more updates!
The Amazing Race Australia: Celebrity Edition is coming soon to 10 and 10 Play