And for a year that no one could have predicted, the most Googled topics by Australians were actually quite predictable.
The News category well and truly led the way in predictability.
News topics
US election
Coronavirus
Fires near me
Coronavirus Victoria
Toilet paper
NSW fires
Qantas share price
Air quality Melbourne
Beirut explosion
NSW coronavirus
Toilet paper is clearly the odd one out, a sad reflection on what we prioritised when the pandemic struck.
Historians might wonder if it is somehow connected to the many fires. Did someone roll out some paper and light it? If this were the case we'd surely see a trending search for pyro named 'The Loo lighter'.
A number of searches from the news list also appear on the top overall searches.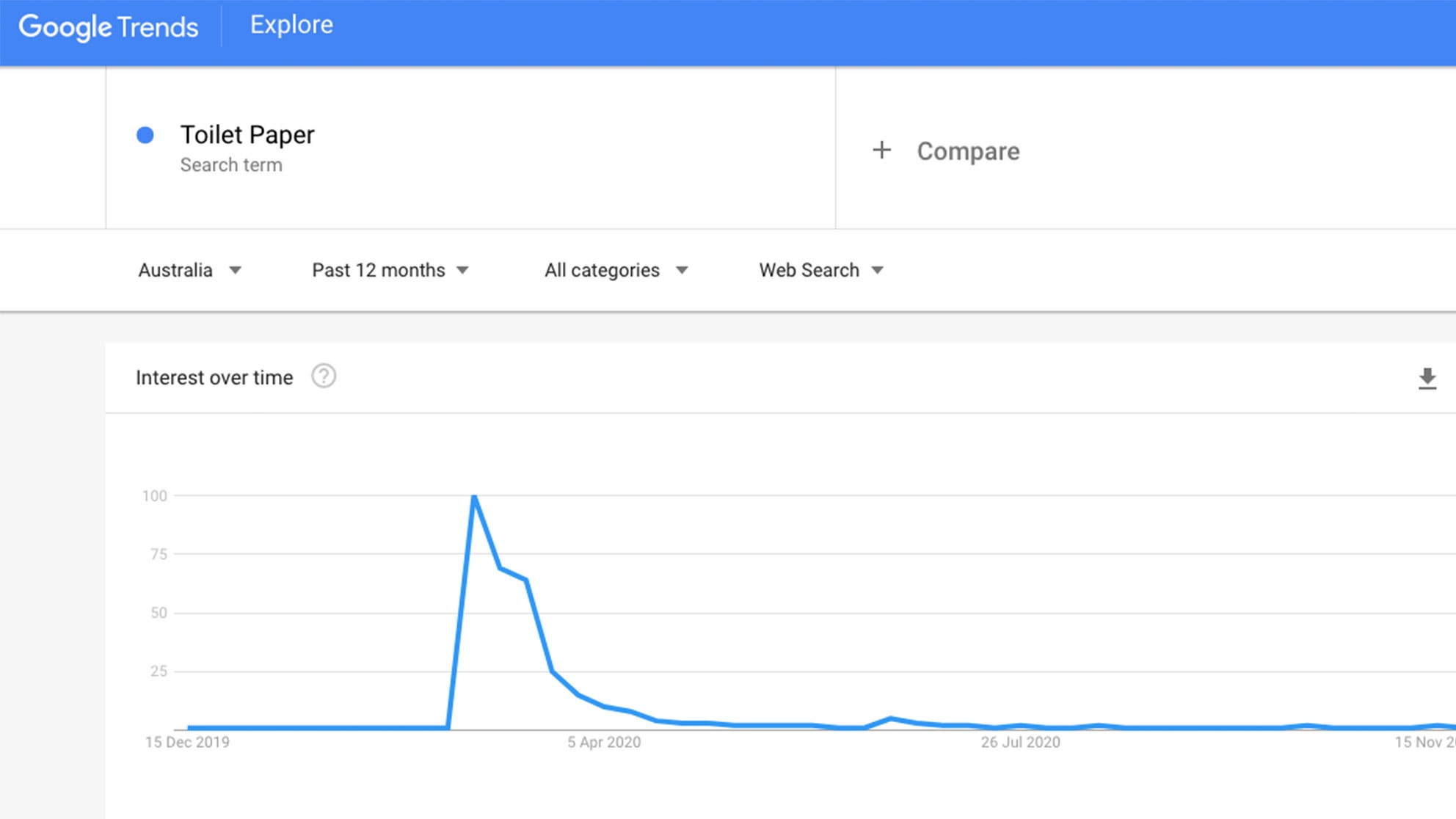 Overall searches
US election
Coronavirus
NBA
Zoom
Coronavirus symptoms
Kobe Bryant
Weather tomorrow
Fires near me
Coronavirus Victoria
Trump v Biden
Here we have a taste of a year like any other, with the inclusion of 'weather tomorrow'. But this is where the familiarity stops. It's fair to suggest most of the weather tomorrow results were 'fire' or 'smoke'.
This list does suggest to employers that their staff weren't lying when they said they couldn't find Zoom.
What surprises me on a personal level is why 'spell chiwowa' or 'spell lasarnya' aren't in here.
The category to highlight just how absurd 2020 really was has to be the most Googled global public figures.
Global Public Figures
Joe Biden
Kim Jong-un
Boris Johnson
Kamala Harris
Tom Hanks
Kanye West
Joe Exotic
Donald Trump
Prince Harry
Carole Baskin
Imagine you're in the year 2070 doing a history report for Year 10. The topic: 'Who was influential in the year 2020?'.
Next thing you know you're writing about two big cat owners; one a confirmed criminal and one a suspected criminal (at least suspected by the confirmed criminal).
Along with that you have a rapper who ran for president and has at times claimed to be Jesus himself.
Plus, a Prince…the real shock here comes when you discover his Uncle's sweat gland claims.
See below for more of Googles top search categories in Australia.
Australian public figures
Dani Laidley
Celeste Barber
Gladys Berejiklian
George Pell
Quaden Bayles
Pete Evans
Nicola Gobbo
Peter Dutton
Richard Pusey
Ben Cousins
'Can I ….?'
Where can I buy toilet paper?
Where can I buy hand sanitiser?
Where can I get tested for coronavirus?
Can I access my super?
How many people can I have in my house?
When can I access my super?
Can I go fishing in NSW?
How much can I borrow home loan?
How far can I travel in Qld?
Can I leave Australia?
Recipes
Hand sanitiser
Sourdough bread
Beef stroganoff
Spaghetti bolognese
Doughnut
Crumpet
Macaron
Anzac cookie
Banana bread
Dalgona coffee
How to ….?
How to make hand sanitiser
How to make a face mask
How to use Zoom
How to get tested for coronavirus
How to make bread
How to make self-raising flour
How to apply for Centrelink
How to buy shares
How to apply for JobKeeper
How to make whipped coffee
DIY
DIY hand sanitiser
DIY face mask pattern
DIY neck hammock
DIY ventilator
DIY foot scrub
DIY fire pit area
DIY toilet paper
DIY pottery kit
DIY antibacterial wipes
DIY scrunchie holder
Main Image: Google Trends