As you probably know by now, President Trump made his return to the rally stage yesterday in Tulsa, Oklahoma. After boasting that over a million people had RSVP'd to the event, only 6,200 people attended. Those figures are according to the Tulsa Fire Department, who monitored the crowd on Sunday.
Unfortunately, Trump's streak of bad luck has only gotten worse today. He is known for using hit songs at his rallies, often against the wishes of the singers. Now Tom Petty's family is fighting back after Trump used the deceased artist's hit song "I Won't Back Down," without permission.
In a statement released on Petty's Twitter page, the family stated that they "firmly stand against racism and discrimination of any kind." And that "Tom Petty would never want a song of his used for a campaign of hate." According to the statement, they have issued an official cease and desist notice to the Trump campaign. In true Tom tradition, his family would agree their legal action is far from 'petty.'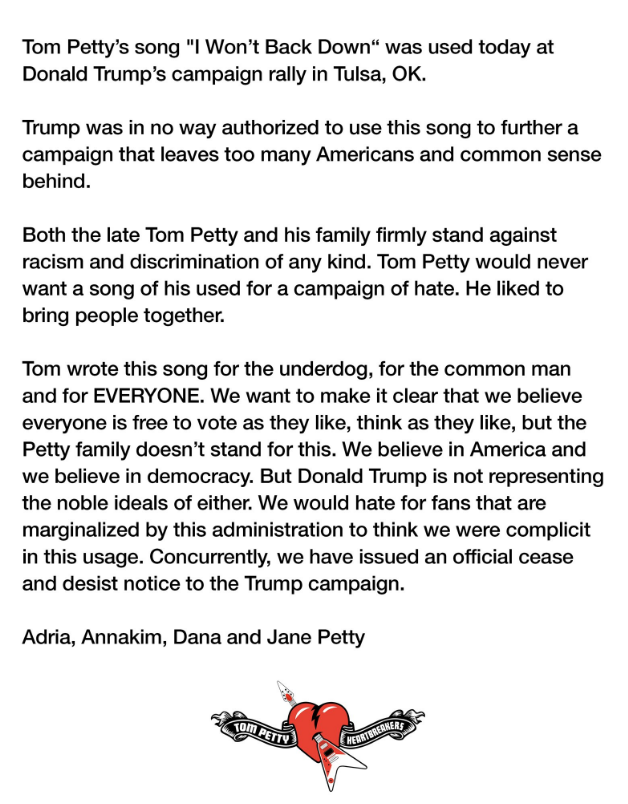 It's not the first time the Trump campaign has come under fire for using rally songs against the wishes of the creators. Rolling Stones front man Mick Jagger said that after repeated attempts to stop the campaign from using his music, there was nothing he could do. In a Twitter Q&A, he clarified that "if you're in a public place like Madison Square Garden or a theatre, you can play any music you want, and you can't be stopped…" I guess it's true what they say- "You Can't Always Get What You Want."
Rapper T.I. even attempted to stop Trump from using his song "Whatever You Like" in an anti-Joe Biden ad. In May, his legal team released a statement saying they were taking action "to block this unauthorized use and set the record straight in no uncertain terms." No word yet if this legal battle has been resolved. But seeing Trump and Rapper T.I. face off in court sounds like the kind of television event we've all been waiting for.
As Tom Petty's family tries to resolve this issue, let's just hope they won't back down.