As Paloma Faith sung Only Love Can Hurt Like This.... Kaylee, we're not sure what lead up to this, but we'd like to think you could be better off after it. That's after the few weeks where it feels like everyone is laughing at your expense has passed.
Every now and then, a Cameo video comes out of the woodwork and makes us need to sit down. For the unversed, Cameo is a service where you can have your fave celeb record a quick video message for a price. You head to their website, take a look at the surprisingly large amount of people to choose from, send a request, and bingo bango, a few days later, that celebrity has recorded a shout-out to your friend, or in this case, a break-up video to end all break-up videos.
For example, you could have music mogul Akon record a little birthday hello to a friend for US$999, or Bull Riding Champion Tyson Durfey record a shout out with advice that he's learned from a life of bull riding from his very own arena for US$19.
And for a celeb, smashing out a bunch of these in one afternoon would be a nice little earner indeed.
And so, the scene is set. Typically, people get their celeb of choice to record something positive. Not this time round.
From the red corner appears UFC Announcer Bruce Buffer with a message as brutal as what happens in the octagon itself.
The first tip Cameo give you for a good celebrity video request is: Try to be as specific as possible with your request such as your relationship to the Cameo recipient, numbers & details. Ex. "tell my BFF Cam congrats on graduating from UCLA."
And specific they were.
Was it worth the US$300 to get the message across? We don't know, but we certainly think Kaylee might be better off without this person, or maybe Kaylee will now understand when someone says it's over, it's well and truly over.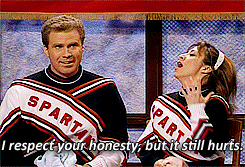 I mean, if someone's willing to pay that much to have a famous man yell it, it was never going to work out. Think of this as the clearest way to stay away from whoever bought this for you, Kaylee.
Without any further ado, here is, in my opinion, the most hilariously brutal way to get broken up with. Our deepest sympathies, Kaylee.