Have you had someone comment on your most recent post with a recipe?
It turns out this is the latest TikTok trend, which is kind of annoying but also pretty hilarious! Usually, TikTok trends develop from a catchy tune and an easy to learn a dance routine. Others are just silly pranks to get your friend's reaction. But the brownie recipe appears to hold no rhyme or reason.
We are still unsure where it started, why it started, and where it will end. All we know is, it's a thing! It is rather dismissive of the TikTok video that has been posted, almost like changing the subject. But, any comments are good comments for the users, as it creates more engagement on their videos.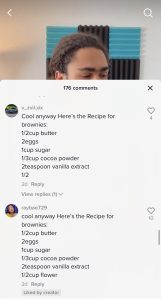 The comments are generally written in the same format:
Anyway, here's the recipe for brownies:
1/2 cup butter
2 eggs
1 cup sugar
1/3 cup cocoa powder
2 teaspoon vanilla extract
1/2 cup flour
If you find it annoying, what might infuriate you, even more is there are no additional instructions as to over temperature or method. So, if you get a brownies recipe comment, now you know why! And if it's subliminal messaging from the big brownie manufacturers, it's totally working!