It seems the U.S is the land of the free and the home of the freezing, as everyone wants to get their hands on, well, in a pair of mittens. Specifically, the type that Bernie Sanders was wearing at Joe Biden's inauguration. You may remember them from the image that launched a thousand memes.
That's right, despite Lady Gaga being there, everyone was talking about what Bernie Sanders was wearing. The patterned mittens in the toned down colours of brown, grey, black and white have become the latest fashion must haves. The mittens were made by a second-grade teacher, Jen Ellis, who lives in Essex Junction, Vermont.
She gifted them to Sanders in 2016 and they first made an impression about a year ago when he was wearing them on the campaign trail. There was some Twitter buzz at the time, but nothing like the thousands of comments and emails she's received in the past couple of days.
Early on, Ellis was keen to spread the warmth. On January 21, 2020 she tweeted 'I made Bernie's mittens as a gift a couple years ago. They are made from repurposed wool sweaters and lined with fleece (made from recycled plastic bottles).'
This tweet is unavailable or no longer exists.
On February 7, 2020 she tweeted that she had some in her inventory and shared her email address for those who wanted a pair.
This tweet is unavailable or no longer exists.
Ellis told The Jewish Insider that she is not a regular social media user, so you can forgive her for not knowing the dangers of tweeting your email address to the masses of a consumerist society.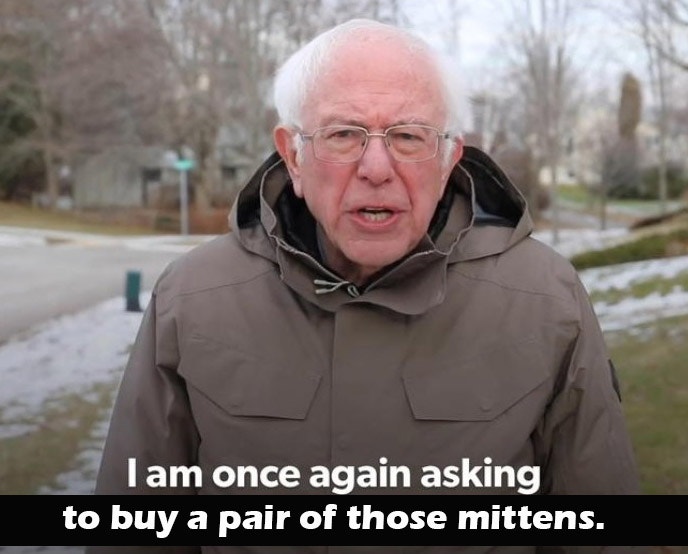 A lot of people have been left disappointed after she said she will not be selling any as she doesn't really make the mittens anymore. She is very busy being a school teacher and mother and she's sorry to disappoint but you can't have everything you want.
So it's true, money can't buy everything. Although Ellis does suggests getting your hands on, or in a pair from one of the many other sellers on Etsy.