Sydney and Melbourne are in the top 5 most unaffordable cities globally, with Sydney taking out the 2nd spot behind Hong Kong and Melbourne in 5th. Adelaide (14th), Brisbane (17th) and Perth (20th) almost made the list.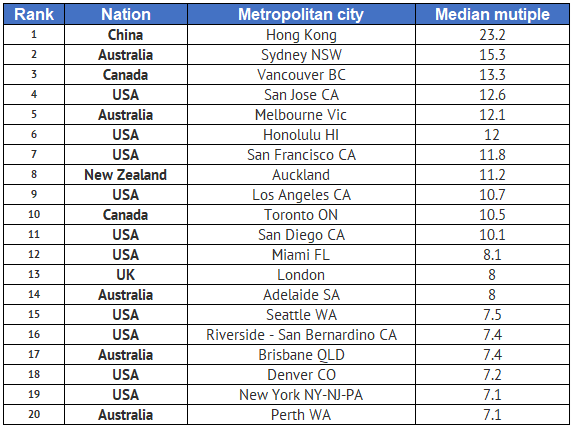 Source: Demographia, International Housing Affordability 2022.
The cities have become part of an "unprecedented deterioration in housing affordability", report author and senior fellow at the Urban Reform Institute in Houston Wendell Cox wrote.
"It is not surprising that in this environment, many middle-income and lower-income households have sustained deteriorating standards of living, and the causes of this do not bode well for the future," he stated.
AMP Capital chief economist Shane Oliver said, "Sydney and Melbourne are the worst in terms of affordability,"
"But it's just a continuation of the theme that's been there for years, but became worse because of the pandemic."
Even with Sydney and Melbourne's prices starting to weaken slightly, "They'll still be unaffordable," he said.