Who doesn't love Mexican food? It's one of the easiest and most popular family meals there is. With the same ingredients, you can have nachos, tacos, quesadillas or fajitas. But Megg (from TikTok), has taken the easiest family meal and made it even easier.
Let's start from the top. Grab a bag of Doritos, one for each family member. Turn the bag on its side and cut up the side of the bag using scissors. Note: It's important to utilise the air pocket within the bag; we are going to need that space in the next step.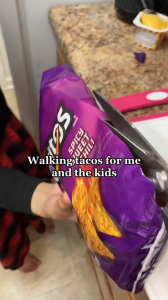 The next step: Top the freshly opened Doritos with the nacho toppings of choice for each family member. Suggestions: Mince, lettuce, cheese, tomato, sour cream.
[gallery size="medium" ids="1131684,1131685,1131686"]
And just like that, you're done! No dishes. No Clean up. Just full bellies and viral judgement from the internet. To level up that one extra step, Megg (from TikTok), reduced her cleaning even further by opting for a plastic fork that can easily be disposed of once dinner has finished.
Megg (from TikTok), went viral when sharing what she calls, 'Walking Tacos' on TikTok this week. Now with over a 29.2million views, Megg (from TikTok) has divided the internet with this weird but kind of amazing concept! And for those just wanting a snack on the go, this will also work with fun size bags.
Photos: TikTok