Remember the days when Instagram was in chronological order and not just what it deemed most popular? Well, it's back! The function will give you two new ways to view your feed.
The new 'Following' option is a traditional chronological feed, and it displays the latest posts from the accounts that each Instagram user follows in reverse chronological order. 'Favourites' shows the latest posts from a selected group of accounts that are followed, also in chronological order.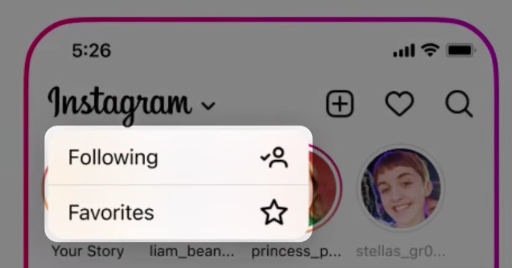 I Instagram will be rolling out the new feed as of today and it can be accessed from the home, or feed page, by simply tapping on the 'Instagram' head at the top left corner.
'Following' incorporates all Instagram accounts that a person follows, while 'Favourites' includes up to 50 accounts added to the user's favourites list. Posts from accounts marked as 'favourites' will also show up higher in the standard home feed and will be marked with a star icon.
The existing Instagram ranked algorithm will remain as the default option, as Instagram says, "people have a better experience on Instagram with a ranked feed.''
https://www.instagram.com/reel/CbdD0MCJyZ0/?utm_medium=copy_link