In fashion, everything that's old becomes new again at some point. No, sorry, skinny jeans aren't back just yet! This time it's a fashion hack that has been seen on Queen Eye, the Today Show in the U.S, and now TikTok @topnotchboutique.
Shopping for jeans is a pain. Heading to a store, finding options, into the change room, undress, try them on, redress, next shore. This classic hack could save you a lot of time and help you source the perfect pair of jeans so much faster.
Most recently shared on TikTok by @topnotchboutique, the user shares that by just wrapping the waist of the jeans around your neck, you'll be able to identify if they will fit around your waist.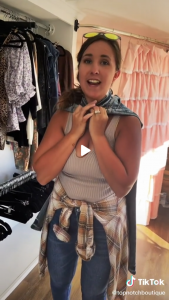 To prove it, @topnotchboutique shows us just how it's done. Pulling the jeans off the rack, casually wrapped the waist around her neck like some kind of cape before popping into the changing room to try them on.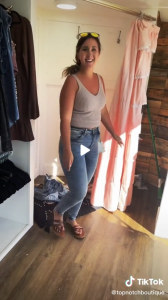 Just like that, a successful jean shopping experience! Unconfirmed if it works for jorts, jeggings or jweats.