The Olympics is that special time that comes around every four years (sometimes five, sometimes three), where we watch sports that we would otherwise never have any interest in and delude ourselves into believing that we are experts after only five minutes of observing. Which is exactly what this writer did last night whilst watching the high jump final.
If you've never watched high jump before, it can seem quite complicated. Basically, they set a bar up really high and then people have to jump over it. It's kind of like the opposite of the limbo, which is shockingly not an Olympic sport despite my weekly letters to the International Olympic Committee.
Last night's final was pretty exciting, and not just because Australia's Brandon Starc came in fifth by clearing 2.35m, which also happens to be this writer's personal best for the limbo (don't laugh, I am eight metres tall and flying economy is a nightmare).
In an extremely close final, Italy's Gianmarco Tamberi and Qatar's Mutaz Barshim both cleared 2.37m on their first attempt, edging out Belarus' Maksim Nedasekau who also cleared that height, but was relegated to bronze because of an earlier failed attempt.
With Tamberi and Barshim the only two left standing and with neither of them having missed a jump, officials gave them a choice: they could either agree to share the gold or go into a jump-off. It's a truly bizarre idiosyncrasy of the sport that the athletes can simply decide to share first place. Lucky there are no crowds at the Olympics this year, because surely everyone there would have been chanting: "JUMP OFF! JUMP OFF! JUMP OFF!"
Alas, the two athletes did what we all expected they would: they chose to share the gold medal. Whether or not this means the medal is cut in half by the IOC like they are King Solomon deciding who is the rightful mother of a baby is unclear.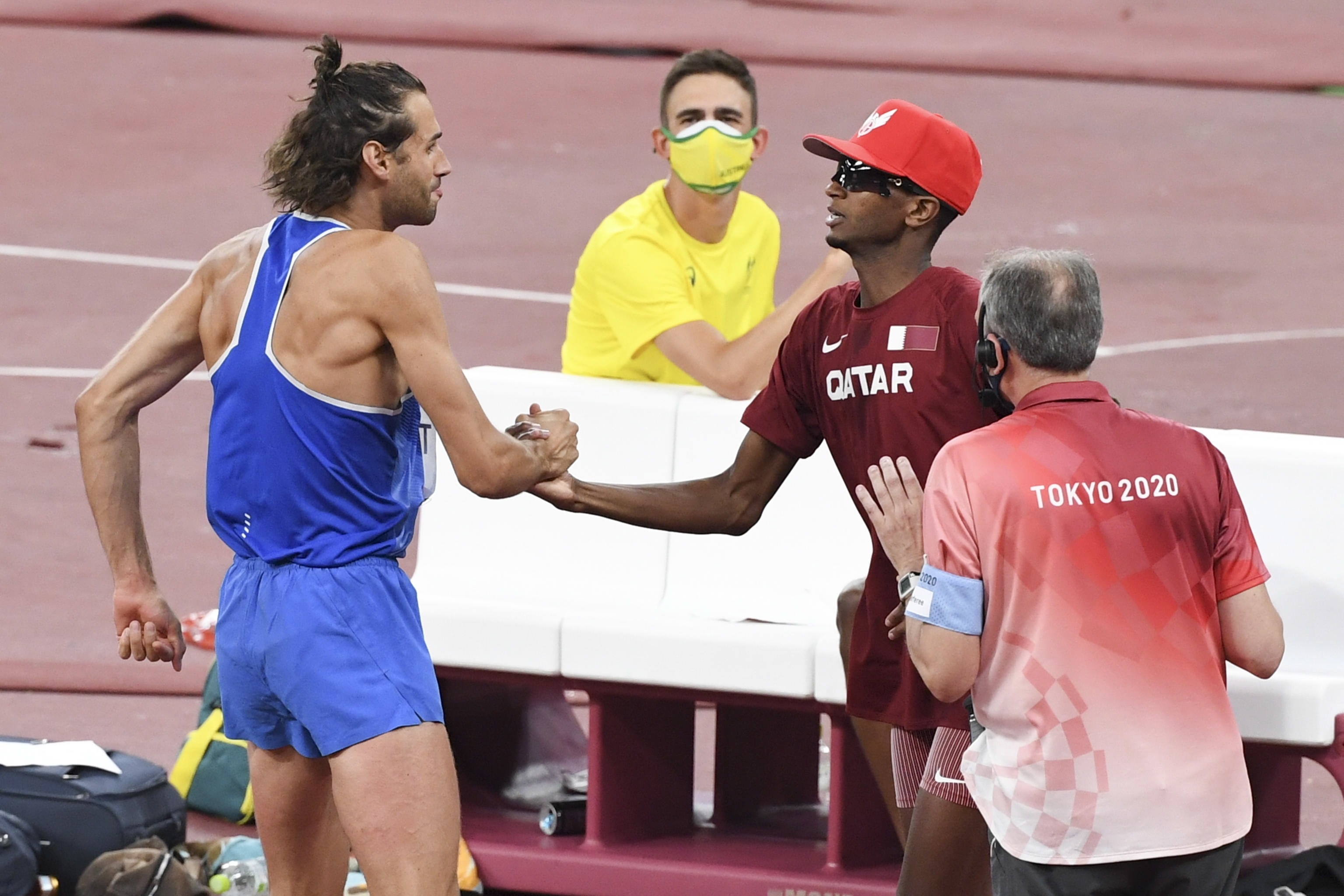 But, it does mean that both athletes will return home as gold medalists, so will presumably get the financial awards allocated to gold medalists in their respective countries. For Tamberi, that will be $213,000 USD from the Italian Olympic Committee, which probably explains why he was literally jumping for joy and hugging Barshim when his dear friend and competitor agreed to share the gold.
"I still can't believe it happened," Tamberi said. "Sharing with a friend is even more beautiful… It was just magical." Barshim summed it up pretty nicely too: "This is beyond sport… This is the message we deliver to the young generation."
It truly is a beautiful message to young people around the world: sportsmanship is more important than winning. But, also, a guaranteed gold is more important than potentially getting silver in a jump off.