They say dress for the job you want. For most of us in this current climate, that job is any job and one that we can do from home. This new work from lifestyle has led to a rise in the popularity of 'comfort clothes'.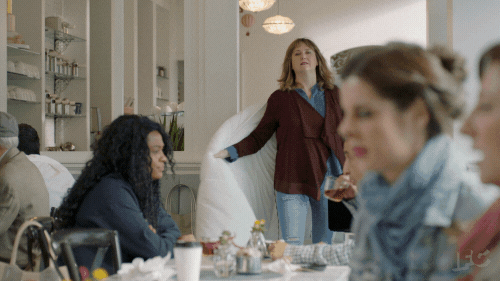 When we go to after-work drinks we no longer need to worry about bringing a top-up of makeup and change clothes to work. All we need to do is walk from the desk to the couch via the fridge, which is even easier if like me you have installed a mini fridge in your office (and by the office I mean corner of the bedroom).
Once you get into that after work Zoom drinks all you have to do is make sure you have no food on your face and turn on auto touchups and BOOM, you're good to go. Plus, the more comfortable the outfit the more easily you can hold your phone at flattering angles.
#tracksuit is well and truly trending
Alyx Gorman, writer for The Guardian stated, "a buyer for young women's high street brand Sportsgirl, tells me their sales of the product increased 300% online."
300% is a lot, but not unbelievable, when you consider that there seems to have been a 300% increase of young women in tracksuits dancing on Tik Tok and that's in my feed alone.
Surely, once restrictions have lifted we will all peel off our crusty trackies and slip into some breath constricting outfits and stilettos right? Maybe not.
Fashion experts and consumers alike believe this slouch ware trend could be here to stay.
Many have taken to Twitter to share their fashion feelings.
This tweet is unavailable or no longer exists.
This tweet is unavailable or no longer exists.
This tweet is unavailable or no longer exists.
According to The Guardian, Francesca Muston, vice president of fashion content for WGSN, one of the world's largest trend forecasting agencies, is inclined to agree with Twitter and Instagram's assessment. "I don't think there will be a normal again," she says. "Everything will be fundamentally changed."
In recent years there was a rise in street and activewear, young people were already leaning away from uncomfortable clothing.
According to The Guardian, Muston suggests that because shutdowns affected fashion on a mass level the expectation for comfortable clothes is going to be raised further still and it won't just be demand from younger consumers.
So, what does this mean for the future of fashion? Will we be fine with wearing socks and sandals to an expensive dinner? Was my German cousin a forward fashion thinker all along?
"You always get trends that are seemingly opposing that run in parallel," Muston told The Guardian.
"You're going to get revenge spending, where people want to go out and treat themselves. But some people … just don't have the finances. But more importantly it's about the fear."
This tweet is unavailable or no longer exists.
She says even if people are desperate to get dressed up and go out, they might be too nervous about the possibility of contracting or spreading Covid-19 to do so.
Eventually, some high fashion may return but it will take its time, partly because shoppers resistant to spending and partly because we have all discovered the luxury of dressing for comfort.
A middle ground has been noted by fashion companies Papas and Kingham. Both told The Guardian there has been an increase in accessory items such as earrings. Turns out people are dressing up the tracksuits with a pair of hoops or a necklace.
"She can look good while being comfortable," Papas says of a customer who bought accessories.
I think that (earnings paired with comfort clothes) will play a big part in how she dresses moving forward
In a final note, I would like to add this article was written while wearing a snuggie and I for one am against the rise in fast fashion. Hoodies for life.