In an effort to get Romanian's vaccinated, the castle said to be inspiration the behind Bram Stoker's 'Dracula' is offering free vaccines to visitors every weekend in May.
As if Romanians needed another incentive to get vaccinated, they also get free access to the Castle's exhibit of 52 medieval torture instruments! Lucky! So if you don't feel faint around needles, the torture exhibit will really test your nerve.
Now I know what you're all thinking, this feels like a trap thought up by Dracula himself. Not so! You can rest assured that although it's going down at the castle, only nurses and doctors will be administering the jabs and not some rookie called Vlad who keeps insisting that putting the Pfizer vaccine into their mouth and then biting people with their canines as the best way to administer the vaccine.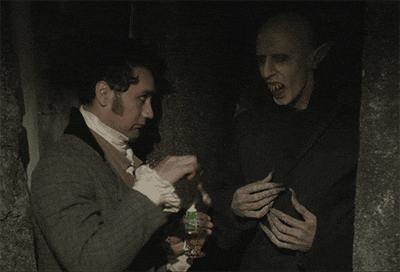 Unless the doctors actually are vampires like Papa Cullen in Twilight, and just incredibly good with self-control. Hmmmm. Really makes you think.
The castle's really getting into the spirit of things, too, with signs popping up around showing fangs that have been replaced with syringes, and the doctors and nurses administering the vaccines are wearing stickers with fangs on them. Cute!
This tweet is unavailable or no longer exists.
The move is an attempt to both drum up previously lost business in the area thanks to global lockdowns, and convince Romanians to make a day of getting their vaccine. According to a survey, Romanians have one the highest vaccine hesitancy rates, with nearly half the population not wanting to get the jab.
Maybe seeing 52 torture instruments for free will push them over the line.
B.Y.O. garlic, stakes and crosses.