The Argentine, who had recently battled health issues and underwent emergency surgery for a blood clot on the brain several weeks ago, suffered the attack at his home in the outskirts of Buenos Aires on Wednesday.
Such was Maradona's legendary status in his homeland that Argentine President Alberto Fernandez declared three days of national mourning after the news of Maradona's death.
The Argentinian Football Association said on Twitter it had the "deepest sorrow for the death of our legend, Diego Armando Maradona. You will always be in our hearts."
Maradona is widely regarded as one of the greatest - if not the greatest - footballers of all time and was the inspiration for Argentina's World Cup success in Mexico in 1986, almost single-footedly - and handedly - inspiring their triumph.
He also led the country to the final of the 1990 tournament in Italy and managed them in South Africa in 2010.
"Certainly, one day we'll kick a ball together in the sky above," said Pele, the great Brazilian who, like Maradona, has so often been touted as the best player ever.
Here is a selection of Maradona's most famous quotes:
On growing up in poverty: "Poverty is bad, it's difficult, I knew it well. You want lots of things and all you can do is dream about them. It would be nice if there were more justice - if those who have a lot had a little less, and those who have a little had a little more."
On his 1986 World Cup goal against England: "It was scored a little bit with the head of Diego and a little with the hand of God."
On his No.10 shirt: "No matter what happens, and no matter who is in charge, the No.10 shirt will always be mine."
On spending over a week in intensive care in 2004: "I was hanging by a thread. I started to enter the tunnel (of death) and Boca fans pulled me back, and behind them came fans of River, San Lorenzo, Racing, Huracan, Independiente."
On failing a doping test at the 1994 World Cup: "They cut off my legs and wouldn't let me defend myself. I didn't use drugs, I don't know what happened, I swear that I wasn't doped but I see that they don't care."
A favourite criticism he used for those he did not trust: "He is more fake than a light blue dollar."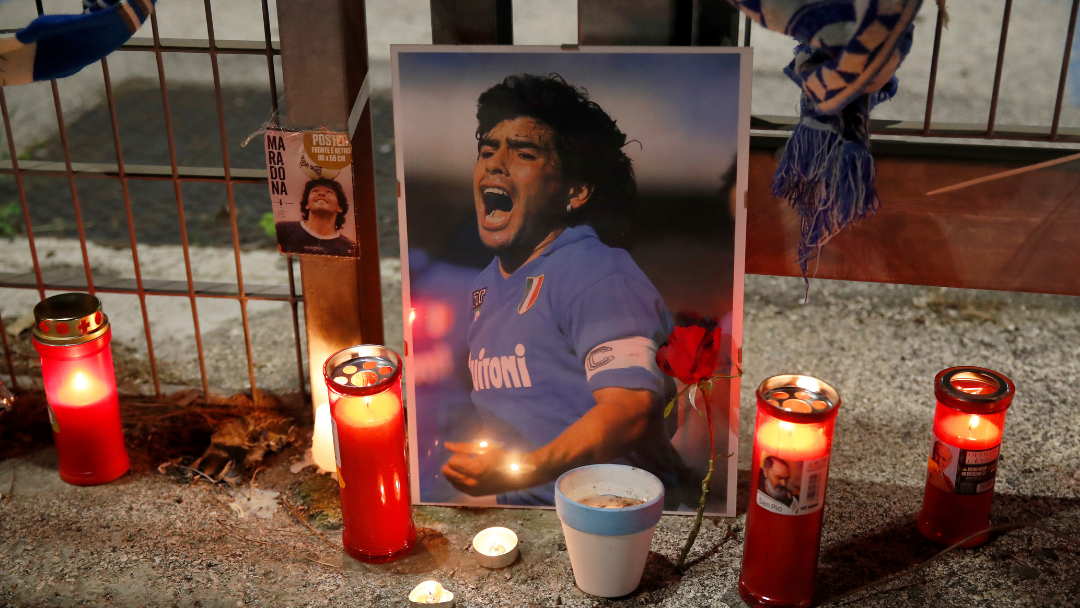 On his belief: "I'm privileged, but only because that was God's will. God made me play well. He gave me the ability at birth. That's why I make the sign of the cross every time I enter the pitch. If I didn't do it I'd be betraying him."
On his daughters: "If my daughters' boyfriends make them cry two or three times, they'll have an accident."
On Cristiano Ronaldo: "Have you noticed how exuberant Cristiano Ronaldo looks? He scores a goal and sells you shampoo."
On his mistakes: "Soccer is the most beautiful and healthy sport in the world. Soccer shouldn't have to pay for my mistakes. It's not the ball's fault."
On the psychiatric clinic: "Madness is terrifying. In the clinic I felt like Jack Nicholson in "One Flew Over the Cuckoo's Nest"... In the clinic there's a guy who thinks he's Robinson Crusoe and no one believes I'm Maradona."
On scoring: "Reaching the penalty box and not getting in a shot on goal is like dancing with your sister."
On soccer management: "Football doesn't bother me but what surrounds it does. It bothers me that there are directors who work harder for a photo opportunity than for the club."
On drugs: "In the beginning drugs make you euphoric. It's like winning a championship, so you think: who cares about tomorrow, since I won the championship today?"
On Pele and passion: "If (Pele) is Beethoven, I am the Ron Wood, Keith Richards and Bono of football all rolled into one. Because I was the passionate side of football."
AAP.