If straight cartoon characters are your kryptonite then this is the comic book for you.
It was announced yesterday on National Coming Out Day (Nov 11), by DC Comics that the new Superman is bisexual.
In the new comic 'Superman: Son of Kal-El', Jon Kent, son of Clark Kent and Lois Lane, will begin a relationship with a man.
This makes perfect sense. I've met extraordinarily fit men in tight lycra shirts and they are almost never straight.
According to the release, writer Tom Taylor stated, "I've always said everyone needs heroes and everyone deserves to see themselves in their heroes and I'm very grateful DC and Warner Bros. share this idea."
Superman's symbol has always stood for hope, for truth and for justice. Today, that symbol represents something more. Today, more people can see themselves in the most powerful superhero in comics.
Many fans on Twitter were excited by the news.
This tweet is unavailable or no longer exists.
This tweet is unavailable or no longer exists.
In an interview with the Times, Taylor explained that a new Superman "had to have new fights, real world problems, that he could stand up to as one of the most powerful people in the world."
The only comments opposing the coming out of Superman appear to be coming from those who don't realise this is Clark Kent's son, not Clark himself, as many don't wish the original character to be changed. Do not fear tender boomers; Clark is as thirsty for Lois as always.
This is more like if Xena Warrior Princess and Gabrielle's baby, born through IVF and donor turned out to be straight. No one would care if little Stephanie* wanted to wear pink feathers and not a Warrior style skirt. This skirt is hard to explain but it appears to be made of numerous brown leather belts and is an appropriate 'femme butch' look.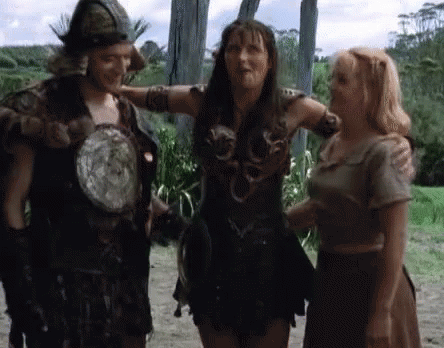 It's an exciting time for queer nerds.
In an August edition of the comic Batman: Urban Legends, another second-generation superhero, Batman's sidekick Robin, came out as bisexual.
In addition to this, in the next film The Eternals, the Marvel Cinematic Universe will introduce its first gay superhero, Phastos, who will be played by out actor Brian Tyree Henry.
I assume Phastos can run on rainbows.
*Stephanie does not exist and is a figment of my imagination but I believe the time is right for Dynamite Entertainment to make this a reality. If not a baby, I'd also accept multiple pet cats.