Australian motoring groups have found that only half of the fuel excise's money is reinvested into roads and public transport, as pushes to cut the tax raise more questions. 44 cents from every litre of petrol purchased is applied, being pushed as Australian petrol prices hit record highs.
The Government is considering halving the tax, but motoring groups want guarantees that the fuel excise revenue will be solely used on the transport network.
The Australian Automobile Association (AAA), analysed 10 years of budget papers and government data from the Bureau of Infrastructure and Transport Economics and found just 53 per cent of the revenue raised by the petrol tax has been reinvested in public transport and roads, despite the tax supposedly being in place to pay for road transport.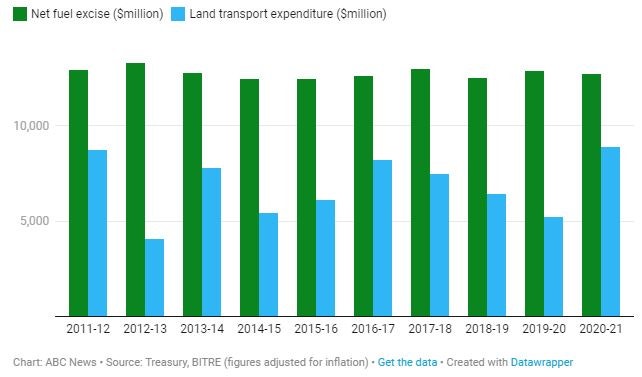 The tax is intended to be a recovery cost charge to pay for road maintenance and other costs by road users. Barnaby Joyce and Angus Taylor have warned against cutting the fuel excise, saying it's used to fund roads.
AAA's Michael Bradley said that isn't completely true.
"People expect the fuel taxes they pay to be re-spent on the network," Mr Bradley said.
"Politicians think they do it, they say they do it, but when you look at the actual numbers they haven't been that great at it in recent years.
"Now is the time to square the ledger."