Tell me, what is your perfect man? Is he wearing a nice jacket and pants? Is his skeleton a garment steamer with a built-in hanger? What about his face? Is it an iPad with the one smiling photo? Well too bad - he's taken.
Weddings are uncomprehendingly big things to organise and you better believe those deposits are non-refundable. So when something comes up, you try your absolute best to make it work at the last minute.
When Groom, Gannon Karmire got severe food poisoning and had to suddenly go to hospital on the worst day to say 'sorry I can't make it', his fiancé Christine pressed on, because he wanted her to enjoy celebrating their love with friends and family. And it enjoy it they did, but in a living meme kind of way.
She did what every resourceful person would – fill his physical void with a groom mannequin and walk around like it's the real deal.
I'm talking dancing, cake cutting and photos with guests.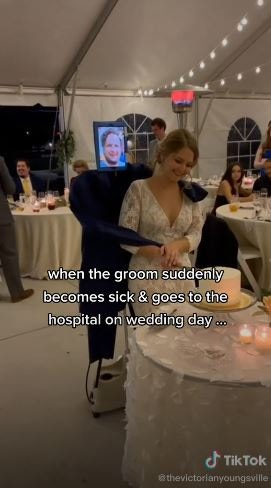 I really hope was one guest who turned up late, didn't get the memo and was like 'Oh my god, did Gannon and Christine break up? Where did she meet this clown? We're giving a present to this guy?!'
And thankfully for us, the venue filmed it and uploaded the clip TikTok so now we can enjoy their wedding in all its robot-groom gloriousness. Our congratulations to the bride, groom, and iPad.