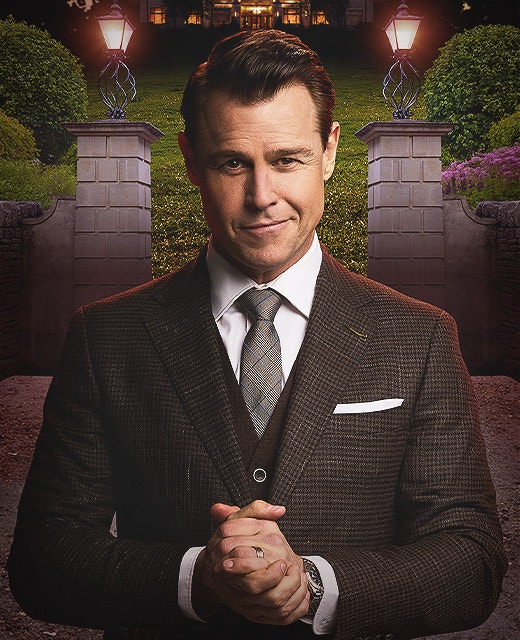 Rodger Corser
Rodger Corser is well known to Australian audiences having worked extensively in television, theatre, and film. Over recent years Rodger has been nominated for six Silver and three Gold TV Week Logie awards for his portrayal of Dr Hugh Knight in the Nine Network's Doctor Doctor, which ran for five seasons.
Rodger has most recently been seen on our screens in the second and third series of the Paramount+ television drama Five Bedrooms and has hosted Network 10's The Traitors, which is also now airing in UK. He will next guest star in Queen of Oz alongside Catherine Tate on ABC and BBC in UK. He was last seen in the worldwide release of Netflix's six-part limited series telling the story of the 2018 Thai Cave Rescue, playing Australian anaesthetist and Cave Diver Dr Richard "Harry" Harris.
Rodger's earlier television productions include his portrayal of Detective Steve Owen in the Nine Network's smash hit first season of Underbelly, and the lead role of Lawson Blake in the popular Network Ten John Edwards' series Rush which ran for four successful seasons between 2008 and 2011. During this time Rodger also starred alongside Claudia Karvan in two series of Foxtel's Spirited. Rodger has appeared on our television screens in two popular murder mystery series, Miss Fisher's Murder Mysteries and The Doctor Blake Mysteries. Rodger has also appeared in some of Australia's most iconic TV series such as Stingers, McLeod's Daughters, Home & Away, and Water Rats. Rodger's first leading role in a television series was as Adam Logan in Network 7's Last Man Standing in 2005.
More recently Rodger has played leading roles in numerous television productions including Network Ten's 1970s drama series Puberty Blues and opposite Asher Keddie in political drama Party Tricks. Rodger starred alongside Sarah Snook in the acclaimed ABC series of the modern-day retelling of Tolstoy's novel Anna Karenina, The Beautiful Lie, and in three seasons of the Netflix/ABC paranormal series Glitch as John Doe from 2015-2019.
In 2007 Rodger appeared in the U.S. NBC mini-series The Starter Wife alongside Debra Messing and Judy Davis. The series received 10 Emmy award nominations including Most Outstanding Mini-Series. His other U.S. television credits include the NBC series Camp, opposite Rachel Griffiths. Rodger's film credits include roles in Jonathan Teplitsky's Burning Man, and Simon Wincer's The Cup, both released in 2011.
Rodger's work in theatre includes his break-out lead role in the 1998 hit Australian season of the Broadway musical Rent. He followed this with other theatre roles in Below, Leader Of The Pack and Secret Bridesmaid's Business.
@rodgercorser