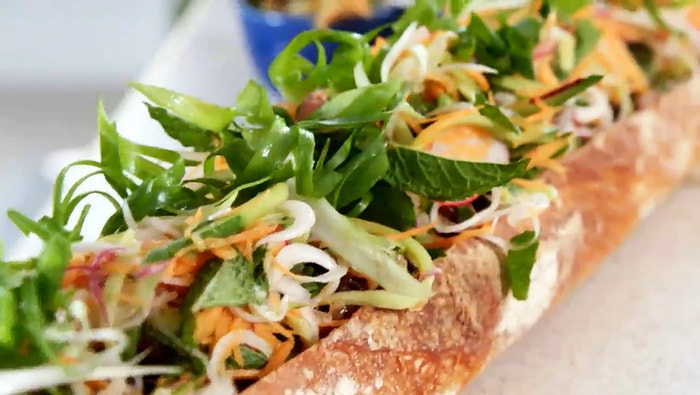 Steps
Take steak out of the freezer 10 minutes before slicing.
Preheat BBQ to medium-high heat.
Thinly shave the par-frozen meat using a chef's knife. Marinate in oil, garlic and a generous seasoning of salt and pepper. Mix to cover meat well and set aside.
Meanwhile mix together sesame oil, hoisin sauce and honey in a bowl. Set aside.
Remove beef slices from marinade, shaking to remove excess, and quickly sear on the hot BBQ for a few seconds on each side. Remove beef from heat and place in honey sesame dipping sauce. Repeat with remaining meat. Set aside.
Combine all the vegetables for the pickle in a large bowl. Sprinkle with vinegar and sugar, tossing to coat. Stir through torn mint leaves.
To serve spread one side of the baguette with pâté. Spread other side of baguette with kewpie mayonnaise and chilli sauce, to taste.
Top with steak, allowing excess sauce to drip off before adding to sandwich. Top with pickled mixed vegetables.
Top with drained curled spring onions and cut baguette into four pieces. Eatimmediately.
TIP
Place the meat in the freezer for about 30 minutes to an hour to partially freeze thinner cuts of meat, making it easier to slice the meat into strips.